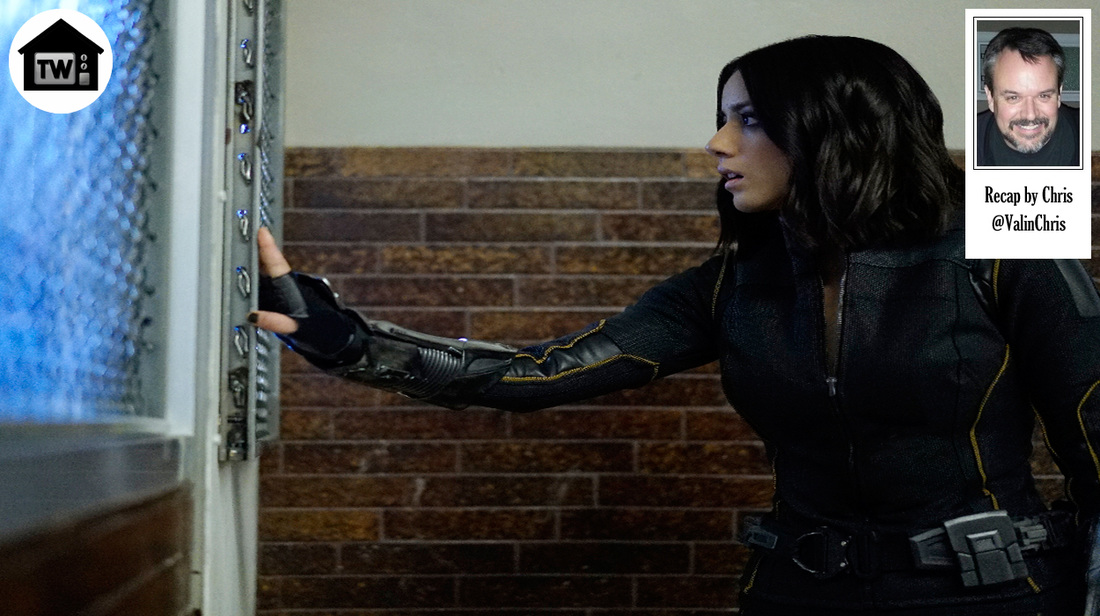 While Simmons tries to pass a lie detector test, Coulson and his team have to break Ghost Rider's Uncle Eli out of prison in order to try and stop Ghost Lucy from using the Darkhold.

Previouslies: It's all about supernatural stuff, like the ghost people and the Darkhold. Which, I'm sure, has absolutely nothing to do with the fact that
Doctor Strange
is coming out next week from Disney, the parent company of both Marvel and ABC. Then, a flashback to ...
A Creepy House: Where, years ago, Lucy and her husband (who were merely ordinary mad scientists at the time) find the Darkhold, but it appears blank. Then, words and drawings show up, only to Lucy they're in English and to Joseph, they're in German (his first language). Ta-da! MAGIC! Back to now, at ...
A Hospital: Where Coulson and Mack are trying to get Joseph to cough up the location of the Darkhold, but since Lucy infected him with her ghostliness, he sees them as monsters and dies of fright, blood streaming from his orifices and all. You know who's having better luck finding the Darkhold? Lucy, who digs it up and is all, "That's what's up!" Until she realizes that human flesh is what activates the words. And she don't have none o'that. And up in the sky, onboard ...
The Zephyr: Coulson tries to justify not telling Mace about them trying to find the Darkhold, and has a plan to go in and get Reyes' Uncle Eli out of prison to make him talk. They end up at ...
The Prison: Where the warden and some of the guards have already been infected by Lucy, so they suddenly act all creeped out and shoot at Coulson and May. Luckily, Coulson can block bullets with his new badass energy field that combines Captain America's shield with Wonder Woman's invisible plane. They decide they're going to have to get Eli out the old-fashioned (illegal and dangerous) way, by wading through hundreds of prisoners to get in and out.
And that they do, in two teams: Mack takes Reyes along, but only if he promises not to GR-out and kill people, and Coulson and May take Daisy, but only if she promises not to use her powers, since they're pretty much, y'know, killing her at this point. They go in, but it doesn't go well, especially because the prison is full of Watchdogs and Lucy is letting them out. They start a riot, and attack the SHIELD team. Daisy locks herself in the cafeteria with a bunch of Watchdogs and nearly gets herself killed, but Coulson and May figure out a way back in through the trash chutes and save her just in time.
Mack and Reyes get Eli after killing Lucy's ghost pals, and Mack tells them to get out of there while he holds back the prisoners. But when Reyes spots a leader of the 5th Street Locos, the gang that shot him and his brother Gabriel, he tells Eli to go on ahead to the parking lot. He questions the gang member, but the guy says that someone else hired his men, and he has no idea who, because they were all killed ... by fire. Then Reyes turns into Ghost Rider and does the same to him.
Out in the parking lot, they all wonder where the hell Eli went, and Mack gets pissed at Reyes for not staying with him. He had ONE JOB! But it turns out that Lucy found him and forced him to go with her in an ambulance. Meanwhile, back at ...
Playground HQ: Simmons tries to take her lie detector test, but when she's asked if she has any info that she's kept from the Director, the machine starts flipping out. However, Director Mace himself comes in and says he needs her help, because he's about to be interviewed by ABC News (purely a coincidence, I'm sure) over video conference, along with the anti-Inhuman Senator Nadeer. She feeds him sciencey information through an earpiece, while George Stephanopoulos as George Stephanopoulos grills them.
Mace does really well, until Nadeer really cheeses him off after mentioning a prison riot that a SHIELD team is currently involved in, so he suddenly admits to having powers because he's an Inhuman himself. Good for him. Except he apparently lies a bit about what happened when he saved people in Vienna during the signing of the Sokovia Accords, and Simmons picked up on it. So, when he orders her to go retake the polygraph test, she casually mentions that, and he suddenly excuses her from all future tests. Up on ...
The Zephyr: May tries to (verbally) slap some sense into a very beat up and bruised Daisy, but she doesn't take it very well. In fact, she reiterates that she's only on the team for that one mission to find the Darkhold, then it's sayonara, SHIELD. Over at ...
The Lab: Lucy forces Eli to open the Darkhold and reveal the words so they can finish their work ... but he doesn't seem too sad or hesitant about doing it. And, finally ...
The Stinger: Mace has a clandestine meeting with Nadeer in the back of an SUV, which might suggest they actually get along better than it appeared. But no. She's just threatening to take the footage of Ghost Rider killing a guy in prison to ABC News (purely a coincidence again, I'm sure) if he doesn't play ball. He asks what she wants, but all we get is a menacing look from the senator before we smash cut to the end credits.
Next Time: The origin of Ghost Rider! You didn't think he was born with the flaming skull, did you? I doubt his mom would have been able to have his little brother in that case.
​