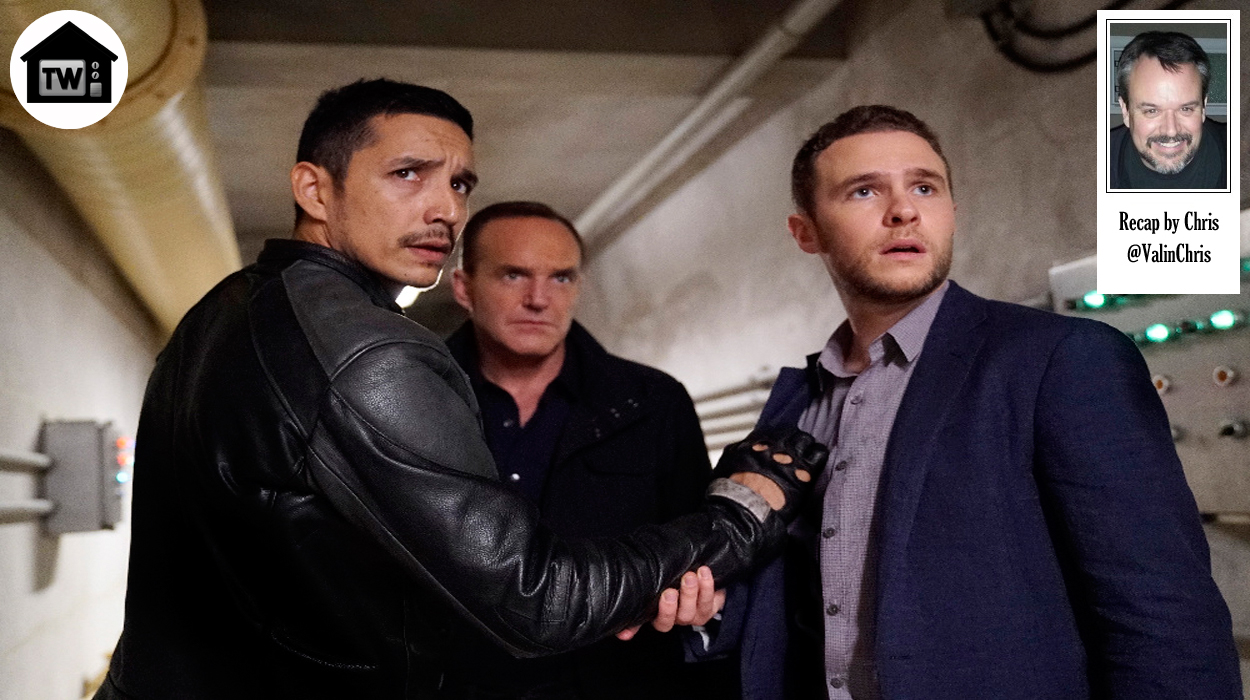 Mack gets a taste of the Spirit of Vengeance as Coulson, Fitz, and Reyes try to figure out how to de-ghostify themselves.

Previouslies: Pretty much just a recap of last week, in which Uncle Eli turned out to be the true bad guy. Then, we pick up right where we left off, at ...

A Roxxon Power Plant: Where May and Mack enter the control room where Coulson, Fitz, and Robbie were caught in the explosion. Except it wasn't really an explosion, since everything is intact ... well, except for Coulson, Fitz, and Robbie, who are now ghostified in some "in-between" dimension where they can see our world, but people in our world can't see them. Plus, they see everything like it's through a filter (probably because they filmed it with a camera using a filter). And they're being pulled in more and more.

So, first we get to see all the scenes from the POV of the other characters, and then we get to see those scenes over again from the POV of the ghosties. Fun stuff. Coulson and Fitz quickly discover that the other can't see them, and then find Robbie, whose demon-in-residence is not happy about the dimension-hopping and leaves his body.

Mack says they're into "nightmare territory" when Eli uses his new molecular manipulation powers to kill some SHIELD redshirts who tried to take him into custody. Apparently, Mack doesn't like the sight of guys he knows having the carbon molecules in their bodies turned into spikes and impaling them. Whatever. Back on...

The Zephyr: Director Mace is ready to have a memorial for the missing agents already, and everyone else has a frowny-face except Daisy, who believes they're still alive, and is, of course, correct because she's the Wesley Crusher of this show. May suspects that Eli hired the Chinese gangsters in the first place (try to keep up here), and Mack wants to go after them with his shotgun-axe. Mace says no, but the Spirit of Vengeance possesses him, and he takes off on this motorcycle. Daisy goes after him in Robbie's GR car, and Robbie hops in to go with her (I'm never sure why incorporeal beings in these shows can go through people and walls, but can walk on the floor and sit down in a seat).

They decide to call up Simmons to figure out whether they've just become ghosts and how to get them back, but — whoops! — Mace sent her off last episode with a black bag over her head so she can look after Senator Bitch's brother, who's stuck in his Terrigenesis cocoon after months. Speaking of which, we get to see Simmons at an ...

Undisclosed Location: Where she kicks out the other brainiacs who are trying to figure this crap out, and just talks nicely to the guy in the cocoon as if he's a plant or something. It starts to crack open, and the dude starts talking to her, but before he's fully out, they escort Simmons away, presumably so that they can take credit for her work. Meanwhile, back at ...

Playground HQ: May breaks her promise to Coulson to take care of the Darkhold and never open it, and they get Radcliffe to open it to see if he can figure out how to save them. Luckily for her, Mace mistakes it for an instruction manual for the boxes the original ghosties used.

In Ghostworld, Coulson and Fitz try to figure out how to prevent themselves from being sucked down into Hell, or wherever they're headed, while they observe everyone else mourning for them. And, in the case of May, she privately reveals that she's developed the feels for Coulson, and has no idea that he's listening to her talk about it.

So when Radcliffe refuses to read the book after looking at one page for a few seconds because it's too much for a human mind to handle, they shout at AIDA to read the book. Because of her android nature, she's apparently able to detect them. She figures out what needs to be done and creates a gateway with some laser glove thingies, while time is ticking before Coulson and Fitz disappear forever. She does it just in time, and Coulson and Fitz fight the forces trying to pull them away and jump through the gate.

"What about Robbie?" you ask. That's what I asked, anyway. Well, for that answer we need to follow Mack and Daisy to ...

Los Angeles: Where she jacks up Robbie's car thinking it will heal itself (but it won't, because he's no longer Ghost Rider) following Mack to where the Chinese gangbangers are located. Mack goes in and gets all flame-skulled and vengeancy on them, but Robbie confronts him, and he can see and hear him because he's, well, a demon.

Robbie says they still have a deal, and that if GR helps him take down his uncle, he'll help him get all the vengeance he wants. The demon leaves Mack and goes back into Robbie, and Mack tells Daisy what happened with Robbie and the demon. Then, Robbie shows up at the gate back at ...

Playground HQ: Where Mack agrees to help Robbie get revenge on Eli. Simmons gets back and reunites with Fitz, thus forming FitzSimmons again like it's meant to be. And Coulson insinuates to May that he heard what she said earlier, leading to some romantical looks between them. Hmmmmm. And, finally ...

The Stinger: In which Radcliffe plays guitar and sings about AIDA, while unbeknownst to him, she uses her nifty laser-gloves to create some kind of ... brain? Why is it I have a feeling this won't end well?

Next Time: Ghost Rider's last stand against Eli in the Winter Finale.

​