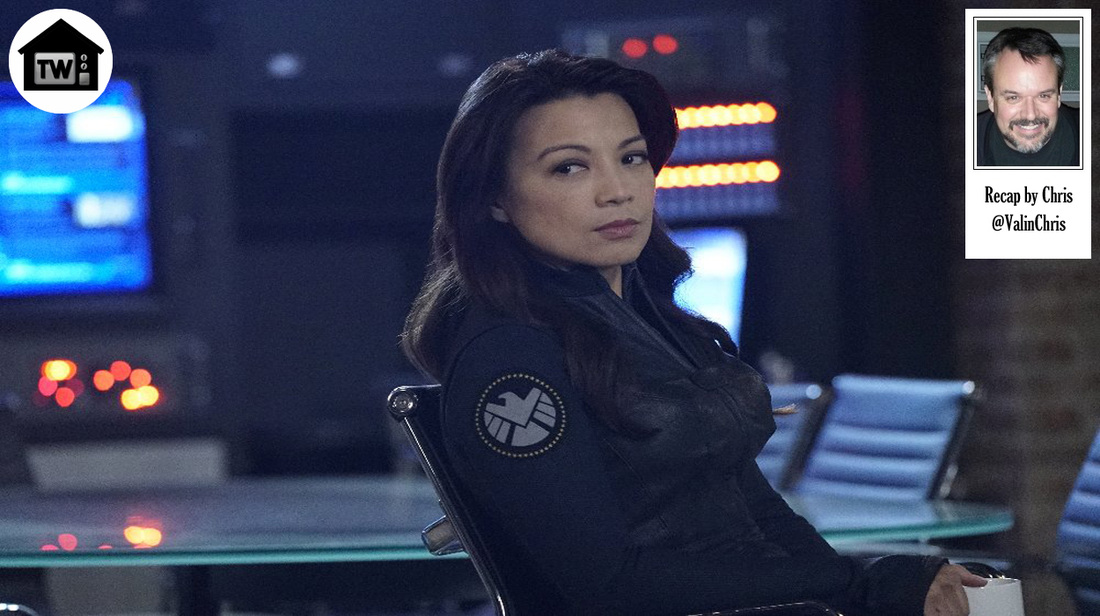 G.R. is captured, Mace gets supersuited up, Coulson confronts Uncle Eli, Yo-Yo and Mack finally hook up, and what a twist with Aida and May!

Previouslies: Mostly a recap of last week's dimension-hopper, with a bit of backstory on the Darkhold thrown in. Then, like last week, we pick up right where we left off, this time at ...

Eli's Hideout: Where the LAPD and SHIELD both have the place surrounded, Chinese gang members working for Eli start complaining about the pay and working conditions (namely having to fight SHIELD agents), so he gives them some diamonds. Although he creates them inside the body of their spokesperson, who starts throwing them up all over the place and then dies. Predictably, their complaints end. He uses his molecular powers to create some sort of box that apparently is going to become a nuclear bomb. Over at ...

Playground HQ: Coulson and May convince Mace they have to use Daisy, Yo-Yo, and Reyes to take down Morrow. Mace suggests they take AIDA along too since she was so good at creating the gateway that brought Coulson and Fitz back from between dimensions, but then they feel the need to inform Mace that AIDA is, in fact, an android. Which seems to bum him out, considering he was "moderately attracted to her." He says she's dangerous after what they saw Ultron do, but he wants to use her before he has her dismantled. Um ... for the mission, I mean. So May gets to (in her own words) play chauffer to an android while Coulson and the rest of his strike team go in to take down Eli. Back at ...

Eli's Hideout: Daisy, Reyes, and Yo-Yo try to go in the back door (since the press can't see them — especially Daisy). They send Yo-Yo in at super-speed to recon the place, but she sets off a fire trap and she's almost killed. Reyes realizes this is a perfect job for a guy who, y'know, bursts into flames on regular basis, and goes in himself. But he stupidly goes into that radiation box and it messes with his powers.

Then his Uncle Eli stabs him through with carbon spikes and traps him in there so he can tell his supervillain backstory without any interruptions. So apparently, because he felt dissed having come from the 'hood, he feels justified in blowing up Los Angeles. And he can't believe it's been his own nephew taking out his men all this time as the Ghost Rider. But Reyes explains that he wouldn't have been Ghost Rider (and Gabe wouldn't be in a wheelchair) if those shooters hadn't come for Eli in the first place. And on ...

The Zephyr: May returns with AIDA (pay attention to that for later) and Mace informs Coulson that he's going to help with the mission since he's all super strong and all. Mace argues with Coulson and Daisy about keeping secrets and stuff and Coulson calls him out on his secret deal with Senator Nadeer. But when Mace explains that he was being blackmailed and did it to protect SHIELD (and Daisy), they all sing "Kumbaya" and get ready to kick some Molecule Man ass together. They all head over to ...

Eli's Hideout: Where Coulson walks in unarmed and confronts Eli while AIDA and some of the others build a dimensional gateway in the basement directly underneath the bomb. He explains that Eli isn't creating matter out of nothing like he claims he is ... he's actually stealing it from another dimension, which makes him just a petty thief. Eli denies this, but either way the plutonium is real, and if the bomb goes off it's going to take out Los Angeles. And it may very well explode, considering Eli's powers are causing earthquakes — any one of which could set it off. So Daisy uses her powers to absorb the quakes, and even with her sparkly new gauntlets, that's quite a strain.

Coulson gives the word, and suddenly Yo-Yo comes in at super-speed doing her best Quicksilver impression, taking away guns (giving one to Coulson) and shoving Eli into his bomb box. At normal speed, May comes in as her usual badass self, Mack wields his formidable shotgun-axe, and Mace himself punches guys through the air all decked out in full costume.

Coulson throws Reyes a chain to pull him out of the box he's trapped in, but Robbie chooses instead to go all flamey-skull and burn the crap out of his uncle with hellfire as the entire bomb box disappears into the gateway below.

And, speaking of below, a gangster comes across the team downstairs and shoots AIDA, who is lucky enough to be able to feel pain despite being an android. Daisy rushes outside to release all the pent up energy from absorbing those quakes, and shoots herself high into the air, only to come down smack in the middle of all the reporters outside of the hideout. But Mace saves face (for Daisy, SHIELD, and himself) by explaining that Daisy actually just saved them all, and wasn't ever really a wanted supervillain at all, but rather undercover for SHIELD the entire time.

Mack finally gets his act together and kisses Yo-Yo after months of build-up. When Daisy says Coulson made a good move by suggesting an Inhuman as the new Director of SHIELD, he says it wasn't the Inhuman he was hoping it'd be, and gives Daisy a look (as in, "It should have been you"). To which she replies, "Ha. Maybe the comic book version of me." Which is freaking hilarious, because the comic book version of Daisy Johnson actually WAS the Director of SHIELD. Get it? Get it? And, in ...

Radcliffe's Lab: Where Nathanson is packing up Radcliffe's LMD stuff to take over to the Playground, and he accidentally opens AIDA's secret closet. Then he makes the mistake of looking in said closet. We don't get to see what he sees, but it freaks him out for the two seconds or so he has left in his life, since AIDA suddenly appears, apologizes, and then snaps his neck in a frighteningly quick and easy manner. And, finally ...

The Stinger: In which we get to actually see what AIDA killed Agent Nathanson for — and it's a humdinger of a secret! She has the real May hidden in her secret closet, injured, unconscious, and stripped down to her undergarments. Then who the hell is finally breaking open that bottle with Coulson back at the Playground? I guess we'll have to wait a few months to find out, but my money's on another LMD.

Next Time: It'll be a while until MAoS returns, and it's apparently on the bubble, so it may not be back for long ...