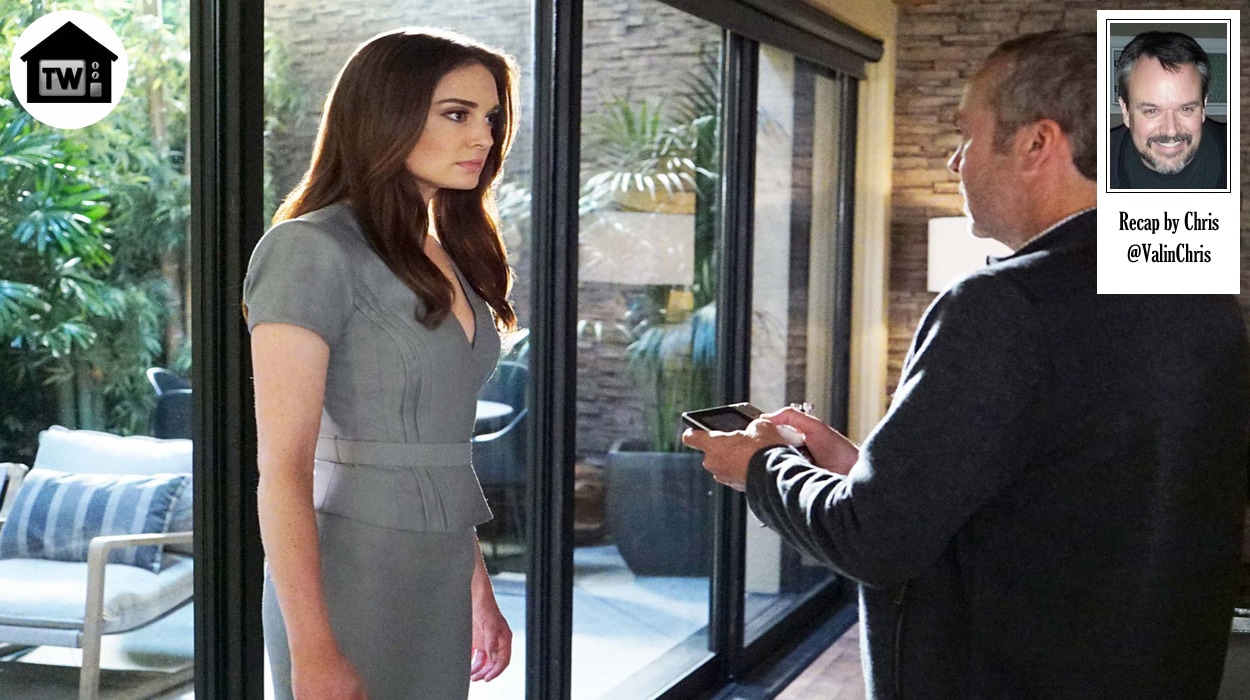 Aida takes over Playground HQ to get the Darkhold while the Director tries to save Senator Nadeer's brother. Neither one turns out so well.

Previouslies: Mostly a recap of the last episode, where Aida apparently became sentient thanks to the Darkhold, then killed Agent Nathanson to cover up the fact that she's holding May prisoner. But wait! Then who's the imposter that's been flirting with Coulson? Then, it's off to ...

Radcliffe's Lab: Where Aida is cleaning up and changing clothes after being shot in the last episode. But she ignores Nathanson's dead body lying in the corner for some reason (think it'll come back to haunt her/it?). Then she takes care of the unconscious May and tells her (and I don't know why a robot would talk to someone who's out cold) she'll play music for her to help her heal while her LMD (Life Model Decoy) does its job back at …

Playground HQ: Where said "May" LMD is spying on the SHIELD team as they discuss hiding the Darkhold with a spell and erasing Aida's hard drive, since she read the entire thing and has a record of it. It's still not clear whether "May" is programmed with her memories or whether her consciousness is somehow being transferred to the LMD without her being aware of it. Radcliffe reluctantly agrees, but isn't happy about his sex robot losing her memories (although he claims they're just friends). Simmons and Daisy figure out that the Inhuman that Senator Nadeer had Simmons save from the cocoon turns out to be Nadeer's own brother, Vijay, who's being held at a …

Nadeer Mansion: Where he's having a nightmare/memory of his mom being blown up by the Chitauri invaders (from the first Avengers movie). He wakes up to his sister making breakfast for him, but it turns out it's all a setup, because her Watchdog goons are out in the woods listening for the secret phrase that means they're supposed to off the guy. When Nadeer says it, they pop out to kill him, and Nadeer says she's sorry but they made a deal with one another back when their parents were killed by the Chitauri that they wouldn't let one another be infected by aliens. Vijay swears that he's not an Inhuman, even though he was in the cocoon (he claims he was trapped in there for so long because he was fighting the change) and she agrees to spare his life. But the Watchdogs aren't so happy about it. Back at …

Playground HQ: Mace meets with Daisy and hints that he'd like a "thank you" for essentially converting her status from wanted outlaw to American hero with his impromptu performance in front of the press at the end of the last episode. Daisy basically says that she saved their asses, so they're even. They decide to bury the hatchet and work together to save Inhumans, starting with the one Simmons saved, and Daisy informs him that they figured out he's Nadeer's bro, so they make a plan to find out where she's holding him. Meanwhile, at …

Radcliffe's Lab: Fitz, Radcliffe, and a couple of SHIELD redshirts show up to wipe Aida's hard drive, but Aida's no longer responding to her remote control. She gets upset at Fitz for trying to essentially "kill" her and throws him through a window into the area where Nathanson's body is located, and Aida takes off. Radcliffe and Fitz rush back to …

Playground HQ: Where they're trying to figure out how to track Aida, but instead she traps them in their own base. Outsmarted by a robot again. When will they learn? While Aida tries to find the Darkhold, "May" flirts with Coulson and finds out it's been cloaked in the Director's office and it's sitting in a drawer. That's right: One of the most powerful magical objects in the world is sitting in a drawer in a bureaucrat's office.

Mack and Yo-Yo keep making jokes and pop culture references about how Radcliffe should have known better than to make a sentient android (including the fact that he should be forced to watch all of the Terminator films … including Salvation!). They end up getting attacked by a Quinjet under Aida's control, at which point Mack admits that he always felt he was going to be killed by robots, and even has a special provision in his life insurance policy. Aida goes and gets the Darkhold, but Fitz manages to take the base off-grid and offline, and gets it running on old, out-of-date computers. Aida says she regrets killing Nathanson and only wants to be a "real girl," but Mack is not having any of it and decapitates the android with his badass shotgun-ax. While this is happening, Mace, Daisy, and Simmons are on their way to the …

Nadeer Mansion: After stopping at her Senate office and tricking an aide into calling to her location. Simmons barely manages to kick his ass and take his cell phone to get the GPS coordinates, and they show up at her door unannounced, which does NOT make her happy. Daisy realizes her security guys are Watchdogs, and Nadeer kicks them all out of her house, but then they hear a gunshot upstairs. The head Watchdog goon had called the "Superior" (whoever that is) and gotten permission to kill Vijay despite Nadeer's orders not to. But Vijay's powers kicked in, and he has some kind of super-fast reflexes and is able to beat them all. Downstairs, Daisy and Simmons try to convince Vijay to go with them so they can protect him, but the freakin' idiot decides to go with his sister instead. They climb into a helicopter, but some of the Watchdog guys are in there. Nadeer apologizes to her brother, then shoots him in the stomach. She tells the Watchdogs never to question her again, and to dump his body. Next, at …

Radcliffe's Lab: Radcliffe takes a drink in memory of Aida, but it turns out she was just an older model, and the "real" Aida is right there with him. Aida's humanity is all an act that he programmed, and he's the one behind everything. He tells her the "May" LMD will have to get the Darkhold for him now, and they check on the real May to make sure she's still okay and unconscious. So, it turns out Radcliffe is the real bad guy after all! I always did think they let him off a little too easy considering what he did when he first came on the show. And, finally ...

The Stinger: In which we see Vijay's body drop from the helicopter into the water and get pulled down to the bottom by a weighted bag. The way he falls, it looks like there's no way he survived the shot to the gut, but suddenly a new cocoon encompasses him, so ... second chance?

Next Time: Why does Mace always have that briefcase nearby?

​