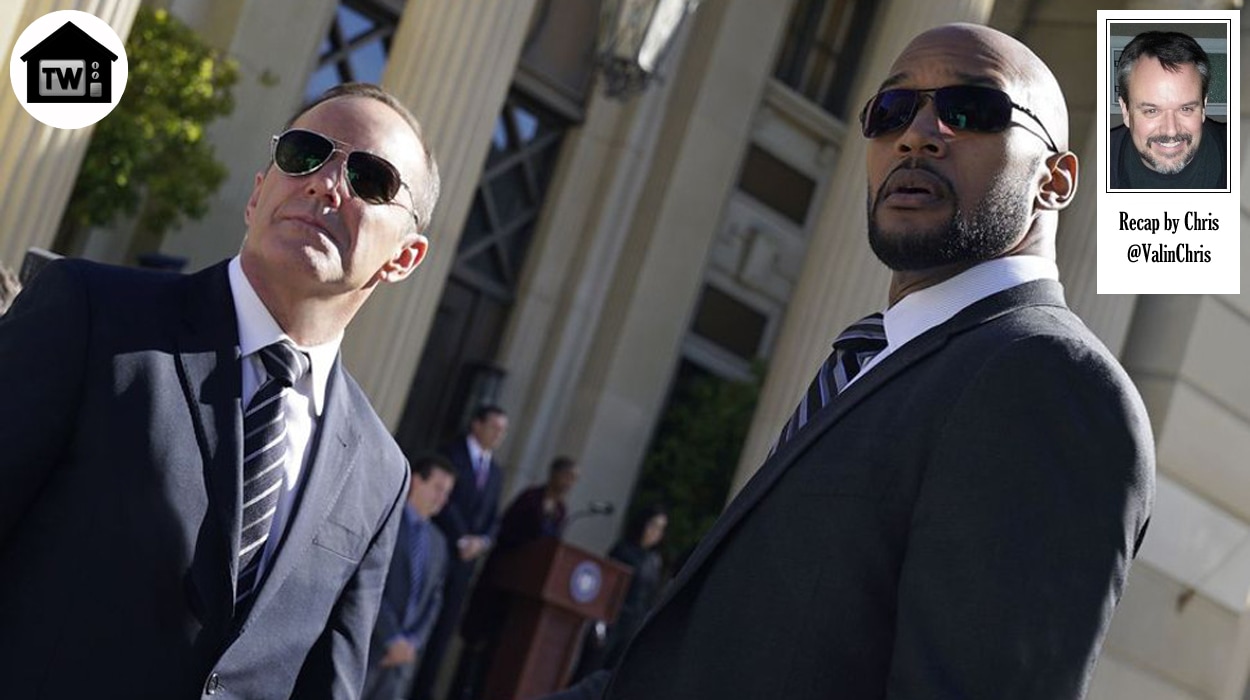 Finally, the mystery of what's in that metal briefcase that Agent Burrows follows Director Mace around with is solved! Except, to be honest, I never even noticed any briefcase.
Previouslies: Mostly a recap of the last episode, where Aida took over the base in order to find the Darkhold, but was then decapitated by Mack. Except she wasn't the current Aida, but an older version. Then, it's off to ...

A City Street: Where Director Mace is giving a press conference praising Daisy's heroics and explaining how she's been with SHIELD all along. A sniper shoots an explosive projectile, which Mace blocks with the podium, then tosses into the air to prevent any casualties from the explosion. While Coulson and Mack get Mace and his minion, Burrows, the hell out of there in a quinjet, Daisy Quake-jumps up to the rooftop and takes the Watchdog sniper into custody. She takes him back to …

Playground HQ: Where Talbot has taken over temporary command. After May doesn't have any luck interrogating him, Simmons brings the head of Aida (the older model decapitated last week) in a box to make the guy think that she's capable of some bad shit after having been undercover with Hydra a couple of years ago. Daisy gets more information just by pretending to talk to (LMD) May about how lame the guy is because he failed, and the guy spills that the real plan was to separate Mace from the briefcase. And Simmons is already in a bad mood, since Fitz had insisted on working on the head to fix its programming. Speaking of which, over at …

Radcliffe's Lab: Fitz tells Radcliffe to lay low and stay away from HQ for a bit, and after he leaves, Radcliffe complains to New Aida that he can't help LMD May find the Darkhold if he isn't on base. He also reprimands Aida again for killing Nathanson and being too violent in general. But, when May wakes up and tries to escape, Aida goes right back to being violent and nearly chokes May to death. Radcliffe stops her, and they try to figure out why she keeps waking up since they have her in such a tranquil virtual environment. Then it finally dawns on Mr. Genius that — HELLO — it's May. She doesn't do tranquil. Meanwhile, up in the sky, on board …

The Quinjet: Burrows is the only one who's happy about the assassination attempt because Mace's heroics are good PR, but when he stands up to get more bars on his cell phone, the plane is hit by something and he and the briefcase get sucked out at high speed (oh … apparently that's what happens when you use your cell phone on the plane. Now I know why they make such a big deal about it). The quinjet crashes in a forest, and the redshirt pilot is dead (seriously, this show is getting worse than Star Trek with killing off unnamed supernumeraries). Mace immediately insists that they find Burrows despite Mack pointing out that the guy is almost 100% for sure dead because he, y'know, got sucked out of a plane at 30,000 feet.

Coulson and Mack finally realize it's not about Burrows, but the briefcase, when they encounter literally a truckload of Watchdogs trying to open the thing. After a knock-down-drag-out, Mace opens the case and tries to inject himself with one of the giant syringes full of formula, but both of them get destroyed in the continuing fight. Mace finally comes clean and admits that he's not an Inhuman, but actually takes the formula to get super-strength, which he was ordered to do by Talbot and the president. Back at …

Playground HQ: Where Talbot is doing his typically crappy job of leading things. He won't allow them to look at Mace's file, which makes them suspicious. Then Simmons realizes she has access to the file because Coulson is missing and her status has moved up a notch. She threatens to read the file aloud if Talbot doesn't explain the mystery. They clear the room of everyone except FitzSimmons, and Talbot explains that they couldn't find an Inhuman that was right to head up SHIELD, so instead they created a super-human using Project Patriot, a modified version of the Mr. Hyde formula that Daisy's dad created. Yeah. Smart move, right? But he needs the formula regularly, and if they don't get him some fast, he's going to have the strength of a wet paper napkin. Back at …

The Forest: ANOTHER (literal) truckload of Watchdogs shows up and they take cover in a ranger's station. Mace puts on his supersuit and pretends to negotiate with the Watchdogs for the briefcase while Mack goes around the back and starts taking out some of them. It doesn't last long, and soon Coulson and Mace are trapped in the ranger's station without any more ammo, and Mack is fighting hand-to-hand with some Watchdog badass in a shed. But the cavalry shows up in the form of Daisy and LMD May, who save them, but not before the badass dude gives May a pretty nasty cut on her back. They head back to …

Playground HQ: Where Fitz pretends to put away the Aida head, while secretly downloading its contents to study. Coulson confronts Talbot about Project Patriot and Mace's secret, and after Talbot leaves, Mace explains to Coulson that he was never a hero in Vienna, but just a guy who tripped and had an accidental photo op in the right place. Coulson tells him he's still the face of SHIELD, but from now on, Coulson is going to call the shots on operations. And, finally …

The Stinger: In which May is in the locker room at HQ, and finally checks out the wound on her back that she got from fighting that Watchdog … and sees that there's metal and circuitry inside.

Next Time: There's a leak in the organization, and Coulson gets arrested!

​