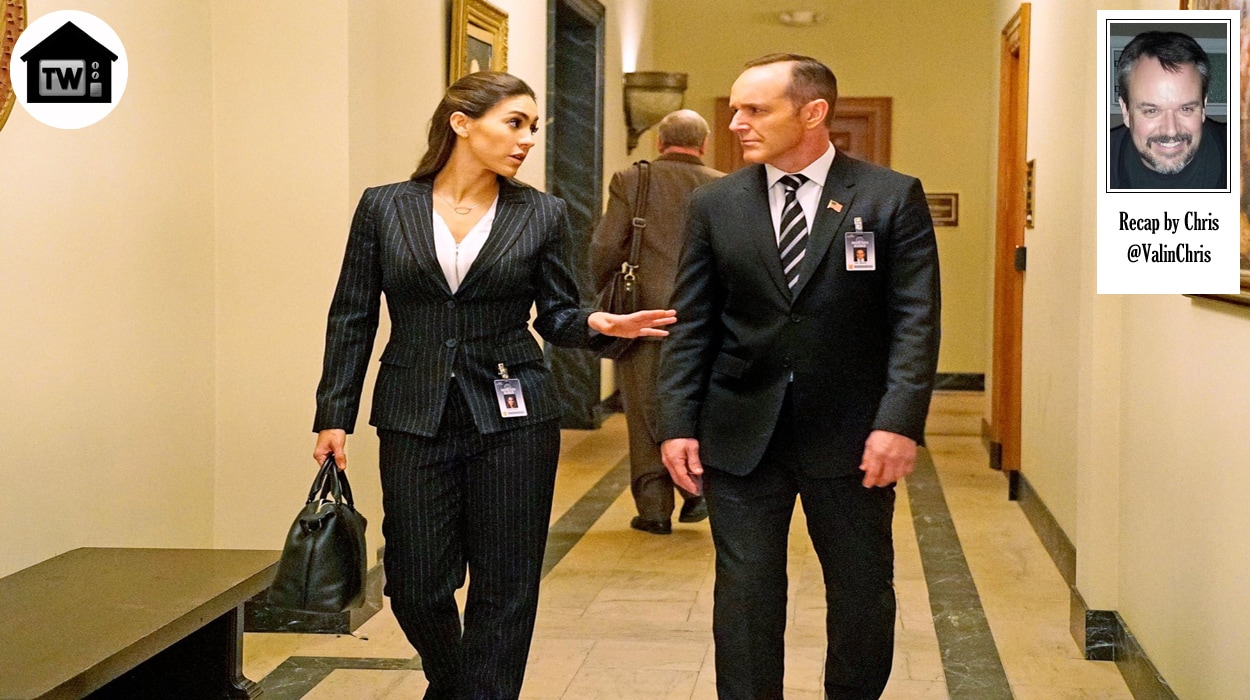 LMDs abound, including one we don't know about, plus there's a leak that allows Senator Nadeer to get the upper hand.

Previouslies: Other than Coulson taking over except for as the "face" of SHIELD, it's all about the LMDs: Aida's earlier version getting decapitated and Fitz wanting to save her, and LMD May and the intrigue surrounding her. Then, we're straight into ...

A Flashback: To five days ago, or, as we like to think of it, last month before the show went on a break for the holidays, when May went on a "milk run" to Radcliffe's lab to pick up Aida. But Radcliffe talked to May before she left HQ, and found out she planned to destroy the Darhold. So Radcliffe called Aida and activated the "Sunset Protocol," and when May showed up, Aida knocked her out and uploaded her memories into the LMD that now replaces her. Then …

ANOTHER Flashback: This time to one day ago (or, in real time, last week), where May remembered waking up over and over again in a spa (although it was all in her head), until she eventually forced herself awake in Radcliffe's lab, only to be knocked out again by Aida. And then …

Today (at Radcliffe's Lab): Where Radcliffe thinks he's figured out how to keep May under and has to explain to Aida why they can't just kill the real May when they have the LMD version. They also mention a "second LMD" also in operation … but who? Aida is still suspicious, and purposely knocks over a glass to test May, who quickly "wakes up" and uses a piece of glass to cut her restraints. And, at …

Playground HQ: The muckety-mucks talk over Daisy going to the Capitol and signing the Sokovia Accords (remember "Civil War"?). Simmons seems to be the only one thinking (rightly) that it doesn't seem like something Daisy would do, or that Coulson would agree to (planting suspicion as to who the other LMD might be). But then we learn that they're actually going so that Yo-Yo can plant some surveillance in Senator Nadeer's office, so it makes more sense. Although General Talbot it NOT happy about it at all, and says they should be acting above-board from now on (like every spy agency, right?). Coulson gives him a smart-ass reply about juicing Director Mace to pretend he's an Inhuman, and the plan is a go.

Speaking of Yo-Yo, she's yo-yoing Mack down in her room at HQ. But when she takes a water break, he gets a text which gets him acting pretty weird and skipping out on more yo-yoing (suspicion planted again). Meanwhile, May asks Fitz some questions about Aida, since she suspects she's an LMD, but she can't get anywhere without giving away her suspicions. Back at …

Radcliffe's Lab: May cuts herself free and tries to escape, but Aida is ready for her and promises to make it "quick and painless." May is in pretty bad shape to begin with, and then gets thrown around the room while fighting the super-strong android who doesn't feel pain (anymore), but she still manages to stab an iron fireplace poker through her circuitry and head out. She gets to an upstairs apartment, but Aida catches up to her quickly. May kicks her over the balcony, but instead of falling, she turns into pixels.

Aida appears behind her again, and explains that she's in a simulation to keep her busy. She's done it over and over again, and they wipe her memory each time, but she still gets faster and farther each time. Suddenly, she's back at the point where Aida drops the glass. Next, we're off to …

The Capitol (which — fun fact — means the actual building when it's spelled with an 'o': Where Mace gives Daisy a pep talk which turns into a genuine "aw, shucks" heart-to-heart … at least until Senator Nadeer shows up and they realize it's going to be quite the grilling in that hearing room. As she's asking Daisy accusatory questions about operating illegally for SHIELD while "undercover," Coulson and Yo-Yo get caught red-handed in Nadeer's office (which she somehow knew was going to happen), and the two get dragged into the hearing in cuffs. After a tense discussion between some senators and Talbot and Mace, they're told they're free to go, but there's going to be a full investigation into all of SHIELD's activities, as well as senate committee hearings and subcommittee hearings (sounds like a barrel of laughs to me).

Talbot is pissed at Coulson for not listening to him, but Coulson says the op was successful in one way: it exposed the fact that they have a leak. Coulson asks Talbot if it was him, but he says SHIELD wouldn't even exist without him. Hmmmm … now who knew about the op and was acting strangely just before it happened? Then, at …

Playground HQ: Simmons and LMD May discuss the leak and who it could be when Simmons catches Fitz studying Aida's program on his tablet. She says that if turned on Aida's head, the cameras in her eyes could have been spying on them the entire time, and may have even let Nadeer know they were coming. She tells him his obsession has to stop, and he replies that it's not an obsession … it's an investigation! (Cue ominous music.) And LMD May shows up at …

Radcliffe's Lab: Where she confronts him and asks what the hell he did to her. He's delighted that she realized what she is, and isn't afraid of her telling Coulson because of her programming. When she tries to hit him on the head, she can't bring herself to do that either. He says she's going to do whatever it takes to complete her mission, and in the end, everyone will be fine. Suddenly, Coulson, FitzSimmons, and a bunch of SHIELD soldiers bust in and arrest Radcliffe. It turns out Fitz suspected that the Darkhold wasn't really what had changed Aida, but her programming. They ask LMD May what she's doing there, but even then she lies and says she suspected that Radcliffe was the leak and that he admitted it. Back at …

Playground HQ: Mack gets back from wherever he was, and Yo-Yo asks him straight up. He says the text was from his ex, Nicole, and that he went to see her. She breaks up with him, but then he reveals that he had a daughter, Hope, who died eleven years ago, and that Nicole has a hard time on her birthday. She forgives him, and everything's okay. Hugs all around! Coulson is mad at himself for being reckless with the op, and for not listening to Talbot, but May says he shouldn't be hard on himself.

Fitz confronts Radcliffe, who had been like a father to him, and now he feels betrayed. He gets suspicious about some of the things Radcliffe says, so he borrows a gun from a guard and SHOOTS RADCLIFFE IN THE HEAD. Fitz' suspicion proves correct, as it turns out to be a Radcliffe LMD, but holy crap, what if it had been the real deal? Meanwhile, the real Radcliffe is in …

Senator Nadeer's Office: Where he's monitoring everything on a tablet hooked up to his LMD's eyeball cameras. He tells Nadeer he knew something like that would happen, and that's why he came to her for protection. She says she's not the one protecting him … he's going to have to meet "The Superior." When will WE meet The Superior? Who knows? And, finally …

The Stinger: In which Radcliffe and Aida discuss the new program they have running in the real May's brain … now it's a different fight — the Bahrain incident for which she was given the nickname "The Cavalry." Only this time, she saves the little girl. Will it alter her personality completely?

Next Time: Pattaon Oswalt is back! Who the hell cares what else happens?