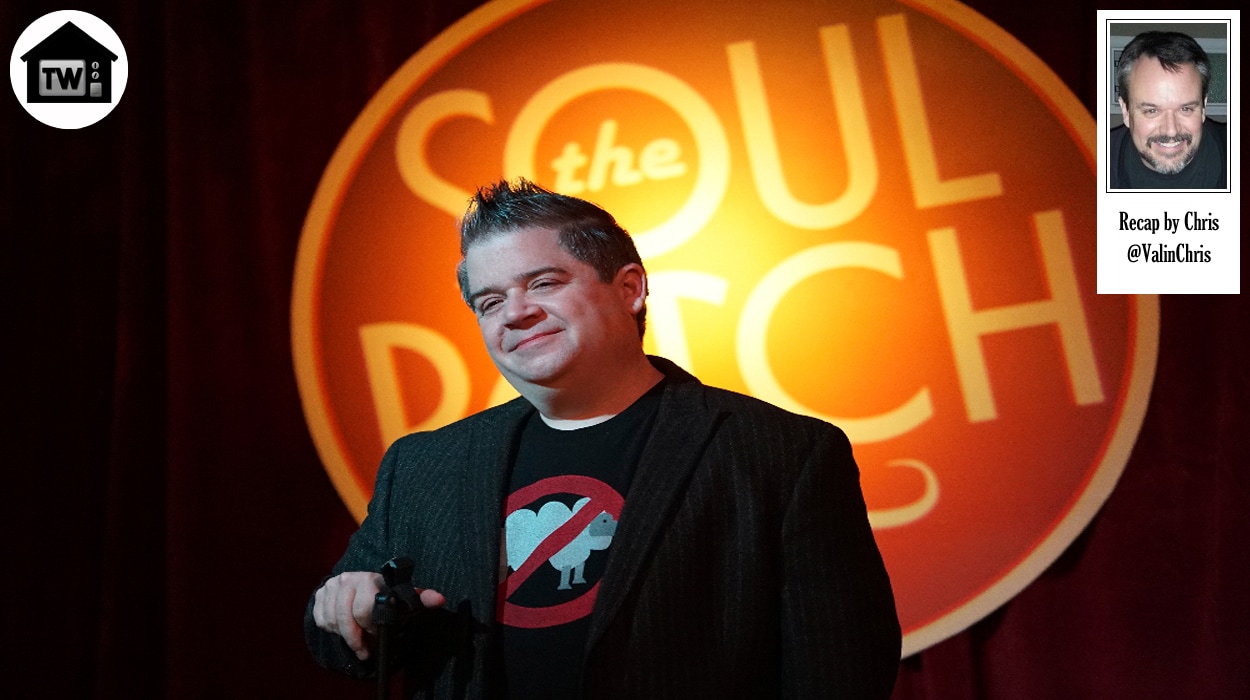 Agent Koenig alert! They're back. And more entertaining than ever. Can we just make the show about these guys already? ​
Previouslies: Mostly info on the LMDs (Aida, May, and Radcliffe) for anyone who hasn't been watching (but, really, who would watch an episode without catching up first, now that previous ones are available on the website?). No sign of Director Mace or the investigation by Congress that was supposed to happen. Then, we're straight into ...

An Arcade: Where Billy and Sam Koenig (SHIELD agents identical to one another, as well as to Erik Koenig, who was murdered by Ward) zip around on hover boards (why do they call them that, when they don't actually hover?) and have a great time until some Russian Watchdogs show up and ruin their party. Radcliffe discovered that Coulson had given the Darkhold to Billy to "make it disappear," and they're here to kidnap him. But they're just as confused by the identical agents as the audience has been all along (are they brothers? Twins? Clones? Robots?). Sam hides behind the bar while Billy runs out of the arcade, but Billy is zapped by a cattle prod (or whatever you call those zappy sticks) and taken away to ...

A Russian Submarine: Where a Russian spy named Ivanov (who is apparently the "Superior" that Nadeer's been referring to) is going to torture Billy and (supposedly) Radcliffe, who are both tied up in the brig. He wants to get the Darkhold so that he can destroy all Inhumans. But when Ivanov is about to get all stabby with Billy's eye, Radcliffe stands up and reveals he's part of the whole thing and wants to use his machine to get into his brain without using a broken shot glass. Why not just use the brain machine in the first place, you ask? Or maybe that was the voice in my head asking and not you. Up in the sky, on ...

The Zephyr: Coulson informs the team of the kidnapping and the fact that he gave the Darkhold to Billy for safekeeping. They talk to Sam and find out that Billy gave the Darkhold to him, and then he gave it the "original" Special Agent Koenig: L.T. Coulson says they need to go get L.T., because no Koenig is safe right now. Meanwhile, over at ...

Playground HQ: FitzSimmons try to get some info out of LMD Radcliffe, but the android messes with Fitz by saying he used to know his dad, who used to be verbally abusive to Fitz and walked out on him when he was ten. At first, the psych-out works on Fitz, who's convinced he's not good enough to crack the LMD's programming, but after a pep-talk from Simmons, he realizes it's not programmed at all, but has its own brain. He opens up the LMD's head to take a look, and the LMD slips up and says that Radcliffe mapped "brains," plural. Simmons realizes that she actually saw Radcliffe map May's brain, and they come to the conclusion that the May they've been working with recently is also an LMD! But she's busy with Coulson over at ...

A Nightclub: Where another Koenig is up on stage doing stand-up comedy as some Watchdogs come in to kill him, but before you can say WTF? they're taken out by a badass woman along with some help from Coulson's team. It turns out the woman is L.T., the agent who recruited her brothers into SHIELD, with the exception of the morose comic Thurston, who's anti-SHIELD and anti-government in general. But they take him along as well as L.T. to keep him safe, and soon learn that L.T. doesn't have the Darkhold because, as part of Operation: Hot Potato, she gave it back to Billy, who is still on board ...

The Submarine: Where Radcliffe hooks the thing up to Billy's head and puts on a set of headphones, and somehow he's able to actually watch his memories. Radcliffe finally fast-forwards his memories to the point where he brought the evil book to The Labyrinth, a library/SHIELD vault with a bunch of coded doors. Radcliffe tells Aida to memorize the codes he reads off while watching Billy's memories, and then he and the Watchdogs take off for ...

The Labyrinth: Where Coulson and his team are waiting for them to show up. While they're waiting, May and Coulson continue their recent flirtation, with him, of course, oblivious to the fact that she's an automaton. While L.T. and Quake stay near the door, Sam tells Coulson and May to wait outside the vault while he gets the Darkhold. They share a kiss just as the Watchdogs show up, and Sam hands May the Darkhold. Coulson tells her to give it to him so she won't be a target, but she pulls a gun on him and says she can't — it's against her programming. He realizes she's an LMD and wonders how long it's been.

Quake takes down LMD May and Coulson grabs the book, then tosses it to the Watchdogs in return for Billy, whose head they're holding a gun to. When Billy's safe, Daisy quakes the book away from them, and Sam grabs it and runs, but sees LMD May injured and tries to help her, unaware that she's a robot. She knocks him out and takes the Darkhold, giving it to Radcliffe, who says she can't go with them because she wasn't "made to last." Back on ...

The Zephyr: They start planning on taking down Nadeer and the Watchdogs. Billy and Sam marvel at the fact that Radcliffe was able to create an LMD, saying that they were part of the original program and are obsolete. When an agent asks about it, they laugh and say they were technicians, not robots. Back at ...

Playground HQ: They burn LMD Radcliffe, but decide to keep the deactivated LMD May around in case they can't find the real one ... since she'll be the only version left. And, finally ...

The Stinger: In which Ivanov tells Radcliffe he's searching for a man who should be dead, but shows up everywhere Inhumans are involved. The pictures are of Coulson, and Radcliffe says he knows him and can bring Ivanov to him so he can kill him. Dark side turning complete.

Next Time: Coulson and Mace step it up a notch in order to save May.

​