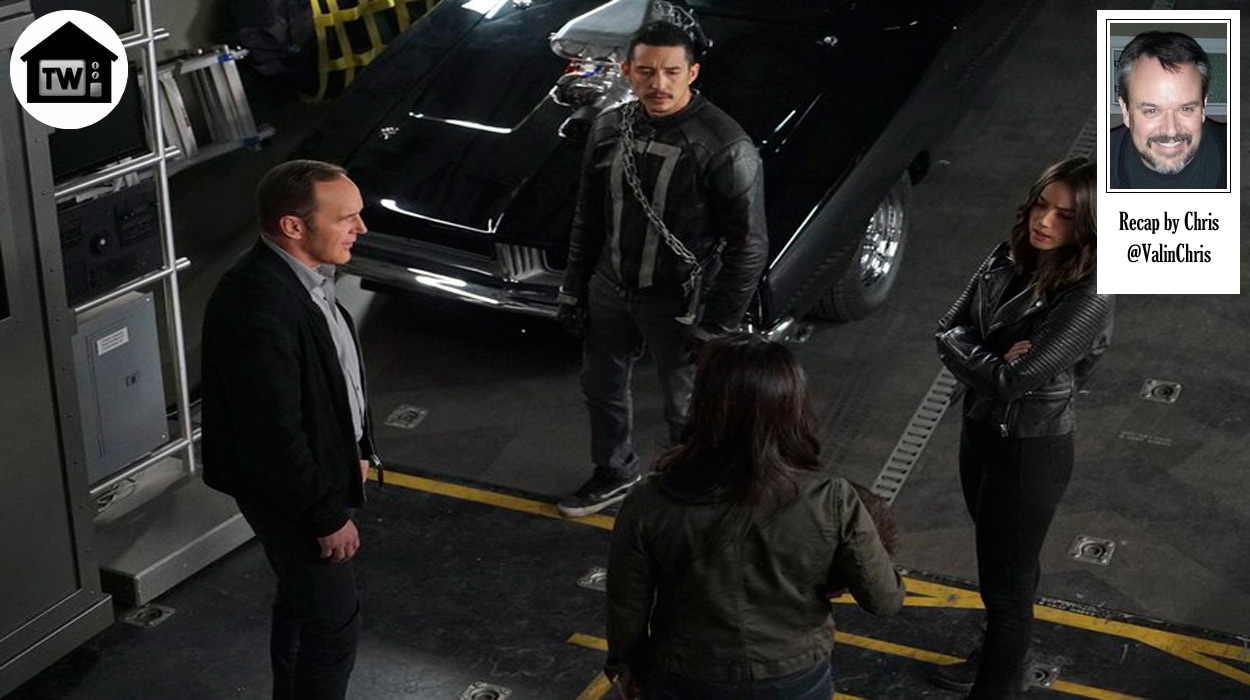 A wrap-up to MAoS's best season, with a heart-wrenching Mack scene and a huge surprise ending with Coulson.

Previouslies: A recap of last week's events, then we're in …

A (say it with me) Warehouse: Where Robbie Reyes is ready to grab the Darkhold and get back at Aida and her Ivanov-bots, showing up, taking names (j/k, he doesn't really care 'bout anyone's name), and stomping heads. Literally. If they weren't robots there's no way they could have shown this. Just when he looks like she might be able to hurt him with her spanking new Inhuman powers, he Ghost-Riders out and whips his chain around her arm … and the burn doesn't heal. This freaks her out and she teleports away.

Daisy, who saw that Robbie had stolen back his magic demon car from a SHIELD impound lot, shows up and finds out that he escaped the dark dimension where he'd been trapped because Aida used energy from there to create her human body. Meanwhile, inside …

The Framework: Yo-Yo manages to escape her precarious situation at Hydra HQ thanks to Radcliffe, who's getting "bread crumbs" from the outside, leading him to her. He explains to her just how stupid her plan was, since the entire Framework is falling apart, and Mack doesn't want to leave Hope no matter what.

They find Mack at Playground HQ, but everyone and everything around them is literally disappearing. She meets Hope and finally understands why Mack doesn't want to leave, but Hope overhears her talking to Radcliffe about the fact that Mack is going to die and Hope isn't real … which leads to a LITTLE bit of friction between Yo-Yo and the man she loves who doesn't remember her. Outside the Framework, onboard …

The Zephyr: The team realizes that the new model of Ivanov-bot looks exactly like one of the men attending an intelligence meeting that Talbot insisted Coulson attend the next day on the future of SHIELD. Just before they reach …

The Meeting: The Daisy LMD waltzes in and shoots Talbot right in the head (but not fatally … of course). Aida and Ivanov join her, but Coulson and his crew show up and manage to grab the Darkhold, because Robbie is with them and Aida is forced to teleport away, since he's the one thing she's afraid of. After they make short work of the Ivanov-bots, they head over to …

Playground HQ: Where the gateway to the dark dimension is located, so they can get rid of the Darkhold. Aida confronts FitzSimmons about what she sees as a betrayal, and Fitz tries to calm her down while Simmons sneaks up behind her with a sharp instrument. But she senses Simmons there and stabs her in the chest, then electrocutes her for good measure! Is Simmons dead?

Elsewhere, SHIELD's other troubled couple, Coulson and May, discuss their feelings since they're not sure they're going to make it out of this one. They decide to start over once they're done with this, and see where things go. Aida shows up at the gateway and gets shot by a machine gun wielded by … Simmons? Oh yeah, that was her LMD she killed earlier. But she just heals right away. Simmons knew she would, but couldn't resist the catharsis of shooting Aida with a machine gun.

Aida laughs off Simmons and Coulson's threats, since the only thing she's afraid of is Ghost Rider, and Robbie is — oh, snap! Coulson's head suddenly bursts into flames and HE turns into GR himself. Apparently, since he came back from the dead, he's a host candidate as well! He grabs her before she can teleport away, and hangs on long enough to burn her into ash with his hellfire. But wait! What about Mack? Back in …

The Framework: Mack still refuses to leave as everything continues to disappear around him. Yo-Yo decides that, just as Mack doesn't want to leave without Hope, she won't leave without Mack. They sit down together, waiting for the end, as Radcliffe, who's unable to leave himself because his real body is dead, tells them what idiots they are. But then Hope disappears, leaving nothing in the Framework for Mack, and they both go through and wake up in the real world, where Mack is devastated.

Radcliffe heads for a beach and pours himself a stiff drink as he looks out over the ocean, then disappears along with the rest of the virtual world he created. As it fades out, we return to …

Playground HQ: Where Robbie mentions something about a price that came with Coulson taking on the Ghost Rider mantel … presumably his soul, considering he's a demon. Then he takes the Darkhold back to Hell where it belongs. I guess we'll worry about Coulson's deal next season. For now, SHIELD (especially Daisy) is wanted once again, so they decide the best course of action is, of course, to get something to eat at …

A Diner: Where they're just about ready to order some pie when the power goes out, and they find themselves surrounded by armed soldiers. And, finally …

The Stinger: In which Coulson wakes up on a bed in what at first appears to be some kind of cell, but it's pretty roomy for a prison. He hits a button on the wall, and suddenly there's a huge window with a view of SPACE. As in FROM space. And he says, "Enough sightseeing, time to get to work."

Next Time: Where are they now? The Inhumans' base on the moon? A SWORD space station? We'll have to wait until January to find out. Yeah, that's right. I said January. Deal with it.

​