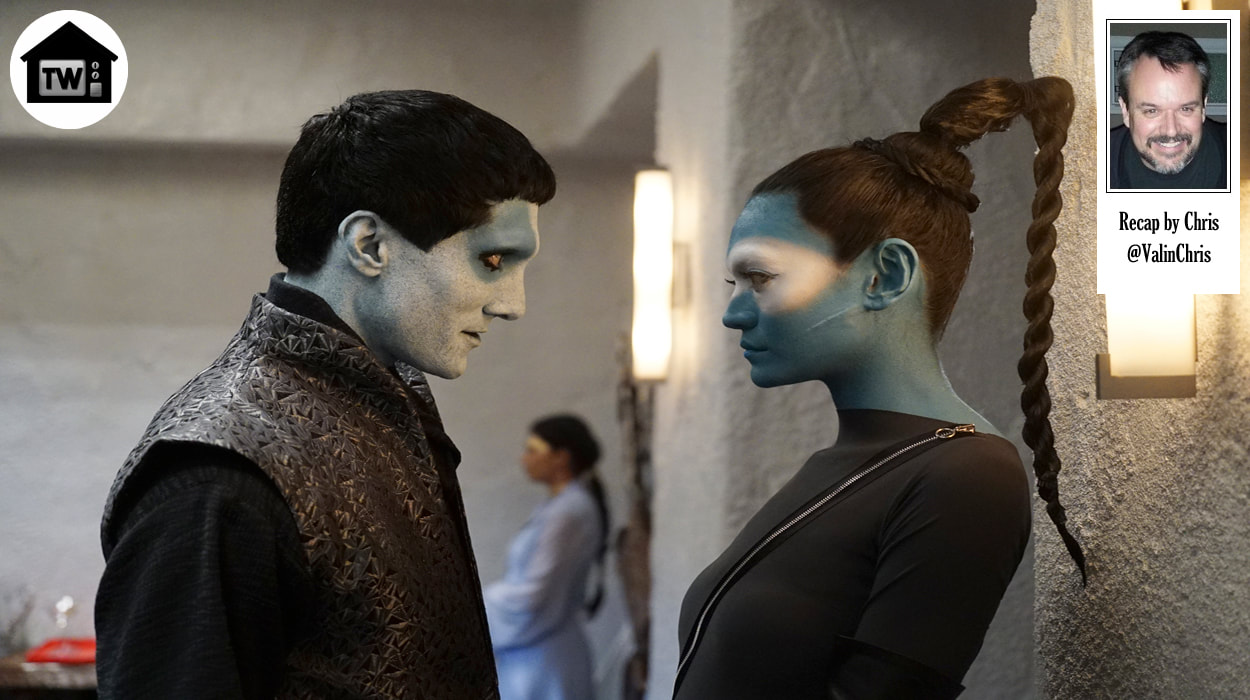 May and Daisy each have to fight a Battle Royale. With cheese.

Previouslies: A recap of the season so far. Then, as with most of the eps this season, we begin at...

The Lighthouse: Where a kid is trying his best to eat breakfast by wheeling and dealing all over the station, but he's soon taken by the Kree. Thanks to Tess, we (and the SHIELDsters) find out he's going to be harvested along with a couple of other children. They put them up on a platform and crush a Terragin crystal, and the mist has no effect on the others, but the kid who knew Tess crusts up, meaning he's going to get powers. But when the crust breaks, the kid (Flint) is gone. Did he get powers of invisibility? Nope. He was just saved by Yo-Yo. Meanwhile, over on…

Enoch's Ship: We back up a bit from last week's ending, and see Enoch explaining to Fitz how he's constructed a marauder identity for him so that he can bid on Daisy at the Inhuman auction and save his other friends. They head over to Kasius' party back on…

The Lighthouse: Where Fitz tries to be sly and quietly talk to Simmons while standing behind her—even asking her to marry him!—without knowing that she can't hear a word he's saying thanks to Kasius' earworm thingie. He figures it out and makes an excuse to get Kasius to allow her to hear him. At the pre-auction dinner, it's revealed by one of the other guests that Kasius was basically exiled by his father while his brother inherited the family business.

Ben the telepath fights May, but she can't beat him because she's injured and he can predict her moves. Fitz intervenes before he can kill her by claiming the battle is boring, and Kasius says to send her down to earth to be eaten by the giant roaches. Then Kasius reveals that Ben lied about nobody else showing up with Daisy and Simmons, so instead of allowing the guests to bid on him, he has Sinara kill him with her flying balls of death.

Back at the recycling room, Grill overhears Yo-Yo and the others talking to Flint about gaining Inhuman powers, and Grill figures out that they've been scamming him the whole time, including making him kill his old minion. They tell him they're there to fulfill the prophecy, and he laughs his ass off and says he's going to sell them to Kasius. But Flint's powers really kick in, and he buries Grill under a pile of rocks. Unfortunately, not everything goes that well, and they find Tess murdered with a sign saying to bring them the Inhuman.

Enoch shows up at the auction to warn Fitz that Kasius' big bro has shown up to claim Daisy for himself. He demands that Daisy fight Sinara to the death, so Kasius sets it up. But during the fight, Fitz and Simmons manage to take down the shield, save Daisy, and get the shield up long enough to escape. Simmons asks Fitz to marry HER this time, not knowing he asked her earlier. Finally, Enoch makes it down to earth disguised as a Kree.

Next Time: What happens now that everyone knows who the SHIELD team is?

​