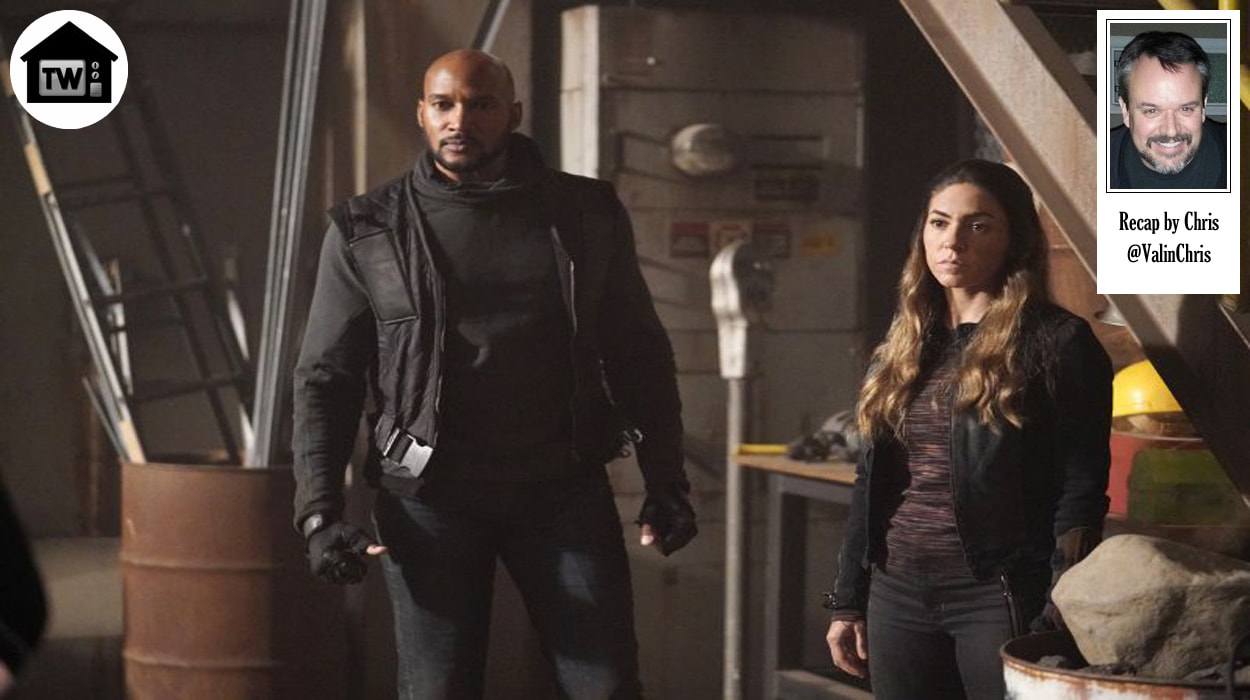 After much to-do, the gang is finally back together! So what's the first thing they do? Why, separate, of course.

Previouslies: A recap of last week's episode, in which May was sent down to be roach food and Daisy went up against the villainess Sinara. Then, as with most of the eps this season, we begin at...

The Lighthouse: Where we pick up right where we left off, with Fitz helping Daisy and Simmons to escape from Kasius' arena of sometimes-death-or-maybe-not. It looks like Simmons slits Kasius' throat for a sec, but it turns out her heroism got the best of her, and she only gave him what appears to be a bad paper cut on his cheek.

They make it to a part of the station where they can see Fitz's space ship, then watch is go BOOM as it's destroyed…luckily before they got on board. At least Fitz is able to dig out the implant from Simmons' ear so she can hear and doesn't have a horrible headache that Kasius is apparently able to cause her. But now they have a new problem, as a Kree finds them and Daisy's powers are still in "off" mode due to Kasius' remote control thingie. Thank goodness for all that super-spy-secret-agent training she has, since she's still able to take down the much bigger alien.

Kasius is whining about his scar and his brother thinks he's a wimp. So Faulnak sends his henchman, Manston-Dar (these are their names—I'm not just hitting the keyboard with the palm of my hand), to find the escapees since he doesn't trust Kasius to do it. But Kasius sends Sinara as well.

Meanwhile, Flint complains to Mack that he doesn't like the Vicar punishing others, like Tess, for his own disappearance. Mack tries to convince him to stay, but he disappears and goes to get revenge. He manages to use his new rock-powers to kill the Vicar, but Sinara knocks him down and says she's going to use him for bait.

Fitz-Simmons and Daisy finally hook up with Coulson and the rest of the crew, and they in turn find Deke, who escaped from being welded into his room by opening the window and using his Starlordesque mask. They don't trust Deke, but they need him, so they save Flint and hole up back in the salvage room. But Manston-Dar is able to blow through the wall with some explosives…only to be killed by Sinara from behind. When Sinara and the other Kree go into the room, though, it's empty because the SHIELDsters have used Deke's gravity belt to go up the shoot to the trawler.

Sinara goes back to Kasius, who ends up literally stabbing his brother in the back because he's sick of his superiority crap. They decide they're going to clamp down on the station and then go tell Kasius' dad how great Kasius really is.

In the trawler, they talk about getting to earth, but Flint insists on staying behind and fighting for the other humans. Mack and Yo-Yo decide to stay with him. Coulson attempts to fly the trawler, but doesn't do a very good job of it, and they head for…

Earth's Surface: Where May is almost eaten by a roach, but is saved by Enoch at the last minute. Then, both of them are saved from a gravity storm by someone else. When May wakes up, she realizes she's in the Zephyr, and the old woman whose group saved her is formerly the prophetic little girl named Robin.

Next Time: We (hopefully) get to find out from Old Robin what the deal was with the whole earth being smashed to bits and how they're going to stop it from happening…in the past…I guess?