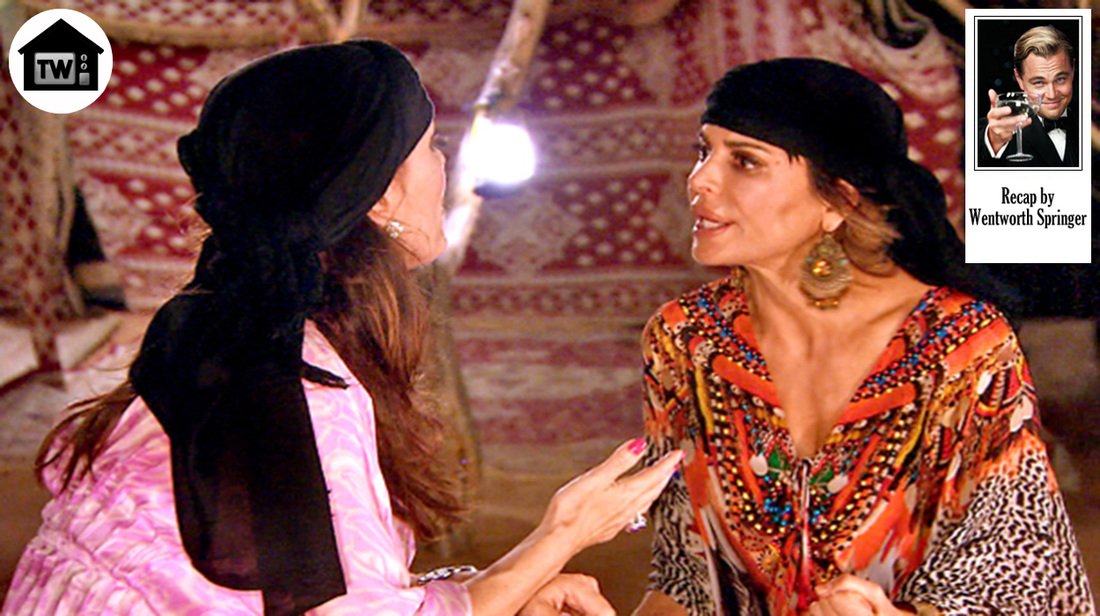 I never tire of the pre-show intros. Simple reminders that not all rich people are clever, or smart, or articulate. Here's hoping someone wrote those pitiful lines for them and that person is now homeless, writing for food.
Opening with Lisa the dog lady (does that make her a bitch?) and Kyle still in Dubai. You have to wonder if Dubai finally puts these ladies in their place as "not the richest people." Kyle and Lisa V have gone to stroke seals (or sea lions, these "ladies" couldn't possibly know the difference). Kyle makes some inane joke about seals and Lisa both having whiskers and that makes her excited to swim with them. More beautiful writing by our now homeless freelancer.

Next we cut to a questionable scene with the two of them tussling with Kyle's wetsuit. After the comment about being excited by Lisa's whiskers and cutting to two women wrestling half-dressed, this can't get much more odd.

Lisa R and Katherine go to the spa instead and start off with a romantic bubble-bath foot soak complete with rose petals … WTF? What kind of spa is this? Back to Lisa V and her stroking a "sexy" sea lion. Yeah, who's writing this crap? Eileen and Erika are at the aquarium. Now a 3-minute discussion of the word "enraged" and a courtesy cut to Lisa R discussing the Instagram photos. Now to Lisa again as she makes out with a sea lion. Let's leave that one there …

Six minutes in and I already want to take my own life, but I can't because I have to finish writing this recap, which brings us to a scene with Eileen stopping by Lisa R's hotel room for further analysis and discussion of the word enraged. This is the most focus on a single word that we've seen since the Clinton scandal.

More babble about the Munchhausen bullshit. It's Lisa R, Lisa V, and Kyle, who gives a shit. Lisa V is just a meddling self-important prude, of course she is going to screw with people for fun, she's entitled as the richest of the group. It is constantly shocking that we put up with so many repetitive bullshit scenes over nothing, and yet we, as seemingly intelligent people, watch this utter garbage. Eh, guilty pleasures right?

Thirteen minutes in brings us to the travel by bus scene. Kyle claims to have made out with a sea lion (pics or it didn't happen, bitch). Erika's style team has outdone themselves by somehow packing 3 lbs of eye makeup onto her face. That was SO worth bringing a bunch of dudes with you to a really fancy hotel. They get all the fun and get paid too, and you look like a two-dollar whore. The women all take a ride in the desert in a topless truck. Driving to the middle of nowhere to stop and watch a falcon catch meat on a rope. Someone saw these ladies coming, or they will literally pay for anything that is overpriced enough.

They all get pics with the falcon then off to a bonfire and some camels for dinner. It's a historical Arabic dinner or some such shit. The women are bitching about not being able to booze it up as Kyle gets some meaningless (to her) henna design on her hand. Out comes a treat for the ladies as they are presumed to be camel "calves" by the desert people who offer them camel milk in the traditional "drink first, tell you what's in it later" fashion. Some like it, some don't. With the camels not far away, how much are they going to bitch about it? The ladies treat us all to some half-witted dancing by whipping their heads back and forth to "traditional" music. I'm pretty sure that's not heavy metal, ladies.

Now for a dinner of lamb and camel (still sitting in front of the live camels). Some of the girls are actually eating the camel. I wish these live camels were more vindictive and would shit on, bite, or spit at one of them. On with more discussion of the Lisa R/Yolanda bullshit, are you tired of hearing this tripe (mine or theirs)? I am. Producers need to wake the fuck up and realize that you cannot carry five episodes on a single dumbass argument. This is just pathetic.

More mentioning of "enraged," I've missed it after 7 minutes of not hearing that word. Erika is being quizzed on what she thinks of the ladies. Discussion of judging people with Erika and Lisa R. Lisa might be trying to sidetrack the conversation with some pointless discussion of people judging and what Lisa thought of Erika's sexy video. Don't bother googling it, nobody cares. Now a couple guys are teaching the girls to suck pipe (hooka). Lisa and Lisa stop to discuss the Yolanda issue's origin. Lisa dodges responsibility (both of them) in the conversation.

Halfway point and nothing has happened that has not happened before (aside from the camel meat and hooka). There is so much worthwhile material in this show. I hope the money the producers make on this is worth having the single most pointless job on the planet as they construct new and interesting ways to assist in simultaneous ego masturbation and revealing these bitches as the soulless high-schoolers that they are.

Predictable shopping back in the city in some market and the excitement of the day as the ladies spot a roach. Intermittent cuts to Lisa R complaining about Lisa V abandoning her in the never-to-be-dropped Yolanda Munchhausen debacle while the women pretend to haggle with vendors over $2 shoes, ultimately paying only several hundred percent more than they were worth. The roaches rank right up there with the camel meat in this episode.

Back to the hotel for naps (Erika & Lisa V) and lunch (everyone else). Endless discussion of Lisa V being revealed more and more as a manipulative over-valued old hag while the girls dine on sea urchin. (And they bitched about camel.) Seriously readers, this Yolanda thing needs to die. This is like a slightly amusing documentary about a single conversation that happened a year ago with dramatizations thrown in for entertainment value. More blah blah bullshit rehashing a rehash of a rehash of an original conversation. Nobody remembers shit at this point or has a clue who said what.

Opening now in Eileen's room and a conversation with Lisa R over Vanderpump's predictable behavior. What's more pathetic — an old bitch manipulating other old bitches, or those other old bitches chattering on about it endlessly?

A cut to Erika's glam squad making her up. Let's hope they do a better job this time and don't make her look so damned ridiculous. Glam squad says "Every diva needs her gays." WTF is that all about? That's right up there with those goofy bastards in that other stupid city that wear high-heeled platforms all the time.

Now for some drinks in the dark while Lisa R whines about the revelation of Lisa V being a ho. Erika and Lisa R proclaim their friendship and then all shut up when Vanderpump and Kyle arrive. Everyone ignores Vanderpump until Rinna decides to "get things off her chest." Didn't see that coming. After 12 seconds with no empty drama, it was decidedly overdue. Lisa V rewrote the truth, Lisa R stumbles in her "not so much paying attention" way while Vanderpump calmly rebukes what she says. It seems Vanderpump is just doing this for amusement, but everyone else is serious. Maybe next time get a cast of all sociopaths instead of just a couple. It would be far more interesting.

Eileen now snatches onto Rinna's poorly thought-out weak argument. Kyle unloads insecurities and cries as her face does not move. Kyle effectively bathes Lisa V's feet in her tears while she professes her love for Vanderpump. Holy shit, these needy bitches. Now it's Eileen's turn to bring up an even older issue that nobody gives two shits about and attempts to whack at Vanderpump with it. How many unique issues arise in an entire season of Real Housewives? Maybe five, and they are all absurd things that the producers convince these idiotic women to rehash endlessly. I sure hope the notoriety and money is worth it. Can we please get a story line, a real story line? Maybe bring back that homeless writer. His drivel was at least non-repetitive, even if it was formulaic.

It's finally over, thank whatever gods you believe in. April Fool's, ladies.

​