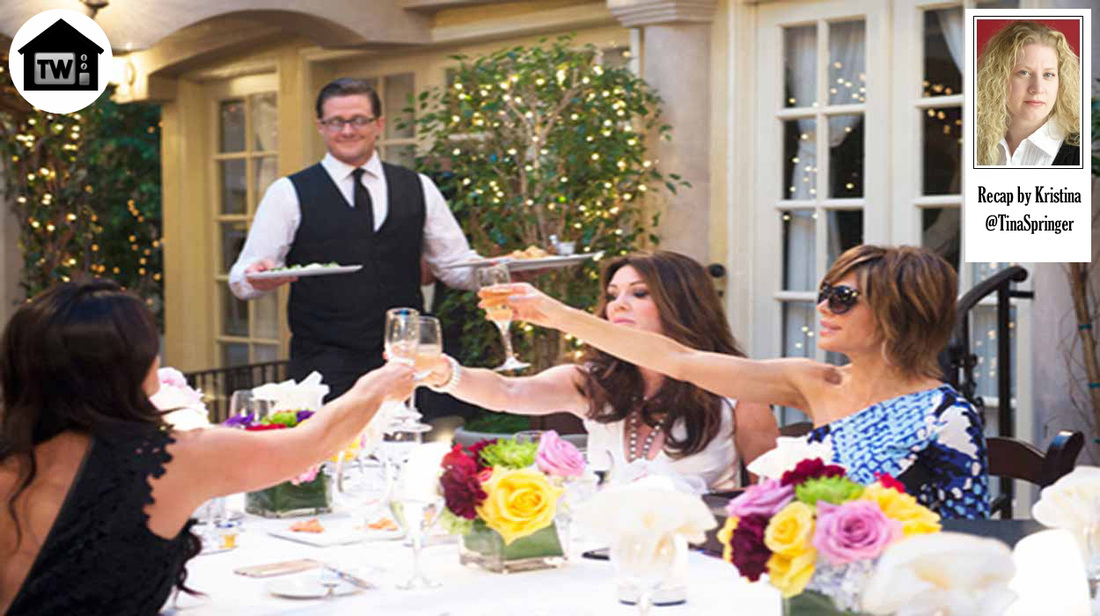 $75,000 sunglasses, a birthday dinner, and a makeup-free housewife – it's the premiere of Real Housewives of Beverly Hills, Season Six!
It's the first episode of season six and the ladies are more Botoxed, plumped, and filler-filled than ever. I don't know how they manage it, but each season they look just a little bit more like my daughters' Moxie dolls.
We begin with Lisa Vanderpump, who is preparing to throw out the first ball at a Dodgers game to benefit the LGBT. A catcher from the Dodgers stops by her house to teach her how to throw a ball. Her husband, Ken, tells her to imagine she's pitching the ball at Brandi Glanville. Brandi was the super-annoying housewife from last season who, yay, got the boot this season.
An Oprah show producer stops by Lisa Rinna's to talk about her
Where Are You Now?
spot she's going to film. Lisa has her hair and makeup done and while the Oprah crew heads out to the backyard to set up the shot.
Eileen Cook heads into work at
The Young and the Restless
. She's studying her script and realizes she's done this storyline before, thirty years ago. Only then she played the daughter. If she sticks with it long enough, next up she can be the grandmother.
Kyle Richards is at her store meeting with a designer about sunglasses. She tries on a pair designed for the princess of Monaco that starts at $75,000. Which can buy like, what, eight houses in Detroit? And we wonder why the rest of the world hates us. Kyle leaves to meet Lisa V. for lunch.
At Yolanda Foster's condo, where she's been staying for the last nine months, she's meeting with her doctor to discuss her condition. She moved into the condo to be in the city near her doctors. Her daughter Gigi Hadid, a model that became super popular in the last year, calls to FaceTime and they show a series of her magazine covers while the two talk. Not one looks even close to how her daughter actually looks, which makes it seem like a model's appearance is just a suggestion to the person who Photoshops them for the covers.
Kyle and Lisa meet for lunch and Kyle has on the $75K diamond sunglasses. It seems they're made with pink diamonds and rose gold. Isn't she awfully special. Kyle asks Lisa if she's spoken with Yolanda. Lisa says she's texted her but Yolanda is never up to seeing her. She says she's not really that close to her anyway since Yolanda turned on her.
Kyle says she did a deal with Warner Brothers for a show that talks about her life growing up in the seventies. (Really? Yawn.) Her family isn't thrilled for her, but she doesn't care. She's going to go forward with it anyway. Kyle also mentions she hasn't been speaking with her sister Kim ever since her drunken arrest at the Beverly Hills hotel a few months back. Kim's in rehab, hopefully getting help.
Yolanda was diagnosed with neurological Lyme disease in 2012. Since then she says she has low brain function, can't drive, and is very weak. She's travelled all over the world trying to find a cure but she hasn't found one yet. Yolanda's friend, Angie Simpson (Cody Simpson's mom), stops by with gifts. Lisa calls and invites Yolanda to her birthday dinner and Yolanda says she might stop by with her friend Angie.
Lisa V's off to the Dodgers game all dressed in sparkly glitter pink baseball attire. She throws the ball and it doesn't quite make it to the plate but no big deal. How many baseball fans will even know who this Real Housewife is anyway?
Lisa R. is shopping with her daughters and talking about how her 17-year-old works at a deli and how she's the only kid out of any of her friends who actually works. She's trying to keep her kids grounded in the real world, but aren't these the same snotty kids from last season? The ones who have every high-end bag and outfit they could ever want? They're going to need more than a job at the deli to come back down to earth.
Eileen is redecorating her house. Brandi Glanville picked on it last season by saying her style was "American Psycho," so Eileen wants to get rid of a lot of her knick-knacks and change things up. Lisa calls and gives her condolences on the death of Eileen's father-in-law, Dick Van Patten. Eileen wishes her a happy birthday and regrets she can't join her for her birthday dinner.
Lisa R. takes a limo to pick up Kyle on her way to Lisa's birthday party. The other women soon arrive, including Yolanda. Kyle is completely shocked that Yolanda arrives not wearing a stitch of makeup and with her hair slicked back in a ponytail. Never mind that she's been so sick for so long. No makeup on the streets of Beverly Hills is insanity. Lisa V. and husband arrive and GASP, Lisa is also stunned at the makeup-free Yolanda. You would think someone was kicking a litter of puppies with the way these women are reacting.
Kyle is talking about going on vacation with her family and the Vanderpumps and how great it will be to eat tons of cheese and pounds of pasta every day. I call B.S. These women are all deathly afraid of putting anything in their mouth. I mean, have we ever seen anyone actually
eat
the lunch at one of these lunches? Do we recall the scavenger hunt of last season where they had to drink one milkshake among, like, eight of them and they were having a complete hissy fit over it?
Yolanda is feeling terrible and needs to leave the party early just as Lisa R's husband Harry Hamlin arrives. Lisa opens her presents and Harry gives her diamond earrings but jokes that it's hard to find cubic zirconia in that size. The women go on
again
about Yolanda's lack of makeup and just wow, who needs friends like this? The woman is sick. Does leaving your house without foundation and eyeliner come before or after starving children in the list of world travesties?
Yolanda and her friend are on their way home from the party and saying what a nice time they had, even though it was so short. Meanwhile the gang at the dinner is still talking about her. Lisa V's husband Ken says he lied and told her she looked good because he was sure not many people, especially men, would say that to her right now. One more thing to add to the list when he's canonized.
At Kyle's house, her husband Mauricio comes home and pours a glass of wine while Kyle rehashes her entire relationship with her sister to him. He gives her a series of looks which say OMG-if-I-have-to-hear-this-crap-one-more-time-I-will-fling-myself-in-front-of-a-car. Kyle blinks a few times, trying hard to summon a tear or two and then leaves off with a dramatic, "There is
so
much damage." Let's see if she expands on that next week!

​