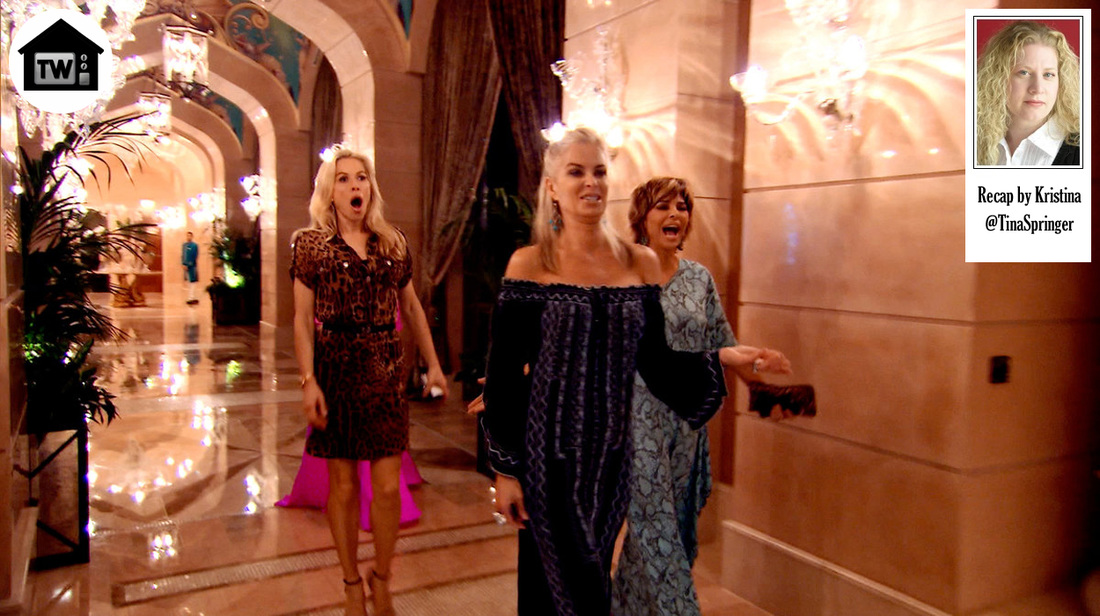 Yolanda's big speech at the Lyme disease gala, the long trip to Dubai, and the amazing Atlantis, The Palm Dubai hotel — it's time for another episode of the Real Housewives of Beverly Hills!
We're still in New York and Yolanda is getting ready for her big award speech. She's having her makeup put on and she comments that she hasn't had Botox or anything else put in her face in three years, and it's wild seeing how much her face has changed. Or what your average person calls "aging."

The ladies arrive at the Global Lyme Alliance Gala, which looks like quite a bit bigger deal than you'd think. The hall is massive and there must be at least a thousand people there. Who knew so many people supported Lyme disease? Yolanda is surrounded by all of her family and friends and the show begins. Tommy Hilfiger opens the event by introducing his daughter, who is a Lyme disease survivor, and then others follow suit sharing their stories.

In a diary session, Kyle is commenting how awful she always felt when Lisa R. would accuse Yolanda of faking the disease. Even though we learned an episode or two back that it was Kyle and Lisa V. who put Lisa R. up to all that. Next it's time for Yolanda's award, so they bring Gigi Hadid up to the stage to introduce her mom. And how did they decide on Gigi for this job? She's got three kids, but they obviously looked to see which kid had the bigger Twitter following and threw her up there.

Yolanda takes the stage and tells Gigi she's exceeded every expectation she's ever had for her in life. You know, be pretty and smile for cameras. She then thanks her husband for standing by her, even though they hadn't lived together in years and are now going through divorce. And then thanks her other two kids, who she says have Lyme disease too, and then gets off the stage. Either Bravo edited a lot or that was a heck of a short speech to make all of these people fly across country for.

At the table post-speech, the ladies are talking and Kyle says she feels bad for ever even being in a room where people said negative things about Yolanda and faking her illness. Kathryn says cut the crap, it wasn't just Lisa R. So then they throw Lisa V. under the bus too, but Kyle is acting like she never had a part in it.

Back in Beverly Hills, Lisa V. and her son, Max, are sitting outside chatting. She presents him with a gift, a decked-out Jeep, for being a good boy and holding down a job working at one of her restaurants.

Lisa R. is at home trying to pack for Dubai. At Eileen's house, she's doing the same thing. Both ladies are fretting over what to pack because they heard it's against the law not to be covered up. As Lisa is going on and on about this, she tosses a half a dozen bikinis into her suitcase. Both ladies then talk to their husbands about what they have to do with the kids and homes while the women are on the trip.

At Erika's, she has a whole team of men, which she calls her glam squad, picking out her wardrobe for the trip. The head dude has a look book that he shows the others. Yep, a look book for a girls' trip. And it turns out the whole team is going to Dubai with Erika! So not only do they pick out her outfits and send her with a book so she can't possibly get them wrong, they also need to travel across the world to stick her in them. This has got to top the list of excessive crap rich people pay for.

The ladies arrive at the airport and check-in at a private entrance that normal people never see. It's them and a guy at a regular desk. Then they are off on their 18½ hour flight. 4½ hours in they stop in Atlanta, where they get off the plane right to the runway and there are three Porsches waiting to drive them to another plane that will take them the rest of the way.

They land in Dubai and are figuring out room assignments. Lisa V. and Kyle are going to share and Kathryn and Erika are sharing. Eileen and Lisa R. get their own rooms. They step into Atlantis, The Palm Dubai and it is an insanely amazing hotel. Seriously. Go google it now, I'll wait. Did you see the lobby? The underwater rooms? Wild! Lisa V. and Kyle get to their room that they're sharing, and if you felt bad for them at all for having to share, wait. It's a 10,000-square-foot room that's $40,000 a night.

Back in Beverly Hills, Yolanda and David are packing up their house that they sold for just under $20 million. They step into their refrigerator to kiss once more for old time's sake. Refrigerators are rich people's mistletoe, I guess. David wonders if the food on the top two shelves of the refrigerator is rotting, and Yolanda says no, it's all fake. Yep, they keep fake food as décor in the fridge. I knew none of these people ever ate.

Yolanda is still packing up the house and ex-Housewife Brandy stops by to help. She talks about a date she had with a guy she met on Tinder. She said he was hot but his arms were too short. Brandy asks Yolanda how she and David are doing and she says it's a challenge but they're getting through. David married a woman who waited on him hand and foot and Yolanda hasn't been able to do that with her illness. Yolanda tells Brandy about the charity the week before and Lisa R. getting mad at her for going to lunch with her and Kim. Brandy says Lisa R's wig glue must be seeping into her brain.

Back in Dubai, the rest of the ladies are settling into their rooms, each one more insane than the rest. Though Eileen's underwater room is by far the coolest. She's got hundreds of fish, even sharks, swimming by in her walls at all times.

Lisa V. and Kyle change into their fancy muumuus and wait for the other ladies to join them from their rooms. I don't know why we're still calling these rooms rather than what they are — numerous $20 million mansions all placed together in one hotel. The ladies arrive and it's colorful muumuus all around. They are oohing and aahing over each other's clothes and you've got to wonder if they ever tire of constantly telling each other how fabulous they are. Kyle announces that she has gifts and runs off to the other room to fetch them. When she returns she passes them around and it's more muumuus! Just what they all needed.

They sit around a table to eat and chat about Yolanda's event and how nice it was. Kyle tells them that in Yolanda's speech she talked about her kids having Lyme disease, and Lisa R. asks what was that like? Erika says she wished she would have been there because then she could have understood better.

Lisa R. says she doesn't think Yolanda's faking it, just that she uses it as a shield and an excuse. Erika snaps back at her and Eileen joins in a bit. The ladies then step outside to look at the view and toast their friendship just moments after they were ripping each other apart. Looks like we'll have to wait until next week to see if they can keep playing nice on this trip!

​