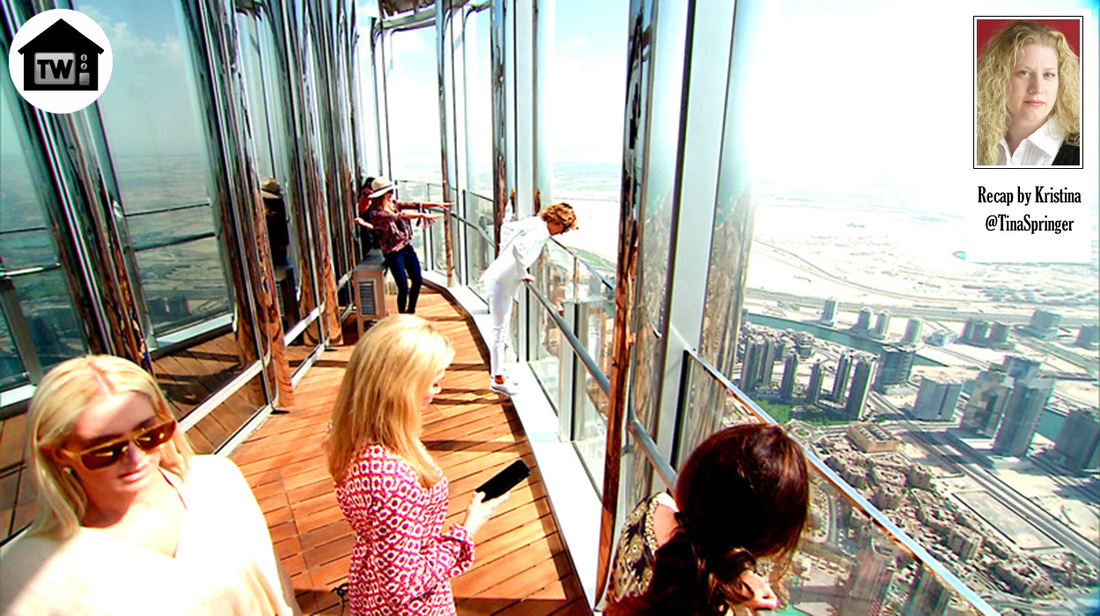 Rolling in Rolls-Royces, blinged out golf carts to avoid mall-walking, and a brawl on a boat, it's time to check in with the ladies of the RHOBH!
It seems my recap was hijacked last week but I'm back now and it we're still in Dubai! Let's see if any of the conversations have changed at least.

We kick off with the ladies exiting the Palm Hotels and loading into Rolls-Royce Phantom to head out for a little shopping. Lisa V. is filling Kyle and Kathryn in on the fight she got into with Lisa R. the night before. Lisa R., Eileen, and Erika are in the other car and determined not to fight with anyone today. We'll see how long that lasts.

Kyle warns everyone to not swear or be inappropriate in the mall because it's illegal and they want to avoid jail. Once inside the mall, the ladies climb into tiny blinged-out golf carts that look more like mini sports cars and come equipped with personal drivers. God forbid they have to walk from store to store like every other person at the mall that day. Way to look obnoxious, women.

Their first stop is at a store called Symphony and then Chanel. Erika's first pick is a $705,000 bracelet. You know, the price of three fairly decent middle-class homes. The ladies load back up into their fancy pants golf carts and show off the purses, shoes, and sunglasses they just bought before hitting the next store. Lisa V. notes that Eileen and Lisa R. still aren't talking to her.

When the shopping trip is over, the ladies head for the Burj Khalifa, the tallest building in the world at 2,716.5 feet. Kyle is having a major hissy fit over having to go up to the 152nd floor. They all survive the ride up and head out to the balcony for selfies, naturally.

Lisa V. pulls Eileen over to properly apologize. She still has no idea why Eileen is upset (do any of us?) but Kyle coached Lisa V. in what to say to get Eileen to get over it. She tells her to apologize specifically for hurting her. Lisa tries it out and it looks like Eileen is accepting of the apology but without any other storyline this season, I think Eileen is going to ride this one to the finale.

Back in Beverly Hills, Yolanda, Kim, and Brandy are having a picnic in the park. Brandy talks about the boys she's dating and that she likes them young and doesn't need to meet a rich old man to be happy, making her the complete opposite of every other person on the show. Yolanda talks about how people don't stick together anymore and how everyone is so easily disposable. At any little problem you just ditch your wife and friends and get a new set. Yikes, sounds like she's talking about her hubby David. Yolanda has extra compassion for Kim because she thinks her alcoholism is similar to her sickness in that it's always there and she knows how it feels when people get tired of it and move away from you.

Back in Dubai, Erika has her glam squad hard at work getting Kathryn ready for their evening out since it's her birthday. The women all get decked out and board a yacht for the night. Erika says she once had a yacht but got rid of it to have her two private planes. Boats are pleasure and planes are business and it's always business before pleasure. All of five minutes passes before the ladies are all huddling in corners of the boat and rehashing the fight with Lisa V. on the last episode. Eileen has a theory that it all boils down to Lisa V. not liking Yolanda so she's trying to pit everyone against her. Okay, what genius producer came up with this one? Lisa R. buys it hook, line, and sinker — eureka! We're all pawns for Lisa V. SIGH.

Kathryn's mom calls to wish her a happy birthday and Kathryn is crying. Which makes all the other ladies cry because they all miss their moms too. How long is this trip?! Then each has to tell why they're crying and try to make the moment about them. Poor Kathryn can't even get a minute of the spotlight on her birthday even. In better news, no one has mentioned Yolanda is faking her illness in over 28 minutes of the episode so far.

Lisa V. and Kyle are talking about why everyone is crying. Lisa V. is the only dry-eyed one on the boat so it's a bit baffling to her. Kyle says maybe it's not just the moms but partly what happened the night before with the fight. Way to bring it back around to the fight again, Kyle.

The ladies sit down for dinner and Lisa R. toasts Kyle and Erika for taking them on the trip. There is brief silence while the ladies fake eat some tiny wispy looking shreds of carrot and green stuff. Then Kyle decides to bring up the fight from the night before again. Why does half of this show always sound like there is a producer in their ears saying, "Talk about this! Talk about this!" Lisa R. then decides this is the perfect time to let Lisa V. know that they have all decided that all of this fighting boils down to her and Yolanda hating each other and putting all of the other women in the middle.

Lisa V. scrunches up her face the best she can (it's fairly frozen in place) and tries to squeeze out a tear. But it doesn't work so she stops trying. Lisa R. jumps in and tries to get Lisa V. to admit that she was trying to set them up and Lisa V. is pissed off again and denying it all. Eileen jumps in and tries to rile Kyle up by asking her why she's okay with Lisa V. betraying her. Kyle has no interest in fighting with her good friend, though. Kathryn and Erika finally bore of the whole lame argument and get up from the table. Eileen slams the table and leaves right behind them.

Kyle and Lisa V. try to hammer things out while the other women all sit around the corner eavesdropping. Kathryn tells Eileen to not go in the next room and let them talk it out and Eileen shushes her. Which starts a little snippy back and forth between them. But the main action is with Kyle and Lisa V., who are getting really loud with their argument. Kyle believes what Lisa R. said Lisa V. said, and Lisa V. is on the other side, denying she ever said anything and neither woman will back down. I'm starting to think Lisa V. might just truly have some memory issues and they should just drop this whole argument.

The women decide to stop screaming for two minutes so they can light a birthday cake for Kathryn and give her some flowers. Kathryn makes her wish out loud for all to hear — that they all be civil to each other. Well, now she won't get that wish.

The ladies get up the next day, ready to leave Dubai. They have breakfast and everyone looks a bit hung over from all the fighting the night before. They talk about their favorite parts of the trip and Erika toasts the trip and it's Dubai out. We'll have to see how the ladies leave things with each other on next week's episode.