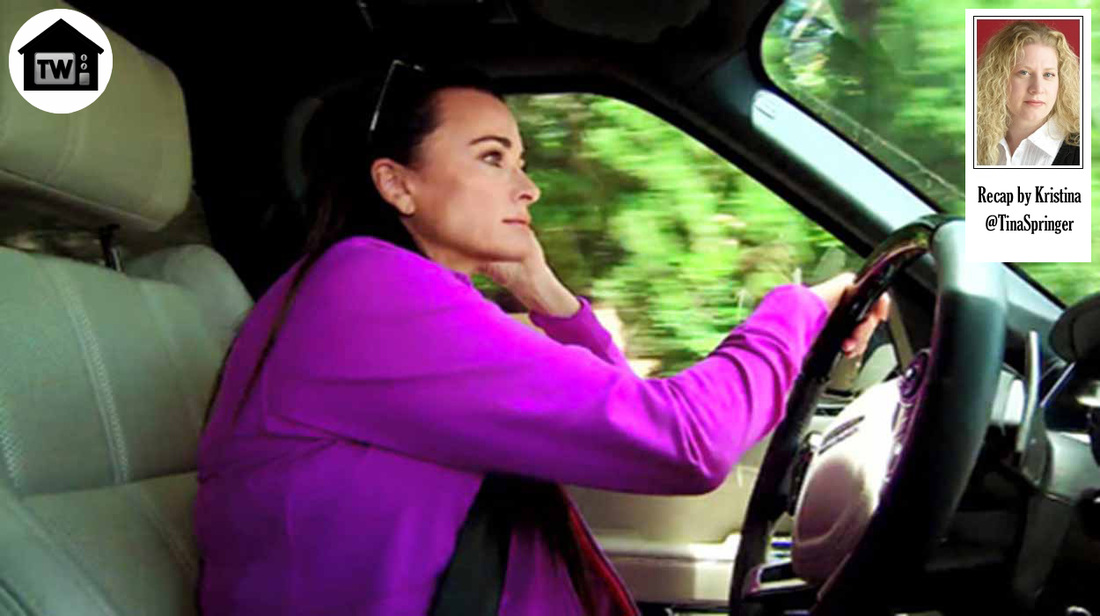 Another over-the-top vacation, parasites, and wedding invitation drama – it's time for this week's episode of the Real Housewives of Beverly Hills!
Tonight's episode begins with Kyle and Mauricio chatting about their vacation to the French Riviera, Tuscany, and London. In London they'll attend their niece Nicky Hilton's wedding at Kensington Palace. Kyle's all
oohs
and
ahhs
over the expected lavish wedding and at first I thought, how did she get a royal palace? But I googled and anyone can book it. The next International Toilet Plunger Convention can snag that very same space if they so choose.
Lisa and Ken V. are packing for the trip too. They're attending the Italy portion of the trip and Lisa is looking for the dress Kyle wanted to borrow for the wedding. So, last week Kyle is wearing $75,000 sunglasses and this week she's borrowing dresses. Gotcha. Lisa holds one dress up and Ken says it's too fashionable for Kyle and she should wear a muumuu. What's with Ken this season? Two episodes in and he's made two nasty comments on the ladies' looks.
Lisa R. is showing off her earrings to her daughters, and when they ask who bought them for her she replies, "Harry Hamlin." Aka,
their dad
. Strange way to reference him. I'm going to try it the next time one of my kids asks me a question about their dad and we'll see how it goes over. Lisa suggests they call her parents and see how her father is doing. Her mom goes into graphic detail and Lisa is quickly sorry she called.
Kyle calls Lisa V. to talk about the trip and tells her she doesn't need a dress any longer because she'd been uninvited to the wedding. Lisa offers to bring it just in case. Kyle is upset because her relationship with her sisters is so bad but Lisa tries to encourage her and tells her it'll all work out.
Eileen and her husband Vince are in Palm Springs and reminiscing about his dad, Dick Van Patten. They visit his star on the Palm Springs Walk of Fame and talk to him, saying they miss him but will go on and be happy, etc.
Lisa V. meets Lisa R. for drinks and they talk about Dick Van Patten's memorial. The two order their drinks and as soon as the word
rosé
leaves Lisa V's lips, it appears in front of her. Which means either one of them is a witch or the editing is wonky in this section.
Next the ladies are talking about Ken's 70th birthday and how Lisa is buying him a miniature horse as a gift. Which I guess is something rich people want after they have absolutely everything else. She wants Lisa R. to go with her to Ohio to pick up the horse and then take care of it for a few days so it can be a surprise. And P.S., the horse needs to sleep in her bed between Harry and Lisa. Lisa R. looks completely gobsmacked, but then realizes Lisa V. is teasing about that last bit.
Yolanda is at a doctor's visit with her health advocate, Daisy. She says she has heavy metal in her blood and wants all of her crowns removed (again, this is time #2) to see what exactly is in the crowns. Yolanda lays back on the table and they give her an IV and then start the crown-removal procedure. While she's got a bunch of stuff in her mouth her husband comes in the room and takes her hand.
Next thing we see is Yolanda freaking out that she's choking. It turns out that it's just her mouth is so swollen and David leans down and kisses her. Which is just, EW. I mean, she's in the middle of having her crowns removed. Who kisses someone mid-dental visit when their mouth is propped open with tubes and equipment? David exits fast and on his way out Yolanda says, "Aren't you happy you married me?" He replies, "Thrilled." (Side note: So sad! David Foster and Yolanda announced this week that they are divorcing. Maybe all the sickness came between them?)
Kyle and family have landed in Italy. They've been cruising around on their five-bedroom, fully staffed yacht for days and are now ready to meet up with Ken and Lisa V. Their plane has landed and they're on their way to the villa. Kyle's family arrives while Mauricio and one of his daughters are lost. Mauricio couldn't drive with the family in the van and needed a fancy Ferrari to ride around in. Lisa and Ken arrive next and the drinks start flowing.
The next day, Kyle and Lisa V. head out for a drive in the Ferrari. Lisa worries if Kyle will be able to drive it and Kyle says she'd been driving since she was thirteen when her mom would let her drive herself to work.
Back in Beverly Hills, Lisa R. and Eileen stop by to see Yolanda. On the way back to Yolanda's bedroom they peek into one of her large linen closets which has been turned into a medicine closet and has like a thousand bottles of pills in long rows. The women sit to chat and Yolanda tells them about having her crowns removed and the problem she had with two-foot long parasites needing to be removed from her stomach. Which, thanks a lot for sharing that, Bravo. Now I'm going to be googling "How does one acquire two-foot long parasites?" all night.
In Tuscany, Kyle and Lisa V. are sweating in the blazing heat and tossing back margaritas. They're discussing Yolanda's latest procedure and Kyle says her doctor says to not mess with your teeth and leave the crowns there. Removing them can cause more damage. Lisa says she has to try everything. Kyle says for two years after her mom died, she was extremely sick and thought she was dying. Doctors told her she had allergies, arthritis, etc., but it turned out it was depression.
Kyle, Lisa V., and their families head outside for dinner. Ken says now that it's coming up on his 70th birthday Lisa should start looking for another man in case he dies. Lisa says he should have told her that when she was on
Dancing with the Stars
. Then Lisa invites Kyle to go with them to Monte Carlo next and she says she's now going to London for her niece's wedding. Lisa says she thought Kyle had been uninvited and Kyle says well, she's going now and she doesn't want to talk about it. Mauricio and the kids say they are not going to the wedding, with the exception of Farrah and Portia who are
in
it.
So two kids and Kyle invited, two kids and Dad not invited. Gotta love family drama! If a family member told me half of my family was invited and the other half wasn't invited, I'd tell them to have a lovely wedding minus us. But I guess we'll have to wait until next week to see what Kyle does!