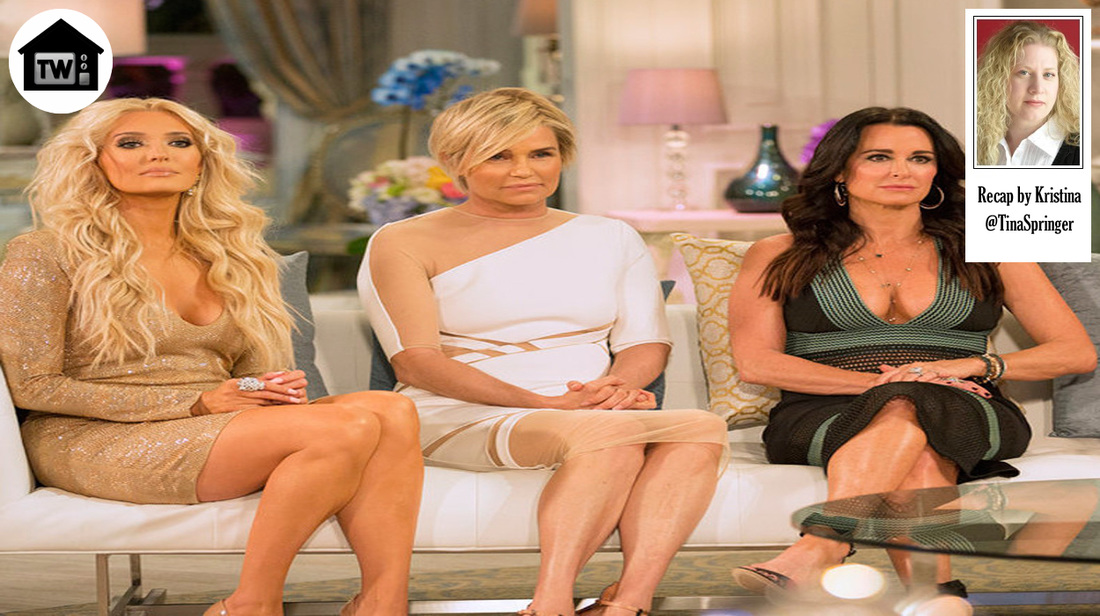 Montages of the new ladies this season, details on Yolanda's divorce, and the root of the Munchausen talk all season revealed, part 1 of the 3-part Real Housewives of Beverly Hills Reunion starts tonight! ​
The ladies are Botoxed and powdered and all shoved into their bandage dresses, ready to hurl insults at each other. They've somehow stretched the material of this season to form the need for three whole hours of the reunion, in which Munchausen is sure to be mentioned two hundred times.

They start with silly topics like Lisa's mini-pony purchase and Kathryn's picking on Eileen's bag. Then they move onto the Erika summary so we can hear all about her alter-ego Erika Jayne again, in case anyone somehow managed to block it out. Andy then drops a major scandal on the ladies when he points out that Lisa Vanderpump is wearing the exact dress at the reunion that Erika wore in all of her interviews throughout the entire season. Whoa. Stylists' heads are going to roll for this one.

Andy moves on to quiz Erika about her relationship with her husband who is 32 years older than her and found her working in a bar when she was in her twenties. We're all to believe that she most definitely is not a gold digger. The ladies all giggle and say they think it's fine and quite normal to date someone so much older. Sorry, it's not. It's gross. But keep acting like it's something other than what it is.

Then Andy asks Erika to stand up and teach everyone the "Pat the Puss" dance move again and all the ladies stand up to follow. Like anyone ever needs to see this. Shudder. Andy then asks Erika how, with her wild Erika Jayne personality, she is so submissive to her husband. Um, really? She was a waitress. Now she spends more on her makeup in a year than most people's homes. She's never going to say anything but "Yes, sir!" to that guy.

Andy switches focus onto Yolanda and asks her some basic questions about her kids and her new condo. She said she left her old house with nothing but her clothes and picture frames so it sounds like her soon-to-be ex wasn't playing nice. They run a montage of David and Yolanda over the last year and then Yolanda tries to explain how it was hard on David dealing with her illness. Boo-freaking-hoo for him. Turns out he completely blindsided her with the request for divorce. Had she not gotten sick they would have stayed together. He sounds like a real jerk.

Next Kathryn's in the hot seat. I never warmed up to Kathryn so I'm finding her entire montage of the season boring. They talk about some connection she had to the O.J. Simpson trial 21 years ago and I can't even recall what it was. I guess anything to give her some relevance on the show. They won't say exactly the storyline and I'm too bored of the topic to bother googling. She and Kyle start arguing because Kyle feels defensive of her friend Faye Resnick. (OK, that's the back story. Faye wrote a book about O.J. 21 years ago and mentioned Kathryn in it. Kathryn no likey.) Kathryn jabbers on about her feelings. Kyle wants her to stop talking and leave her friend alone.

And here it is — the great Munchausen scandal of Season Six. We watch clips from all the times the ladies talked about Yolanda having Munchausen, so you know, the whole season. They rehash Yolanda's Instagram posts, why she had sick selfie, fine selfie, sick selfie, fine selfie. Lisa R. says Yolanda uses being sick to her advantage and it was convenient. Which, c'mon. What super-rich woman who could fly anywhere in the world at a drop of a hat and have anything she wants at any time would choose to lie in bed all day every day? Andy asks Yolanda how she feels about her friendships with the ladies on the show and Yolanda says she's cautious of them all.

Yolanda asks Lisa R. why she ever started with the Munchausen talk to begin with. Lisa R. says she didn't want to ever bring any of it up but Lisa Vanderpump pushed her into it. At Lisa R.'s birthday party Lisa V's husband Ken said Yolanda looked terrible and Lisa R.'s husband said don't speak badly about her, she's ill and needs our support. And Lisa V. said well, there goes our storyline. Lisa R. goes on to say that Lisa V. called her after that party and encouraged her to say Munchausen on the air. Lisa V. says she never calls Lisa R. so Lisa R. whips out phone records from behind her back proving Lisa V. called her on 10 separate occasions. Yolanda runs off the set crying. We'll have to see how this plays out on part 2 of the reunion next week!