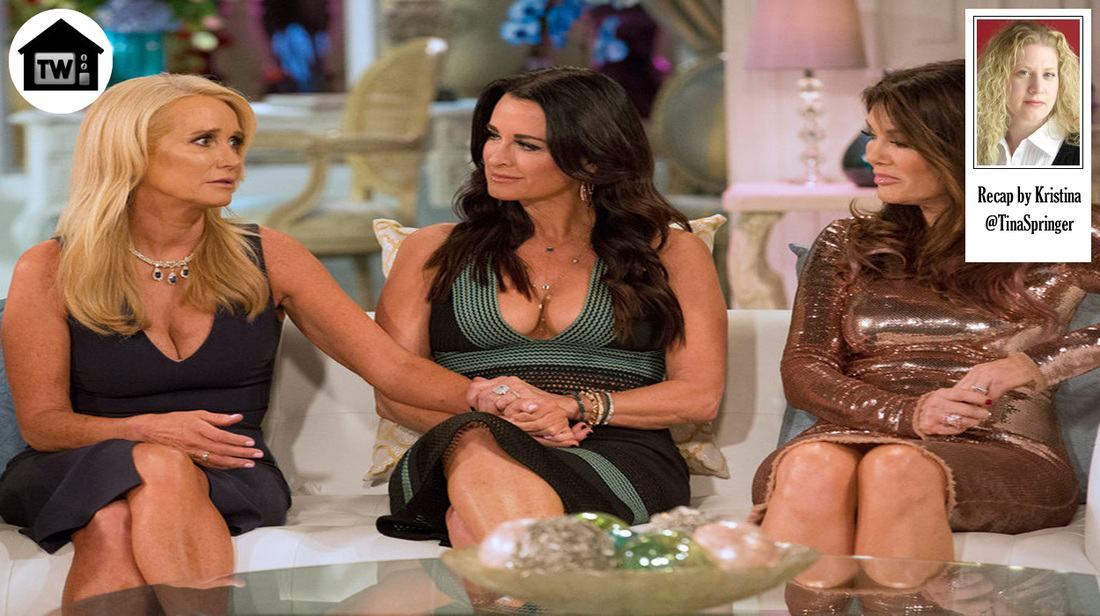 Yolanda runs off set, Kim stops by, and the longest argument in Real Housewife history, time for part 2 of the 3-part RHOBH Reunion!
s​Munchausen, Munchausen, Munchausen, Munchausen, Munchausen. Just wanted to get that out of the way before we dive right into tonight's reunion special!

We begin right in the middle of Lisa Rinna telling Yolanda about her birthday party again and how Lisa Vanderpump pushed her to bring up Munchausen syndrome, setting a new record for mentioning Munchausen only ten seconds into the show. We see Yolanda run off stage again. Only this time we get to follow. She heads for Andy Cohen's dressing room where her health advocate is waiting and cries about how hurtful the whole conversation is. Back on stage, Lisa R. and Lisa V. are still yelling, and if this were a drinking game and Munchausen was the word, you'd be good and buzzed by 8:05 p.m.

Yolanda returns to the couch and Andy asks who she believes. She says she believes Lisa V. manipulates many situations. And Lisa R. and Lisa V. start up at it again. Andy asks what happened when Lisa V. said Yolanda's children's father Mohamad didn't believe they had Lyme disease too. Mohamad cut off his friendship with Lisa V.

Yolanda starts sobbing for people living with Lyme disease and tells the women if they could only see it first-hand they'd have more compassion. Everyone feels bad and hugs her and apologizes.

Next up, Kyle's sister Kim joins the ladies on the couch. Andy tells her he's sorry about the passing of her ex-husband. They roll a montage of the ladies talking about Kim and all her problems all season (being arrested, rehab, etc.). Andy asks her where she is in her recovery and she says she's keeping it to herself. They talk about the strain her issues have had on their family and the ladies say they're rooting for her. Lisa R. says some nonsense about only wanting the best for her and everyone exchanges glances. The montage had been full of Lisa R. talking nonstop crap about Kim so it's hard to believe her.

Kim says her feelings were really hurt from all that was said, and Yolanda blasts Lisa R. for talking so badly about Kim. Lisa R. gets all worked up about people coming at her and yells again that she only wants the best for Kim and maybe she's just human. Although all the filler in her face this evening is making her look part feline also.

Andy switches topics to why Lisa R. got so upset about Yolanda being friends with Brandy and Kim still and Lisa R. says old news, I'm over that now. But he reminds her they're on a reunion show and have to talk about things and not just be over them. But she shuts it down.

On to lighter things, we see a montage of all the decadent parties the ladies had throughout the season. Andy brings up the exact point I was freaking out about weeks ago — the party where Lisa's 70-year-old husband with the two hips replaced got pushed in the pool. Andy says he thinks everyone at home was freaking out over that scene and Lisa V. assures him Ken was fine. They then move on to picking on Kyle for her extravagant ball-gown attire barbeque she threw and Kyle swears she'll never use the word "barbeque" again.

Andy then moves topics to the longest-lasting argument of the whole season — when Lisa V. asked Eileen about when her affair started and Eileen was eternally wounded and pouty over it every episode thereafter. Update: Eileen's still upset and Lisa V. still doesn't get it.

Somehow they're stretching this reunion for one more week, so we'll see you then to see what else can possibly be left to say.