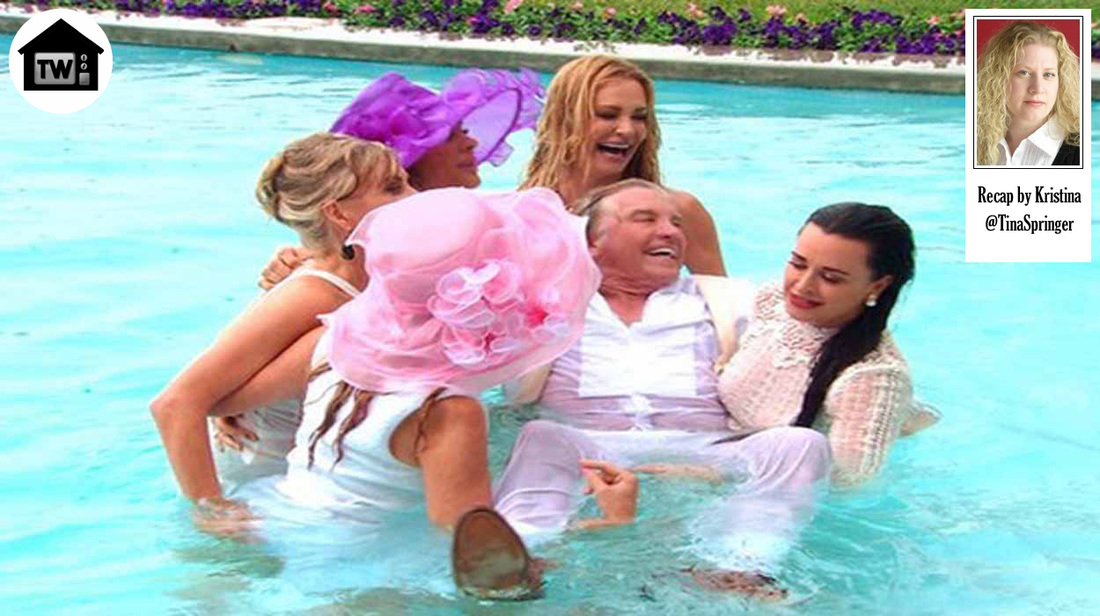 A new housewife, a mini-horse, and a cringe-worthy 70th birthday party – it's time for another episode of the Real Housewives of Beverly Hills!
Tonight's episode kicks off in Italy, where we left Kyle and Lisa V. vacationing with their families. The ladies are shopping and looking for a dress for Kyle to wear to her niece, Nicky Hilton's, wedding since she is now invited once again. Kyle doesn't think it's an ideal situation that only three of her six family members were invited to the wedding, but hey, that's how it is and she's going.

Lisa R. takes her daughters for mani-pedis. Her girls always have plans now and this is the only time she can get them to hang with her. She's telling her one daughter that she needs to meet her 11 PM curfew and her daughter says, hey, I'm not going to risk my life driving fast just to make some curfew. Lisa agrees, safety first. Daughter – 1, Lisa – 0. Lisa then tells the girls how she's travelling with Lisa V. to get the tiny horse for Ken's birthday.

Eileen is rushing around trying to get their son Jessie off to school while Vince is sitting on the couch. She complains how he only has to worry about getting himself ready and she always has to worry about everyone else. Eileen is driving Jessie to school and telling him over and over again that he has to get his books from the library but he can't tear himself away from his phone. She sums it up that all men have an inability to hear female voices. I say take the kid's phone away.

Next we check in with Yolanda, whose storyline this season is all sickness, all the time. Now she's at a naturopathic doctor for a vitamin C IV with her friend Erika. Erika says she's 44 years old and she looks awesome. She has access to all the very best, so of course she's going to look good. Love a modest girl!

Eileen meets with Lisa R. and Kyle at a bar in Beverly Hills. Kyle is fresh from her vacation and Nicky's wedding. Eileen asks Kyle what the deal with her sister Kim is. Kim's the one in rehab after shoplifting from a Target or some such thing and doing a stint on Dr. Phil's TV couch after a drunken arrest. Kyle doesn't want to talk about it and feels like she's betraying her sister if she does. The women then tell Kyle about going to see Yolanda and how bad she looks. Kyle doesn't think it's Lyme disease affecting Yolanda, and that maybe she should explore the idea that it can be something else.

Lisa R. and Lisa V are off to retrieve the mini horse from Ohio. They're taking a private plane to pick it up so that it's comfy for the flight back. I can't believe I'm even typing this. Only ridiculously rich people. The women get off the plane in cowboy hats yelling, "Yee haw!" In Columbus, Ohio.

Yolanda's friend from earlier, Erika, is surprise, a new Housewife on the show. We are now let into her enormous house to meet her husband Tom. He looks like a good forty or so years older than her, so fill in the background story on how this cocktail waitress went from broke to gazillionaire. Erika says she's still the same person though. If you're an a$$hole poor you're still an a$$hole when you're rich too. She knows she's a gold digger and she doesn't care. Which actually makes her more likeable than half of the cast. At least she's honest!

The two Lisas reach the mini horse farm to pick up Rosebud. Rosebud is a white horse in a pink tutu. Lisa V. sits on the ground and plays kissy face with the mini horse while Lisa R. runs around trying to catch chickens. Lisa R. then calls the horse fat and Lisa V. says do not comment on the horse's weight, that's rude. I'm sure they'll have the horse on the pinot and air diet soon enough.

Right before they're set to leave, Lisa V. notices there is something wrong with the horse's back leg and the breeder tries to convince her that the horse is fine. Lisa R. thinks they shouldn't take the horse. Lisa V. doesn't know what to do so she decides to call her husband and spill the surprise to get his advice. He says he doesn't know either so they decide to leave the horse and have it sent out later if a vet clears it.

Erika is at some kind of dance rehearsal. She says it's for her alter ego, Erika Jayne. Before they begin to dance, they dress her in a pubic hair-looking outfit. I don't know what else you'd call it. The entire thing is made of black see-through nylon, with the exception of the pelvic area, which has a small patch of black cloth. She says she's a hit performer and has all these #1 hits all over the world and throughout the U.S. Never heard of her before, but okay.

Lisa V's house is being set up for Ken's birthday party. It looks like a lovely frilly purple tea party. Every man's dream. Taylor, one of the old RHOBH cast members, arrives at the party and Lisa says trouble is here. The rest of the guests arrive, including another former Housewife, Camille. The luncheon begins and Taylor starts in on what's the deal with Yolanda. She thinks her Instagram is overboard with all the sick selfies she posts. Taylor thinks Yolanda has a misdiagnosis. Lisa V. stands up to make a toast to Ken, and since she couldn't make the mini-horse appear, she promises the 70-year-old a 69 in the next two days. Her kids are literally cringing at the table, along with the rest of the viewing public, I'm sure.

It begins to rain on the party and the ladies decide to jump in the pool in their white dresses. Somebody gives Ken a big shove and he falls backward into the very shallow end of the pool. WTH people? He's a 70-year-old who just had two hips replaced. Bad idea, no? I don't know what's made me cringe more this episode: the pubic hair outfit on Erika, Lisa offering a Ken a 69, the see-through dresses on all of these fifty-plus-year-old women, or Ken hitting the ground in the pool. Things better turn up next week.