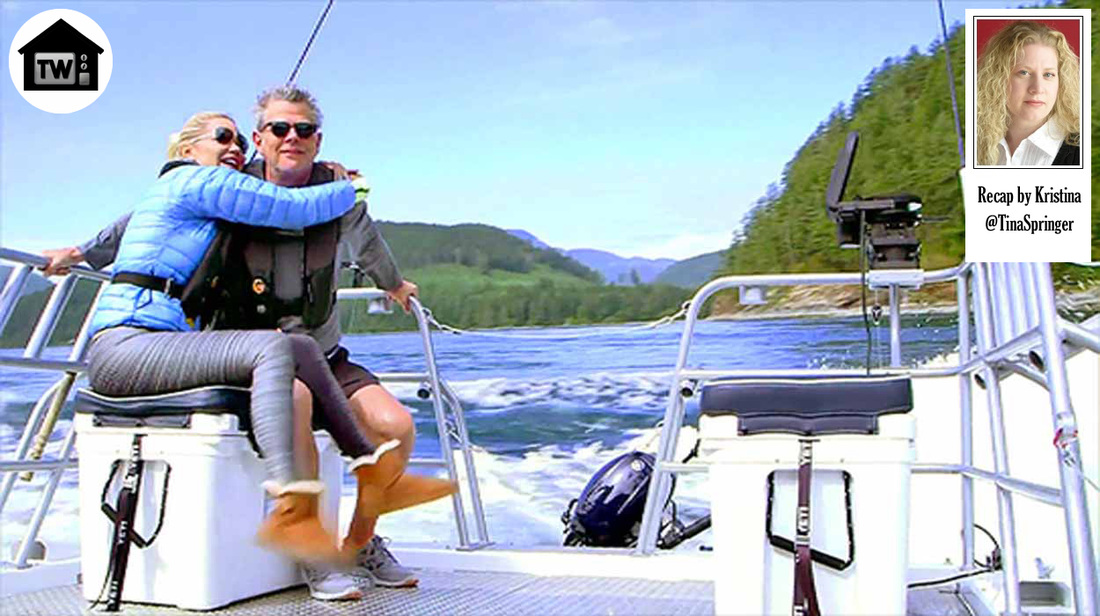 Ear piercing hysterics, a possible fake illness, and mini-horses at last – it's time to check in with the ladies of the Real Housewives of Beverly Hills!
We begin with Lisa V. greeting her friend Hank, who has been searching everywhere for another little horse for Ken's birthday present. And he succeeds! He pops open the back of his SUV and not one but two teeny little white horses get out. Bringing the Vanderpumps' home zoo up to 8 swans, 7 dogs, a pot-bellied pig, and now two mini-horses. I can't even begin to imagine the amount of poop their help has to clean up.
At new girl Erika's house, she's talking to her hubby on the phone. She says they talk briefly several times a day but she rarely sees him. Which is fine by her because she's busy being "Erika Jane" anyhow. She's then off to her costume people again to see what other contraptions they can squish her into. And surprise, another see-through catsuit with a few sequins tossed here and there so she's not completely naked. So far we haven't seen Erika Jane sing anything, but we've seen her try on all kinds of "outfits."
Next, Eileen and her husband Vince meet for dinner. Vince says he went to the track and he could feel his dad (who passed away recently) helping him to win over and over again. A regular gambling guardian angel. Eileen then apologizes for fighting with Vince that morning but it's hard because she has to run around and do everything while he lazily sits there and decides when he's going to go hit the beach. He says from now on she's not allowed to come to him with anything before 9 a.m. He must be very, very rich for her to be humoring him like this.
Lisa R. is having a lunch date with her two daughters. They talk about their summer vacation plans in Canada. Lisa readily admits her children are spoiled and make no sense much of the time so she hardly listens to them anymore. Which begs the question, if their mom doesn't even want to hear them, why are they subjecting the RHOBH audience to these two?
Kyle and her girls are hitting a jewelry store to get additional ear piercings. The one teenager is so petrified of the ear piercing gun, you know, the same one they use on babies, that Kyle has to sit on her lap and hug her to keep her still. The lady finally gets close enough to pierce her one ear and the teen screams and cries in what she portrays is excruciating pain. While her sisters giggle and film the scene on their phone.
Back at Lisa V's, she introduces Ken to the two new horses and he's speechless. Lisa thinks mission accomplished, but Ken looks more horrified than ecstatic with his gifts.
Yolanda goes to her home for a visit. She's been staying at a condo for the past nine months but she and her husband are entertaining Erika and Tom so she makes an appearance at the house. David asks Erika about her touring schedule and record release. Then talk turns to how David is going to be entertaining the Pope one night and putting together a show, and Yolanda suggests Erika appear as Erika Jane and sing for the Pope too. And OMG, that would be the best! I think everyone would like to see the Pope's reaction to one of Erika Jane's ensembles and what the odds are she bursts into flames.
Kyle and her seven-year-old Portia are at Portia's acting lessons with her personal coach. Kyle knows people think her sister Kim's problems come from being a child actress, but she doesn't think that sort of thing will happen with her daughter. She's different, of course.
Yolanda is back in the condo with her health advocate, aka the lady who makes her the green smoothies. She's preparing for her trip with her husband, which means sorting the gazillion pills she takes into daily bags.
Lisa R. is FaceTiming on her phone with her husband and kids. They're on vacation and she's home working. She'd like to have gone but she says she has to keep juggling all her balls in the air for as long as she can. Botox and fillers don't come cheap.
Yolanda and David are on a yacht somewhere in Canada. He asks if she wants to go for a walk and she tells him he knows she can't. Since they've been married she's been sick and it's taxing on their relationship. She doesn't blame him a bit, though. She says they'll either get through it together or they won't. (And we already know from current gossip mags they they're divorcing, so there's that answer.)
Lisa V. is pushing out a huge tray of food for company and thinks she should have just put out water since no one ever eats. Eureka! Finally someone who actually admits this on the show! Lisa R. shows up first with Kyle right behind. Lisa V. asks Kyle if she's talked to her sister Kim and Kyle says no. Lisa's ticked that Kim trashed her on
Entertainment Tonight
. Lisa R. thinks maybe Kim is just embarrassed that she appeared in
Sharknado 3
after she told them all she wouldn't do anything for a buck. And, well,
Sharknado 3
.
Talk with the ladies then turns to Yolanda's Instagram. Lisa R. is wondering how Yolanda is suddenly looking so great in all the vacation shots she's posting on Instagram when she was just so very sick when they saw her. She also wonders what's up with the back-and-forth of the Instagram pics. One pic she's in a hospital, next she's whooping it up on vacation. Lisa R. suggests Yolanda has Munchausen Syndrome. In other words, she thinks Yolanda is making up her illness. Eileen arrives and the women decide to table the conversation. Eileen immediately knows something is up, though, so they fill her in.
The ladies file outside to meet the mini-horses. They all fall in love with the horses and want to try and ride them. Lisa R. is still feeling bad for talking about Yolanda behind her back and Kyle tells her to stop beating herself up. But that would be too easy. No, instead they'll all have to go fill Yolanda in on all the details on next week's episode to try to spur on a fight. We'll have to wait and see if Yolanda has the energy for that!