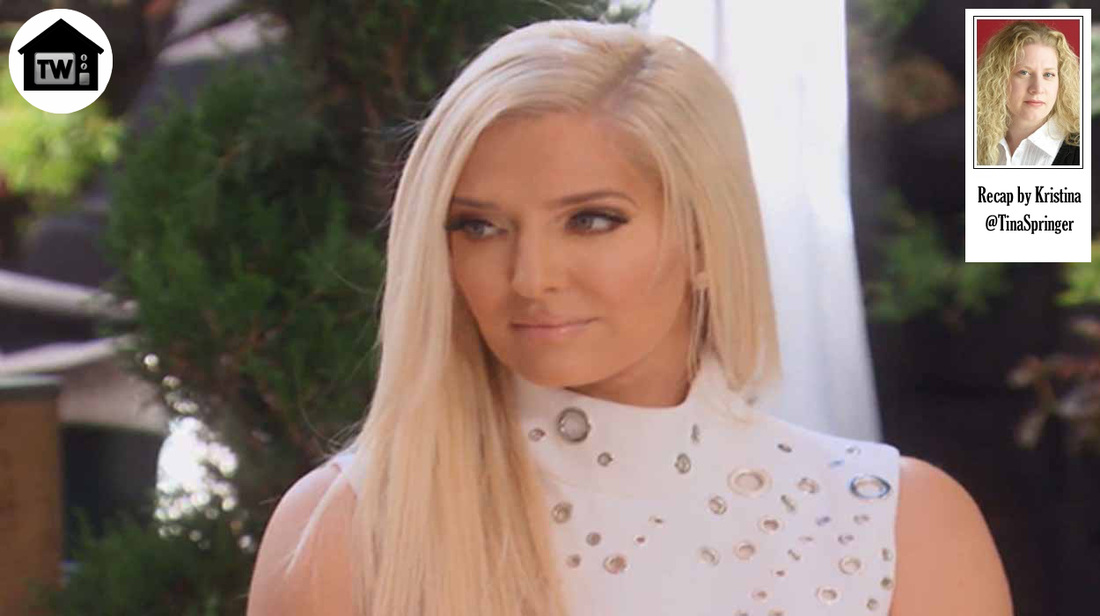 A sick swan, an informational walk in the park, and final surgery prep – let's see what the ladies of the Real Housewives of Beverly Hills are up to this week!
We kick off tonight at Kyle's store, where Lisa R. pops in for some shopping. Kyle's husband had told her to pick out anything she wanted and he'd pick up the tab as an extra birthday present for her. While perusing the store, Kyle invites Lisa for a girls' weekend trip to visit her other store in the Hamptons. They confirm their plans and Lisa picks a white leather jacket as her gift from Kyle's husband. Which seems quite normal.
At Lisa V.'s house, she and her husband Ken are trying to wrangle one of the large swans, Hanky, into her car for a trip to the vet. Hanky is not too happy about the trip and biting both of them a fair amount. The vet squirts a bunch of gunk into the swan's beak and then they're headed home, where he can rejoin his seven other swan friends.
Yolanda and Erika meet Kyle in the park for a walk. Kyle tells Yolanda about how she once had similar symptoms to hers, but what Kyle had was depression. Yolanda seems insulted that Kyle would suggest her disease was anything like the Lyme disease she has. The girls then talk to Erika about what's new in her world and she talks about her recording and events. They keep telling us she's a super-famous performer, but nope, still no clue who she is. We do find out that she has a twenty-three-year-old son who's a police officer, though.
Yolanda suggests all the girls go out for drinks the next night and Erika seems nervous because she's only ever had gay men for friends, but she's willing to give it a try. Yolanda also talks about her upcoming trip to have her silicone breast implants and the leakage removed. Last week filling removal, this week breasts. Yolanda then shares with the ladies that studies say women with breast implants who breastfeed pass all kinds of diseases on their kids. And that two of her kids have suppressed immune systems from breastfeeding. In fact, they too have Lyme disease. So basically, all children of California be warned. Of course, if you're taking medical advice from one of the
Real Housewives of Beverly Hills
, you probably have a whole host of other problems.
The ladies continue their chat in the park and Kyle is finding it really hard to believe that three members of Yolanda's family now have Lyme disease. Yolanda says what's so hard to believe? They've spent a great deal of time on ranches with horses. Horses have ticks. She then goes on to say that there have been no long-term studies on how Botox affects the brain and no one should be using it. So between this and the sickly children breast-fed by breast-implanted mothers, the entire west coast is now weeping. What's her next speech going to be – well water, the silent killer?
Next we watch a poor unfortunate woman waxing Lisa R.'s ass in her bedroom. And it makes you sit back and think. In what producer meeting in Hollywood did great minds come together and say, "Hey, I know what will make a great scene! Let's see someone wax Lisa R.'s ass!" Between this and all the nasty scaly feet commercials in between segments, it'll be a small miracle if I keep dinner down.
Kyle meets up with Lisa V. to take a tour of the
Young and the Restless
studios with Eileen. They then go to Eileen's dressing room to run lines with her and chat. They talk about Yolanda and her disease, which seems to be the running theme this season, and whether or not Lisa R. will tell Yolanda at drinks that night that she had briefly questioned the validity of her disease.
The women all gather at Sofitel for drinks. Lisa V. thinks Erika looks like the Barbie she played with as a little girl. The women pass around the $189,000 panther diamond ring Erika is wearing to have a look at it. They ask her what she did to get it and she says she's good. Lisa V. says she must have done the splits and a couple of cartwheels. Kyle then brings up Yolanda's children having Lyme disease again, purposefully so Lisa V. can hear it. Lisa is good friends with the children's father and she's never heard this info before.
Eileen arrives late and meets Erika for the first time. They invite Erika to the Hamptons with them for the weekend. Erika tells them about her singing career and the ladies are all just as surprised to hear she has so many number one hits in the U.S. yet no one has a clue who she is. The ladies' jaws all drop even further when she tells them about her seventy-six-year-old husband.
Lisa V. can't hold back and asks Erika what her husband is like in the sack. Erika says he's super vital and has no need for Viagra. And she'll stay with him unless somebody else catches her eye. And then throws out the comment, plus nobody lives forever. I'm sure her hubby will love to hear that. Of course, he's an idiot if he didn't already know the situation.
The women then decide now is a good time to tell Yolanda that people are questioning her health, but Yolanda doesn't even want to hear it. She gets up and excuses herself. She says she'll deal with the chatter after she's recovered from this next surgery.
Yolanda, her three kids, and her mother gather at Yolanda's house for lunch. They talk about how modeling is
such
a hard job. Yolanda and her mom go outside to pick lemons and then sit on a couch overlooking the ocean to relax. They talk about Yolanda's upcoming surgery and Yolanda cries. She wants to feel better to be there for her kids.
Her kids join them at the outdoor couch with lunch. Yolanda pulls out her will and wants the kids to see it and know where it is in case something happens to her. Which, of course, freaks the kids out. Yolanda continues by saying if something happens to her, she wants the kids to take care of her mommy. Which further freaks the kids out and they think maybe she shouldn't have the surgery if she's worried something will happen. Yolanda tells them not to worry, she's sure it'll all be fine. But she wants them to know the will is there and that if something happens, it'll take care of all three of them, her mom, and her brother for the rest of their lives. We'll have to stay tuned next week to see how Yolanda's surgery goes.