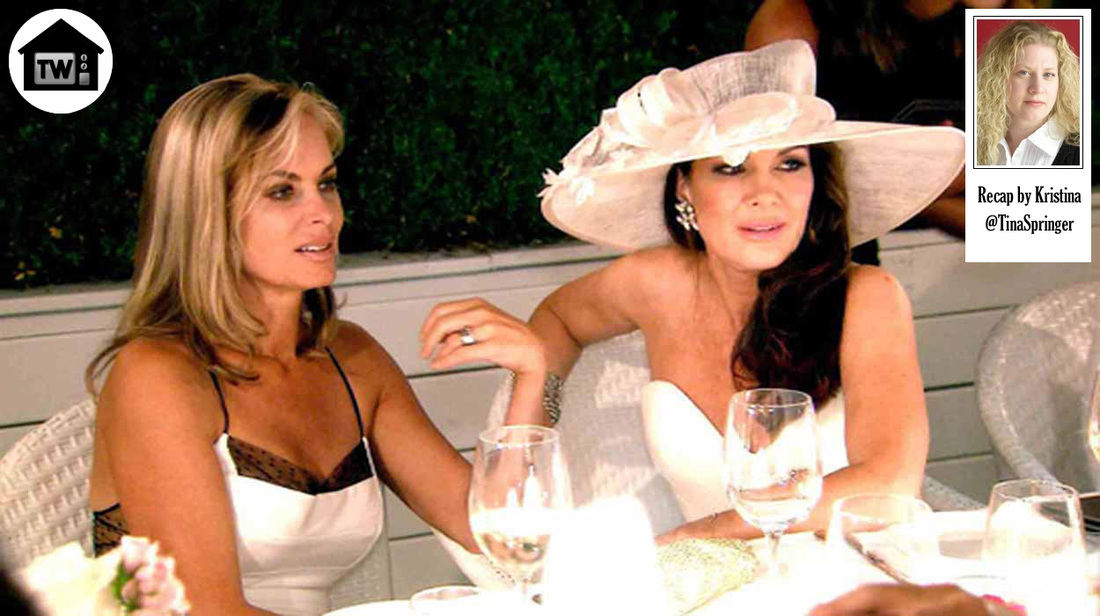 Uncomfortable conversations, a Real Housewife franchise crossover, and lots of unsolicited business advice to go around – let's check in with the ladies of the RHOBH!
Tonight's episode kicks off at the
Bella Magazine
white party. All of the ladies (and Ken) sit down to eat dinner and the topic of divorce comes up. Lisa V. asks Eileen the details of her past divorces. Eileen tells her about she and her current husband meeting and falling in love at work while they were both married to other people. Lisa seems completely blown away, which is a real stumper. She's in the middle of Beverly Hills, where three marriages is considered low. How is any of this shocking? Eileen is visibly upset by the whole conversation and just wants Lisa to stop talking.
At the house Kyle rented for all those who couldn't take staying in the fancy-pants hotel with Lisa V., the women are starting their day when Bethenny Frankel calls! OMG, it's a Real Housewife crossover! Bethenny is from the
Real Housewives of New York
. This is just like when Doug and Debra from
Everybody Loves Raymond
showed up on
King of Queens
. Exciting stuff. Turns out Kyle and Bethenny are long-time friends and the girls make plans for them to go over to Bethenny's house later.
The women (plus Ken again and their dog, of course) head to a wine tasting. They sit around a large picnic table and start sampling. Talk turns to Erika Jayne and her raunchy videos and how the ladies are all going to meet her that night. Lisa R. passes her phone around the table so everyone can watch the video.
Erika arrives at the house and immediately Lisa R. is grilling her on how she can make such sexy videos. Erika tells her it's just acting and portraying a character. Lisa R. has posed for
Playboy
a couple of times herself, so the freakout she's having doesn't make a whole lot of sense.
Kyle leaves to meet up early with Bethenny while the other ladies relax. Erika fills them in on how Yolanda is doing post-surgery.
Over in Cleveland, David is attending to his wife Yolanda's needs while she's stuck in bed recovering. Lisa V. calls and they are telling her how Yolanda had so much stray silicone all over the place in her chest, and David says Lisa's husband Ken now has a bigger chest than Yolanda.
Back in the Hamptons, Kyle arrives at Bethenny's and takes a tour of her new home. Bethenny asks Kyle how she's handling the drama with her sister and Kyle tells her she's pretty removed from it all. She can't help someone who doesn't want it. The two then talk about old times. They've known each other since Bethenny was a waitress living in a tiny apartment and used to take care of Kyle's nieces, Paris and Nicky Hilton. Then Kyle tells Bethenny about the girls coming over that evening, spending lots of time discussing Erika.
The ladies arrive at Bethenny's house and start drinking. Bethenny shows them around a bit and then they sit to eat. Bethenny says she likes Erika because Erika gives "zero f**ks," and she hit it right on the nose. Her attitude makes her likeable no matter what she or her alter personality are doing.
The night goes on and suddenly Bethenny is trying to give Erika business advice. Which you can tell she doesn't want and didn't ask for. Bethenny fancies herself an expert at all things so she continues to jam it down Erika's throat until she gets pretty annoyed. She says she doesn't tell Bethenny what to do with her skinny girl sh*t so she shouldn't tell her how to run her business. Bethenny wants to learn a few moves from Erika so she stands up and shows her. About two seconds in, Bethenny splits her pants. Erika says it's not as easy as it looks, but anyone can make a margarita. #shade
The next morning Lisa R. and Eileen are chatting. Eileen is still miffed about Lisa V. grilling her at the dinner a couple of nights before about how she and her husband got together. Lisa R. thinks Eileen should say something to her about it. At the same time this chat is going down, Lisa V. and Erika are heading over to the house in a limo and Lisa V. is busily grilling Erika about her life and her husband. Erika sums it up well when she says Lisa likes to make people uncomfortable by digging around and it makes her feel like she's in control.
The ladies arrive at the house and they all rehash the night before and Bethenny really going at Erika about her business. Eileen pulls Lisa V. aside to talk about how Lisa's hounding her about her husband made her feel. Lisa says she apologizes if she upset her but she didn't mean anything by it, and if she ever doesn't want to discuss something she should just say so. Eileen doesn't feel any resolution from their talk because that would be too easy and she needs something to go on about on next week's episode, so until then!

​