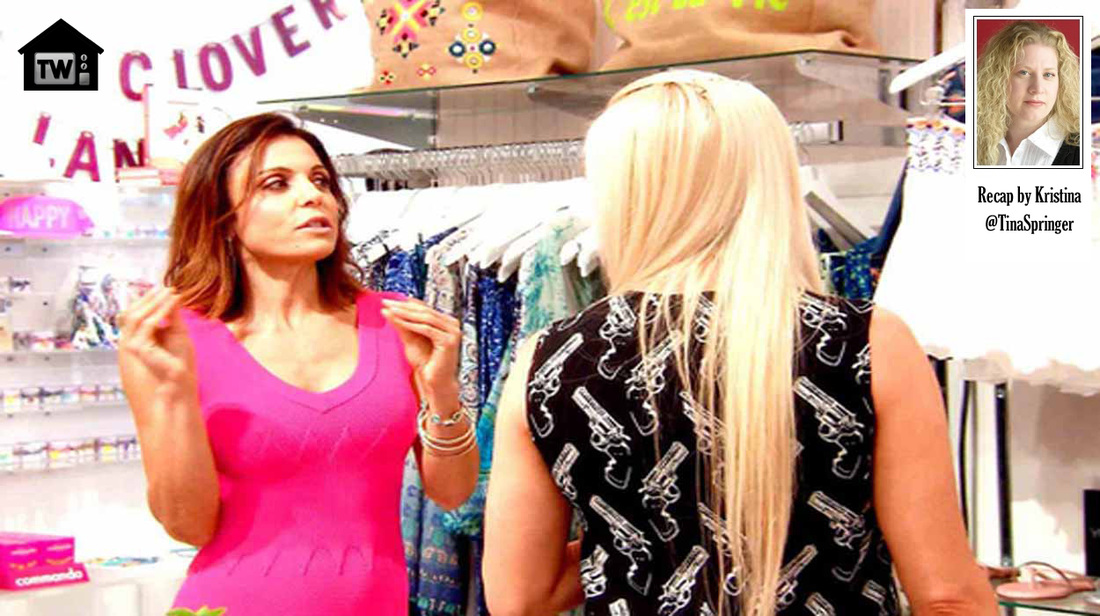 The return of Bethenny, a doggie charity event, and another new cast member – it's time to see what the Real Housewives of Beverly Hills are up to this week!
We're back in the Hamptons and Kyle is checking out her pop-up store before Bethenny's book signing that she's hosting. It seems Bethenny has yet another self-help book out, which makes what, five? Six? Good thing we have her to constantly tell everyone what they're doing wrong.

One by one, the other ladies arrive and Bethenny apologizes to Erika for coming off too harsh the night before. Erika says no biggie, but Bethenny jumps in at her again, asking her if her Erika Jayne personality is for fun or money. Why does Bethenny continuously think she's the only one who understands business and must help everyone whether they want it or not?

Kyle's aunt and cousin come to the signing and the aunt gives Kyle a picture of her mom. Kyle bursts into tears. She misses her mom so much. Kyle's aunt says she has to talk to Kim and asks Kyle about her other sister, Kathy. Kyle tells her she's not speaking with either sister.

Lisa V. and Ken arrive next and Lisa is peeved that Lisa R. (as well as some of the other ladies) dared to wear pink as everyone knows it is her color. Bethenny asks Lisa R. how she's getting along with the girls and Lisa fills her in on the fight with Kim Richards of last season and how she feels she played a part in her downfall and feels guilty about that.

Everyone is back at Kyle's rental house for dinner and Ken complains that there isn't a seat at the dining room table for their dog, Gigi. Kyle fetches a chair and it's not good enough for the five-pound pooch so Ken decides to give Gigi his chair and sit in the one Kyle brought for the dog.

Eileen is back to talking about her feelings about when Lisa V. had previously asked her about how she and Vince got together. They hashed all of this out on last week's episode, but she wants another turn at feeling offended. Now she's upset at the way Lisa reacted to her being upset the last time they spoke. All Lisa had said was "Is that how the affair started?" but Eileen seemingly doesn't want her affair labeled an "affair" because … ? So offense all around. Lisa tries to shrug it off because there is nothing she can say that will not get further twisted.

Erika attempts to shift conversation by asking why everyone hates Brandy (from last season) so much. The ladies are all too happy to fill her in and go on about how Brandy likes to ruin others' relationships. Then it's talk-about-Kim time again and Kyle is very put out over it all. Erika tries to lighten the mood by telling them to talk about her and offers that her hair color isn't natural.

Eileen is really seeking some screen time because she then brings up that last season Yolanda had asked them at a dinner to share something personal and she never got her turn to share, so she wants to share now. She tells the ladies she's been in abusive relationships in the past. She begins to cry but continues with her story. A boyfriend had broken her nose before. Not sure if this is before her three marriages or in between them. The women all gather around and hug Eileen and tell her how amazing she is.

The Hamptons trip is over and Erika is on one of her private jets off to pick up Yolanda from Ohio. She has her flight attendant prepping an online hospital bed for Yolanda to rest in and be comfy on the trip. Yolanda tells Erika that her doctor told her that in the 9,000 implant removal surgeries she has done, she has never seen one like hers with so much silicone free-floating in her body that way.

At Kyle's house, her friend Faye Resnick stops by to help Kyle turn her gym into another closet for her. Kyle tells Faye she wants the closet to be romantic and dramatic. Umm, huh? Can't wait to see what she comes up with.

Lisa V. is at Pump, one of her restaurants to do a charity event for the Hero Dog Awards. All of the ladies are there to support her and Lisa R. runs into an old friend, Kathryn somebody or other, who *surprise* is a new RHOBH cast member. Lisa R. says when she looks at her she thinks OJ Simpson. Kathryn's former husband, Marcus Allen, was best friends with OJ and rumored to have had an affair with Nicole Simpson. Kyle wonders if Kathryn knows her friend Faye since Faye was BFFs with Nicole and wrote a book exposing her affair with Kathryn's husband.

The ladies all file out of Pump and head to the District to continue drinking. New girl Kathryn meets them there and they pump her for info on herself. Kyle asks Kathryn if she knows Faye Resnick and Kathryn doesn't. Kathryn knows Faye mentioned her in her book but she had never even met her. Kyle says Faye wouldn't lie and leaves it at that. But we know Bravo won't. A peek into next week shows Kathryn and Faye duking it out over dinner. Until then!