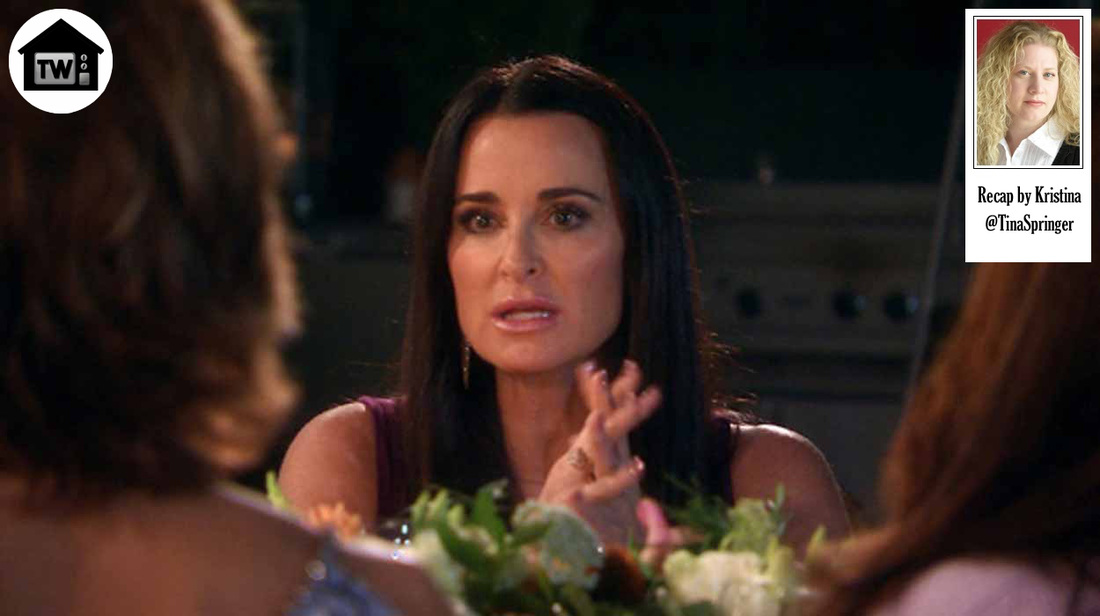 The Vanderpumps buy a sex shop, a trip to Italy to spread ashes, and the BBQ confrontation that wasn't – it's time to check in with the ladies of the RHOBH!
We begin this episode with Lisa Vanderpump and her husband Ken visiting a sex shop. It turns out Ken has taken a lease on it and wants to change it into an English tavern. Lisa isn't looking forward to it at all. She thought Ken would be winding down since he's 70 now, but Ken tells her he wants another restaurant for their son to eventually run.

The new woman, Kathryn, and her husband Donnie are off to her private jeweler as we flip to Kathryn doing a video diary about how Midwestern women are the backbone of America and her morals and values are top notch. The jeweler gives her a ring to try on and tells her it's worth "a million-eight." She says "that's more than my husband makes in a year" and the room cracks up. I guess that was a funny rich person joke.

They finally settle on a pair of earrings for two million, seven hundred thousand. Just because. They stress that they don't wait for holidays to give gifts. Her sweet Midwestern values are really coming through in this scene. Donnie says he's happy to get her the earrings but it might delay renovations on one of their homes. She says let's skip the earrings then, and I think the jeweler might cry.

Kyle and her daughter Portia are having tea at home when she starts calling all the ladies one after another to invite them to a BBQ. She then goes to her friend Faye's store so she can tell her in person about the BBQ and the fight she's sure to have with one of the other guests, Kathryn. If you remember from last week, Faye wrote a book about her old BFF Nicole Brown Simpson sleeping with Kathryn's husband 20 years ago. Faye says she has no interest in talking to Kathryn about any of it, but we know she will!

Eileen and her family are packing for their trip to Italy, where she will dispose of her sister's ashes. They take off and land in Italy and are sitting around a fabulous hotel. Eileen brings up the topic of ashes spreading and begins to cry. We learn that her sister died of breast cancer and Eileen feels guilty she didn't do something more for her. There seems an implication that this was sudden and the sister was perhaps young, but a quick google search shows the sister was at least 68. Eileen then takes a small compact of ashes out to the water, says a few words, and then lets them go.

Kathryn and Lisa R. meet for breakfast and they talk about a lot of old stuff that happened in the '80s and '90s so we can all be up to date on who Kathryn is. Story made short – another model. Kathryn then makes a visit to Lisa V's house for tea prior to the BBQ and Lisa immediately asks her age. Kathryn looks like she might lie but then says 51. Lisa continues the questions and asks how much younger her husband is (9 years).

We finally get to Kyle's BBQ, which means the giant purple velvet dining room chairs and long table are pulled outside near the pool and the fancy flowers and candles are all around. Antique bird cages are hung all through the trees and there isn't a BBQ grill anywhere in sight. The caterer, however, is very busy preparing the many courses that will be served.

The ladies start arriving in dresses and shoes that can easily transfer from afternoon Beverly Hills BBQ at Kyle's to red carpet premiere. Except for Yolanda, who thought Kyle actually meant BBQ. She's in white jeans and a navy blue poncho with her hair in a ponytail. Erika arrives and she too is a bit more casual then the other ladies, though still in florescent pink heels. She says she's from Atlanta and when they say BBQ, they mean BBQ. Kyle says maybe she should stop using the word.

Yolanda tells the ladies she's avoiding all toxins. So, no makeup, hair dye, or even nail polish. The other women all look nervous and Lisa R. wonders where her silicone could be travelling to, especially from her lips. Lisa V. and Kathryn arrive and Kathryn notices Faye right away but ignores her when introduced. Lisa V. also looks pretty peeved. The party should get interesting soon.

Yolanda excuses herself from the party. It hasn't been too long since her surgery so she's tired. And the women all need time to gossip about her too, of course. Lisa V. is in Lisa R.'s ear about how irritated she is that Faye is there because they got into it last time she saw her. Faye walks into the room they're in and Lisa R. asks her how did you and Lisa V. get into it? Really smooth. Faye says she'd just like to move on from it.

Everyone takes their seats for dinner and naturally they sit Faye across from Kathryn. Basically Bravo said, hey new girl Kathryn, who's your #1 enemy? Okay, let's book her and put her in your face all night. What a fun job these ladies have!

Dinner starts and as expected, everyone is talking about Yolanda and her Lyme disease. Like a great friend, Erika is pretty pissed off. And she makes sense. Yolanda has a fabulous life and family, and why would anyone choose to stay in bed all day every day faking sick when they could pretty much do anything at all they wanted to? Kyle then says what about Bella and Anwar's Lyme disease, and Lisa V. says their father says they don't have it. So more faking it accusations.

Lisa V. really doesn't want to talk about it so conversation turns to how many people at the table have been in Playboy. Answer = 3 (Camille, Lisa R., and Faye). Fays seems upset at this info being shared and excuses herself with Kyle right behind her, leaving Kathryn time to tell the whole table why she can't stand Faye.

Faye returns and Kathryn decides to confront her. Like anyone who did something they shouldn't, Faye doesn't want to discuss it. She says stuff about how it was so long ago and she's uncomfortable talking about old stuff and if she's ever offended anyone at all at the table then she apologizes. Before Kathryn can even respond, Kyle announces that Faye is the most bestest friend in the whole world, always there for her no matter what time of night, et cetera, and I'm sure there's a producer cringing because the fight that was supposed to happen totally fizzled out. But if this season is like all of the others, then that dead horse hasn't been beaten enough yet and we'll hear more on this topic next week. Until then!

​