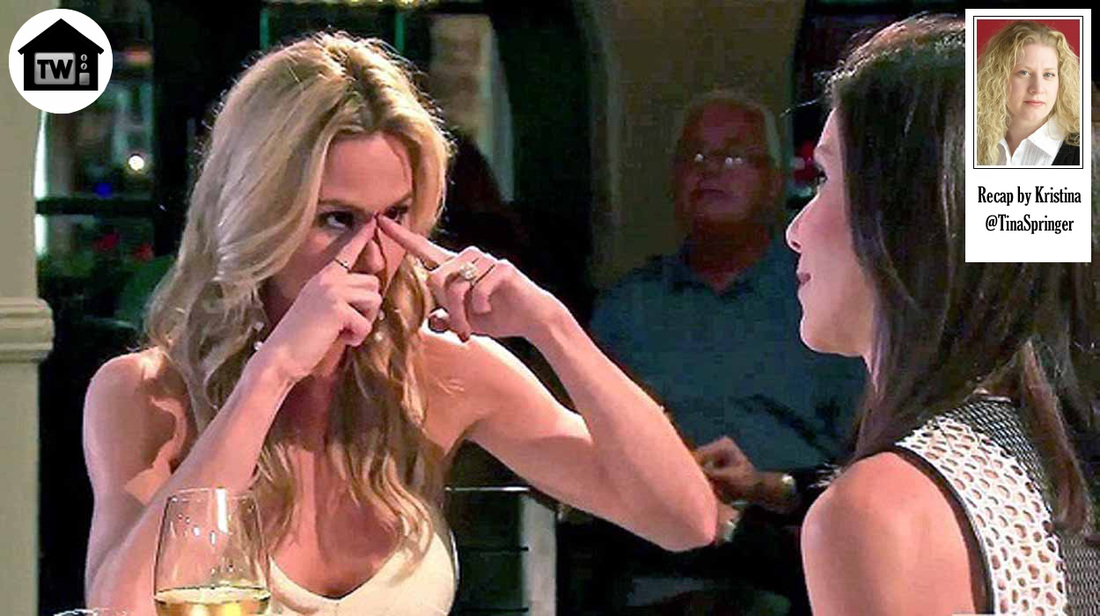 A new housewife, a new roommate, and new boobs – it's the premiere of Real Housewives of Orange County, season ten!
I'm so glad the Orange County ladies are back! This is the show that launched the entire Real Housewives franchise, and there is still one lady standing from the first season – the OG of the OC, Vicki Gunvalson.

Episode one kicks off with Heather making breakfast in their rental house. Soon after they're off to see their massive new house that is under construction. The ceiling in the entry looks a hundred feet high and the kitchen looks bigger than most houses. There are fourteen bathrooms for the family of six. The kids have bedrooms that are the size of four or five master bedrooms put together and sporting their own outdoor terraces. And Heather's closet? Yeah, it's equally obnoxious in size.

When the house bragging is over, we move to a dinner scene with Vicki and Shannon. Vicki tells her that Brooks has moved in with her. Vicki says something about what a role model Shannon is with her great relationship with her husband David and Shannon gives a look. So there's more to that story to come.

Tamra and Eddie are taking before shots of her boobs. It's time for her 10,000-mile tuneup and she's headed into the doc for a new bigger, better pair. As she heads into surgery, she talks about how she's not going to get into people's business this season like she did in season nine. We'll see how long that lasts.

In the next scene, Tamra is waking up in the recovery room with a full face of makeup. I'd love to know how she pulled that one off. In a quiet, sad voice, Tamra tells the nurse it feels weird to wake up from a boob job surgery without her friends surrounding her. Each time she's received new boobs in the past she was always surrounded by good friends. Aw, that's so … bizarre. Tamra then asks the nurse for more lip gloss before her husband sees her.

Heather is off to dinner with her friend Meghan Edmonds (aka the new girl on the show). Her husband Jim is out of town and Heather's husband Terry joins them in the middle of the meal. It's kind of a boring intro to the new girl, but hopefully she'll jazz up the show later on.

At Vicki's house, Brooks is preparing dinner. Vicki practically tackles him to wrestle a piece of white bread from his hands. It seems he was diagnosed with stage three cancer four months ago and cancer loves white bread. Brianna's daughter thinks he's faking it, but Vicki has been at his side through chemo treatments.

Meghan and her husband Jim are moving into their OC house. She does this really annoying thing where she keeps referring to him by his full name. Like, "The best thing about being married to Jim Edmonds is he knows my soul." Okay, she does this other really annoying thing where she sounds like a swoony seventeen-year-old. Being that she is closer to his daughter's age than his, I wonder how long he'll keep her around.

Shannon is packing luggage with her husband David's assistance and talking about how bad their marriage has been. She sends him off to find her special feng shui relationship crystals to hang before they go. With a straight face, he dutifully does so. I just turned to my husband and tried to get him to fetch me some feng shui crystals and did not get the same reaction. Shannon and David are off to a couples retreat to try and save their marriage.

At the retreat, Shannon and David go to group therapy and talk about their issues. Shannon is quick to get angry and David is quick to run. Shannon drops a bomb and shares that David had an affair. I didn't see that one coming. She caught him whispering on the phone to a woman and then found a briefcase full of hotel bills. When she confronted him, he came clean.

Back at Vicki's, she and Brooks are packing up vegetables for their vacation so they can still juice while in Mexico. They head off in the limo for the airport and talk about how they've fallen out, again, with Tamra and Eddie.

At Tamra and Eddie's fitness gym, Tamra is busily setting up a baby shower for her son and soon to be daughter-in-law. Lynn Curtin, from one of the early seasons of RHOC, comes to the baby shower. Her daughters are now grown and have moved out (one has a kid) and she's divorced her husband Frank. While talking to another friend, Tamra begins to cry and is sorry that she and Vicki haven't been communicating, and thinks Vicki should be at the shower sharing the moment with her.

Back at the couples retreat, David and Shannon are taking turns blaming their parents for all of their troubles as adults. Shannon comments that today she and her mom's relationship is good. I'm guessing this could change after Mom sees this episode air. The episode ends with Shannon worrying that she's screwed up her children just like her parents have screwed her up, since her kids somehow found out about David's affair. Maybe one of her kids will make it onto Real Housewives season thirty and we'll find out.

​