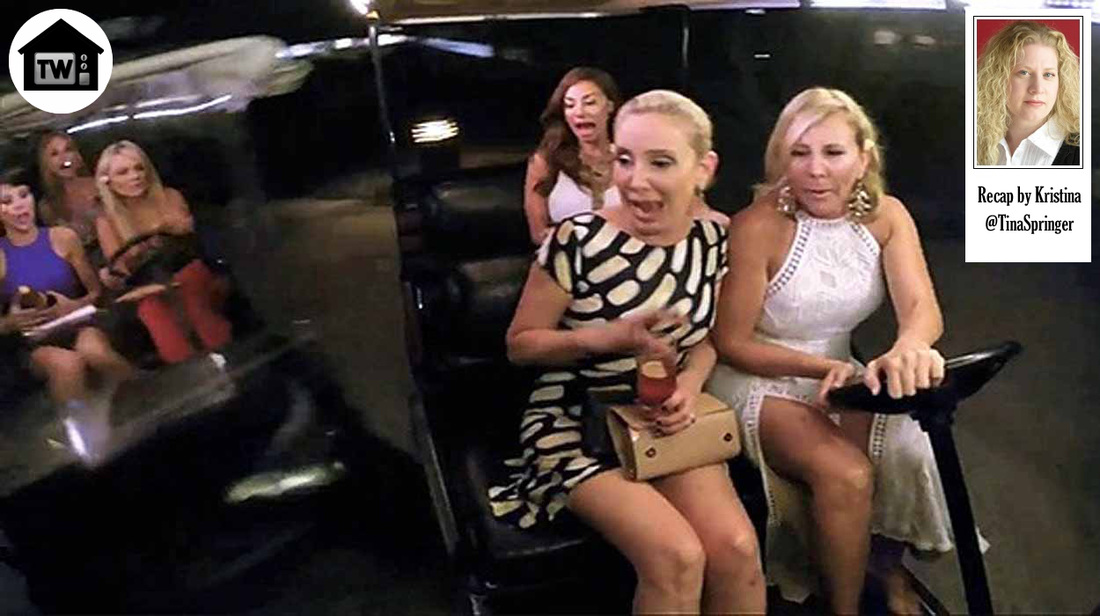 Hangovers, pot-stirring, and golf cart racing – it's time to check in with the Real Housewives of Orange County!
We're still in beautiful Moorea and the women are waking up with hangovers. Heather runs around trying to get them all to get ready for a day of deep water-diving but no one is moving too quickly. Vicki and Shannon wind up staying back at their bungalows, too sick to attend.

The four remaining ladies – Heather, Tamra, Meghan, and Lizzie – board a boat and head out in the water with a guide. Heather is the first one down in the water and Lizzie is right behind. They are doing a type of scuba-diving, I think, though I've never seen this before. It's a giant weighted yellow pot type of thing that sits on their head but doesn't connect to anything else.

Anyway, they're down in the water and not drowning, so that's good. Meanwhile back in the boat, Tamra tells Meghan that she and the others were all gossiping about her at dinner the night before. Tamra asks Meghan how she and Heather remain friends, even though Heather is friends with Meghan's husband's second ex-wife Allison, whom she can't stand. Meghan says they just don't talk about it.

Back at the resort, Vicki and Shannon hit the beach and start drinking again. They must be feeling better. Conversation turns to Shannon and David's relationship and Vicki says it's common that one or the other in a marriage is unfaithful. Shannon thanks Vicki for her friendship and being there. Vicki asks Shannon how long her husband was having the affair and Shannon replies that it was long-term, since before she went on the show and went on about eight months. Shannon even befriended the woman at one point. Her husband gets douchier each week, I swear.

That night the ladies meet for dinner. Meghan asks if they talked about them all day and Vicki says not a word. She then asks did you talk about me last night and there's silence. Tamra replies yes, we did, and they're off. Vicki is passionately explaining her point of view once again about how step-moms and real moms aren't the same thing and Meghan is defensive because after four months of marriage she loves her step-kids more than anyone. She still wishes these kids came out of her. Which would have been really creepy, since she'd been all of eight or nine years old with a couple of them, I think.

The conversation moves on to Heather's relationship with Jim's ex-wife Allison. Heather thinks Shannon said something negative about her regarding this and Shannon is denying saying anything. Tamra and Vicki excuse themselves to use the bathroom and talk about Heather and Shannon. Heather follows them into the bathroom and they argue some more. Back at the table, Shannon calls Tamra a pot-stirrer behind her back.

After dinner the women board golf carts and leave. As soon as Meghan is out of earshot of Shannon, she whispers to Tamra that Shannon called her a pot-stirrer when she was in the bathroom. Tamra is pissed and they floor it trying to catch up with the other ladies in their golf carts so she can have it out with Shannon. They all head into one of the bungalows to scream at each other. Shannon waves her index finger around and threatens to storm out of the room and Meghan tells her to go so she does.

The next morning the ladies are all packing to leave. Heather stops by Tamra's and Tamra is talking about how she's going to get baptized, but not until she's fully educated on Christianity so she's reading The Bible for Dummies. The ladies check out of their huts and board the ferry to their flights. While on the ferry, Vicki tells the girls her daughter has been crabby lately so she's going to buy her a new Tahoe to cheer her up.

Conversation turns back to Meghan and her step-daughter, Hailey. She tells the group she and Jim decided that Hailey wouldn't go to high school anymore since she wasn't showing up for classes. They have her doing independent study at home now. Vicki starts lecturing Meghan on how she's damaging Hailey by not forcing her to attend high school. She says she should strip away all of her stuff, car, phone, etc., until she behaves and goes to school. Which is not at all hypocritical after just telling everyone you're giving your own daughter a car for having a sad day.

The ladies arrive in Tahiti for one last night before flying home. Shannon gets a phone call from her husband David. She's all giggly and happy because her husband has been sending her text messages with Xs and Os and it reaffirms to her that she's doing the right thing by forgiving him for his affair.

The women all make their way down to the beach for dinner, teetering on sky-high heels and sporting odd headdresses. They barely have a sip of their wine before Meghan brings up the fight from the night before. She apologizes to Shannon for her part in it. Then Vicki thanks everyone for accepting her relationship with Brooks and says how hard it is to go through major life events, like losing her mom, without a partner so she appreciates having him and them accepting him and she tells the ladies she loves them all. The episode ends in hugs rather than fights this time, but I'm sure that won't last for long.

​