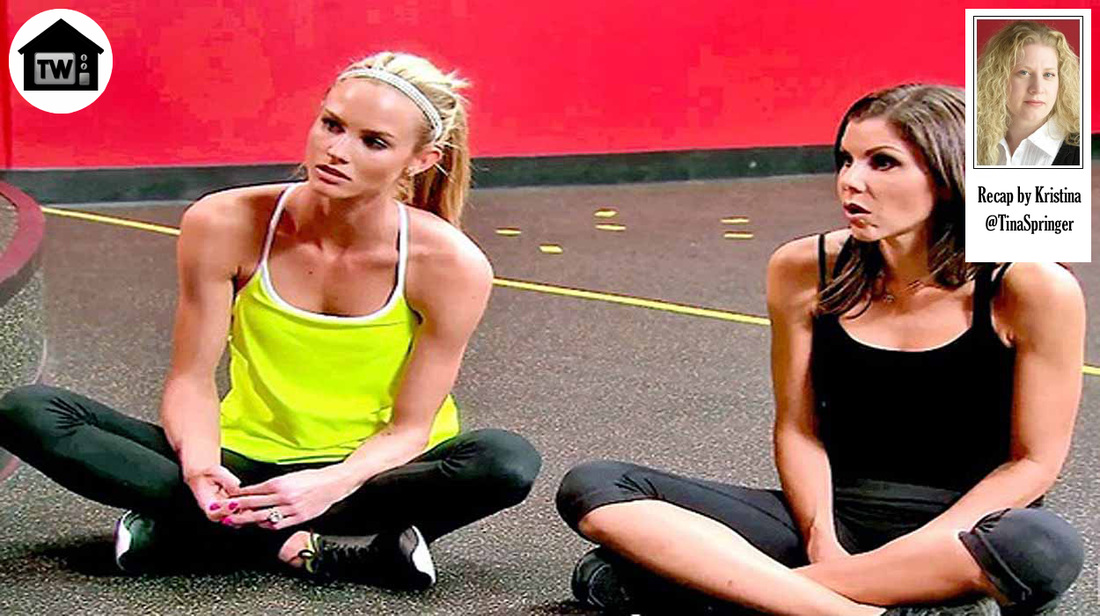 TP-ing punishments, booty workouts, and a birthday bust – let's see what the ladies of the RHOC are doing tonight!
Shannon and David sit down to chat with their girls about the sleepover that went wrong the week before. In case you forgot, the 10-year-olds TPed a house. Shannon told them it was vandalism. Their response? Daddy did it when he was little. He said yep, he did and he also threw pumpkins at mailboxes. Shannon says the girls are going to be punished and the one daughter says, "You are no fun!" Shannon says, "I'm the queen of fun." Her daughter replies, "Yeah, for drinking." Nice. David says their punishment is they have to write an apology letter to the people they TPed. The girls say absolutely not will they be doing this. Shannon asks each girl if they are ever going to TP a house again and they both shrug and storm off mid-discussion. Super-stellar parenting taking place here.

Meghan and Jim are out for dinner after being apart for three and a half weeks. Meghan tells him that Vicki thinks his daughter Hailey should have a job and Jim says tell her it's none of her damn business. Meghan says she agrees with Vicki but can't correct all of the bad parenting mistakes made in the last seventeen years before she stepped in as step-mom. Meghan tells him she's sick of him always being gone and he tells her to just keep keeping an eye on his daughter, and when she's done with school Meghan can then do what she wants. So basically, he married a babysitter that he only has to check in with once a month.

At Tamra's, they're talking about the gym and Tamra has to teach her first booty class that week and hasn't practiced. Tamra's mom asks if Tamra's son Ryan is going to go back to working at the gym and Eddie says no way, it's not going to happen. He doesn't work with family. Tamra changes the topic and says she's going to meet with her spiritual advisor, Scott Cruz, and bring Meghan and Heather. She says Scott is always right with every prediction, so this should be interesting.

Vicki and Brooks are looking at the garden Vicki is making to memorialize her mother. They then sit down to talk about the trip she'd taken with the girls. She tells Brooks about getting drunk and stupid. They then talk about their birthdays and Brooks' doctors' appointments. Brooks says his doctor came up with a drug that can get rid of cancer since the chemo isn't working for him.

Tamra, Heather, and Meghan meet for lunch. Tamra rehashes the trip and the problems she had with Shannon. Then she tells the girls that she's never met Scott, who is joining them, in person. They talk a few times a week but this is the first meeting. Scott arrives and right away starts talking about Heather's grandma being there at lunch. He tells Meghan that he sees her having a child in the future. Tamra asks him about Shannon and Scott says the problem is with Meghan and Shannon and that Shannon is threatened. Tamra asks him about Vicki and her boyfriend Brooks, and Scott says Brooks doesn't really have cancer.

Meghan, Shannon, Heather, and Vicki go to see Tamra at the gym and take her new booty class. They start out with a jog outside the gym and Shannon says she can't run because she delivered a 9lb. 9oz. baby ten years ago that ripped her from one end to the other, and if she runs she pees her pants. She's able to do squats, though, so good news there. Class ends and Brooks arrives. Tamra has a cake for him for his birthday. They sit down to eat and have a slice of cake and saké and Meghan invites everyone to a NASCAR race. Vicki says she and Brooks already have plans.

Brooks tells them he's pausing the chemo and taking a blast of antioxidants, 5000 milligrams of Resveratrol a day (or about fifty-five glasses of red wine if you're a real housewife), and the cancer will be gone in six months. Tamra's son Ryan and his wife show up with his baby daughter and they all take turns holding her and then they leave and Vicki leaves to go to an appointment. Tamra talks to Shannon and the other girls about Brooks' decision to switch to antioxidants. Shannon says she set up an appointment with a specialist for Brooks but he won't go and always finds a reason for why not. Meghan tells Shannon that the psychic they saw said Brooks doesn't have cancer. Game of telephone commences.

Vicki, Brooks, Shannon, and David meet for dinner for Brooks' birthday. Brooks orders a couple of drinks, which Shannon finds shocking since he's been avoiding all sugar to not feed his cancer. Shannon asks Vicki to see her in the bathroom right now. Soon as they get behind the door, Shannon says she doesn't want to ruin Brooks' birthday but she goes ahead and tries to anyway. She starts bawling and wants to tell Vicki everything that happened at the gym earlier. Before she can get the words out, Vicki tells her to stop, she doesn't want to hear it, doesn't want his birthday ruined, and walks out of the bathroom.

At the table, Vicki tells Brooks what Shannon said and she's angry that she doesn't want to hear it. Shannon sits down at the table, blubbering and saying she loves Brooks and didn't want to have the conversation at the table. Vicki starts yelling at her, why does she keep crying? Shannon keeps at it. Vicki says f*ck this bullshit and jumps up to leave. She pauses to scream at Shannon some more and then they take off. I guess we'll find out if Vicki ever hears what Meghan said next week.