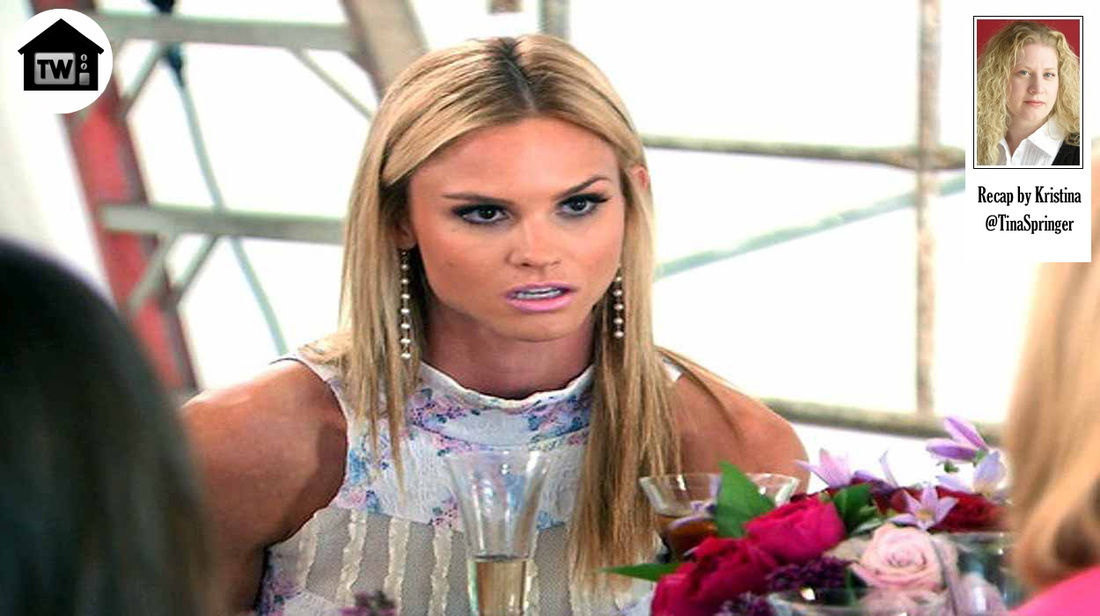 NASCAR, Heather's house tour, and a showdown between Meghan and Vicki – it's time for this week's episode of the Real Housewives of Orange County!
Tonight's episode kicks off at Vicki's house with Tamra and her son Ryan, fiancé Sarah, and the baby stopping by. Vicki has offered them the use of her backyard for their wedding. The couple walks around, checking out the yard while Tamra and Vicki go in to chat about the dinner disaster the night before with Brooks, Shannon, and David. Tamra tells Vicki the background of what happened and how the psychic didn't think Brooks had cancer. Vicki says well amen then, that's a sign that he will be cured. She then launches into a tirade about how evil Meghan is for trying to talk trash about her man and you can sense there will be a fight between the two when they do meet up.
At a NASCAR event, Meghan, Jim, Heather, and Terry arrive first. Danica Patrick greets them and they make some corny jokes about life racing against your husband and then they troop off to go ride around in the pace car. Someone notices it's after 9 a.m. and time to drink, so next they're off to find their box seats and alcohol.
Once there, Meghan reads Heather the text from Vicki, cussing her out for insinuating Brooks didn't have cancer. Heather comments that the party at her house later in the week is going to be fun when the two finally come face to face.
Tamra, Eddie, Shannon, and David arrive at the NASCAR race and join the rest in their box and then they all head down to the track to meet more drivers. When they return, the men are at the glass watching the racing and Shannon turns to the ladies and says, "I don't want to start drama …" which of course means she is about to start drama. She launches into the story about the dinner with Brooks and Vicki, and Meghan's husband says what everyone watching this scene is thinking: "They're talking about that shit again?" Meghan says the whole thing is hard on her because she's going through her husband Jim's ex-wife's cancer with her and she knows how rough it is, and why wouldn't Brooks try every option he could to beat cancer instead of giving up and turning to fruit smoothies? Meghan dreads seeing Vicki at Heather's party.
Tamra is at work at her realty office. She has to update her license since she hasn't been actively selling any houses in the last five years. Her new boss tells her she has to sell at least three homes in the next six months. Talk then turns to the house Tamra is helping her son Ryan and his fiancé rent. Tamra's footing the bill and doesn't want her husband to know what she's up to.
At Shannon's house, she's doing arts and crafts with her daughters. Shannon tells her daughters, again, how fun she is. And the one says, "No you're not." I'm thinking the more you have to tell people you are something, the less you probably are that thing. Maybe she should hang crystals over her kids' beds to fix their views of her, like they work on fixing her marriage.
Vicki and Brooks are in San Diego renting a boat for Vicki's birthday. They rehash Brooks' bummer birthday the week before and Brooks says what I'm sure every viewer is thinking: "Move on. Next." What exactly goes on in these production meetings before filming these shows? Do they choose once incident and tell each cast member you must mention it no less than six times at each event you attend? Bo-ring. The two move onto dinner and Vicki grabs ahold of the chef to make sure he knows this is her first birthday since her mom's sudden death six weeks ago. Not at all awkward. Vicki and Brooks eat and Vicki just can't leave the Meghan/Brooks not having cancer conversation alone. She tells Brooks over and over again that she will defend him to the death, take a bullet for him, etc. Cue the orchestra.
Meghan and Tamra are driving around looking at houses. They talk about Heather's upcoming luncheon and seeing Vicki, and then stop to tour a house. Tamra points out a room and says this is the Heather Locklear room. Meghan says, "Who is Heather Locklear? An old actress from
Baywatch
?" Tamra mentions Heather Locklear's past men and Meghan has no clue who they are either, and says they must be rockers from Shannon and Vicki's age group.
Shannon and her family are out for her birthday dinner and Shannon immediately starts complaining that it's not an appropriate atmosphere for the children to be in – why it's practically a sports bar. I'm not sure what she's looking at because it doesn't look like any sports bar I've ever been in. It looks like a large, nice restaurant. There isn't a TV in sight or any sports memorabilia clogging up the walls. David says I'm sorry, I messed up. Shannon then jumps all over him for turning it into a pity party for himself. Wow, she seems SO fun to be married to.
The kids get upset that the parents are fighting and now Shannon is tearing up, which makes the kids even more upset. They order food, and surprise, surprise, Shannon's food is "riddled with fat." He tells her to try it with the sauce, it's good, and she says, "David! It's full of sugar!" Ten bucks says this guy has another affair in the bathroom before he leaves the restaurant. Shannon says if she was skinny she could eat this kind of food but because she's so very overweight (last we heard she was 134 lbs. pre-diet) she just can't. Such an awesome role model this one is for her three daughters sitting at the table. A cake and candles arrive at the table and Shannon blows them out, even though she's so miserable. She had really thought David was going to do something special for her birthday and she's so disappointed and wants to make sure everyone knows.
Finally, the scene they've hinted at fifty times in this episode is here. Vicki and Meghan are going to see each other at Heather's luncheon. The luncheon is taking place at Heather's mid-construction house because she thought people would like a tour of it as it's being built. There are no walls and wood beams and plastic everywhere. Seems perfectly normal. Heather begins the tour and points out various rooms, like one of the fourteen bathrooms. Shannon snarkily says that she has thirteen bathrooms herself but fourteen is obnoxious. Heather shows them the luggage room next. Yes, the luggage has its own room. She then shows them the master bath, which is truly as big as some people's entire homes. And her personal closet is easily 1,000 square feet, if I had to guess. The tour continues and the kids' bathroom is almost as large as mom and dad's, and there is an enormous elevator to move them between floors. Vicki comments that Heather is building a hotel.
They finally stop in the gigantic family room where a fancy formal table has been set up in the middle of construction for the ladies to dine. Meghan is thanking Shannon for her help in getting her husband's ex-wife in to see Shannon's cancer doctor friend, and Vicki is totally getting her nose out of joint eavesdropping on the conversation. Meghan turns to Vicki and just goes for it. She brings up the topic of the psychic and Brooks not having cancer, etc. Vicki says don't you ever say Brooks doesn't have cancer again or I'll take you down. She's off on a tirade and says if Brooks is healed from cancer then thank you Jesus, and if Meghan was a good Christian she would thank Jesus too. Meghan says this has nothing to do with Christianity. Vicki says of course it does, she believes in Jesus, not some psychic.
Okay. Hold on. Isn't this the same woman an episode or so ago who had the psychic over to her home to talk to the ghost of her dead mother? Okay, back to the fight.
Vicki says she's been there as Brooks is getting chemo put into his arm. Meghan says well, these ladies said you've never even been to a doctor's appointment. Vicki is getting more and more upset that everyone is trying to get into the details of Brooks' medical treatment. Vicki tells Meghan she's not involved, don't worry about it. Vicki tells her she's a little girl and hasn't lived life yet so she shouldn't have an opinion. Meghan says she is going through someone close to her dying and starts crying. Vicki says yeah, your husband's ex-wife. Meghan is upset that that should mean she's not close to her too. Vicki says, shame on you, we're not going over his treatment plan with you, period. Shut up. Meghan says, "You're just an old woman who's bitter and pissed off at the world so you shut up."
And with that awesome ending to tonight's show, we'll just have to wait until next week to see the continuation of this fight.