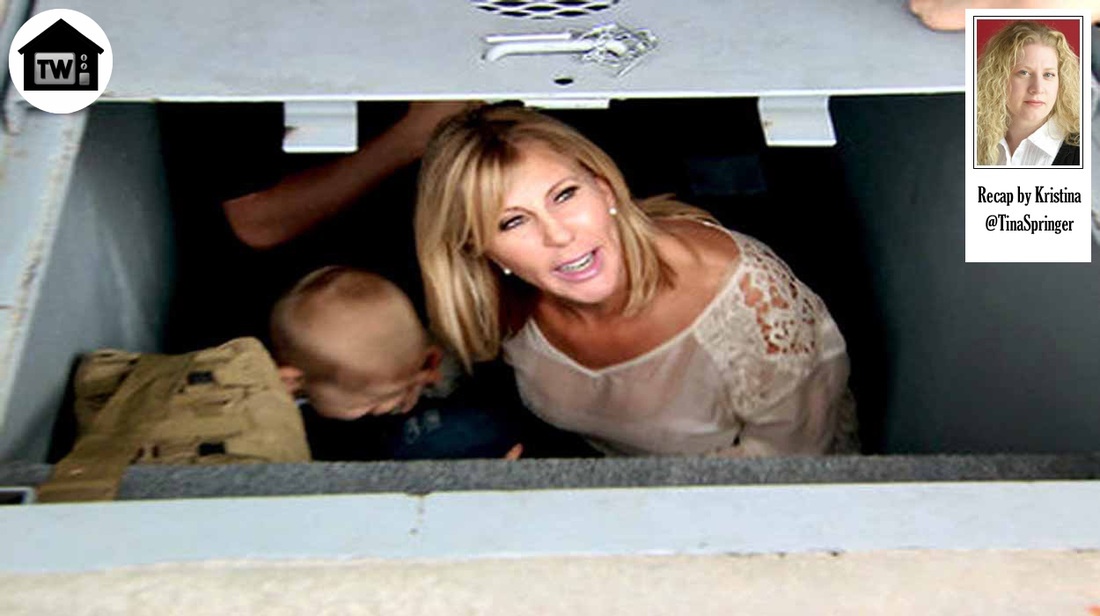 A lot of party rehashing, baptism plans, and a challenging trip to Oklahoma for Vicki – it's time for another episode of the Real Housewives of Orange County!
Tonight's episode begins with Meghan cooking teriyaki salmon for her and Jim and while he is in the kitchen harassing her. She says she doesn't know how to cook rice and he tells her to read the back of the Minute Rice box. In another part of Orange County, Shannon is meeting Heather for a meal. They order cocktails because Shannon says she is dehydrated. Heather seems to have recovered from her leeching of the last episode and dares to wear white.

Back at Jim and Meghan's, Meghan is telling him that she apologized for leaving Tamra's party because she was mad at Jim for taking Vicki's side. She said they had a rough night but Jim learned she needs an ally and she learned she shouldn't have pulled him into her fight. Shannon and Heather are rehashing the same fight between Vicki and Meghan. They think Vicki overstepped her bounds when she started attacking Jim and Meghan's marriage.

Vicki is in Oklahoma visiting her daughter Briana and her family. Briana is stressed out because her husband Ryan just had major back surgery and she has two jobs and two babies to take care of. So she needs her mom's help. There's a tornado warning and the group decides to go into town to ride it out. Vicki's a nervous wreck. On the way out, Briana and Ryan show her their underground tornado shelter in the garage and she freaks out because it's so small.

Tamra goes to see Pastor Mike about being baptized. They trade stories about how they found God and the church. Tamra tells the Pastor about her sex tape party the night before and wants to know if she can still be Christian and do things like that. Of course he says sure. With Tamra comes money.

In Oklahoma, Vicki and the family arrive for dinner to celebrate Briana's birthday. Briana is happy because she says she has no social life in Oklahoma. She also mentions it's their one-year anniversary of living in Oklahoma and she and Vicki get into a debate over who their separation has been harder on, Vicki or Briana. But with Vicki flying out to visit fourteen times in twelve months, how are they really even apart? Briana says she'd love nothing more than to move back to Orange County, but not while Brooks is in her family home. Maybe she doesn't realize that she, her husband, and two kids can get their own home and not see Brooks?

Meghan and Jim are driving home from Meghan's doctor appointment. She had gone in to see if some lumps she found under her arm were serious. They aren't. She wants to get extra testing to be sure though since there is so much cancer in her family.

Terry and Shannon are headed to a meeting with people from the shopping network to talk about their skin care line. They've invested over a million dollars into this product line, which at first seems like, wow. But then I remember this is Heather with the $600,000 kitchen cabinets, et cetera, and it doesn't seem as big a deal.

Shannon's kids are cooking dinner and baking a cake for her and David. They've set up a "restaurant" in the dining room to make a special date night for the parents. Shannon thinks it's a do-over for that disastrous birthday dinner she feels she had. The kids serve them chicken and salad and then bring out a cake with candles for dessert.

At Briana's, she and Vicki are talking. Vicki feels bad because she thinks Briana didn't have a special enough birthday the day before. She decides to surprise her with a brand-new Tahoe. She has three sitting in front of the house for Briana to choose from. Instead of a thank you, Briana starts complaining right away and seems very put out that she has to get up and go walk outside. They look at the three cars and Briana continues to moan and groan about it. She's horrified. She said she's completely embarrassed that her mom did this, but relents and picks one of the three cars.

Tamra and Eddie are on a date night. They rehash what happened at their party and Vicki and Meghan's fight. Conversation then turns to Ryan and his fiancé and family moving back home, and how Tamra helped them pay for it. Eddie is not pleased. He doesn't want them supporting a thirty-year-old and his family.

Vicki and Briana are sitting on the porch talking. Briana is still upset about the car, but she is accepting it. They're talking about Briana's trip out to see Vicki in a week and a half and the sleeping arrangements. Briana offers to stay in a hotel, and Vicki says no way. Brooks will be away so there should be no problems for her.

Briana is still resistant and Vicki doesn't want to talk about this on camera. They go behind a door but the camera is still filming. Briana doesn't want to be around Brooks, but she also doesn't want him kicked out of his bed since he has stage three cancer and shouldn't be traveling. Briana doesn't want to be made to look like the bad guy so would rather just go to a hotel. Vicki said it's absolutely not acceptable. There's a door slam after that, so we'll have to wait until next week to see how this one shakes out.