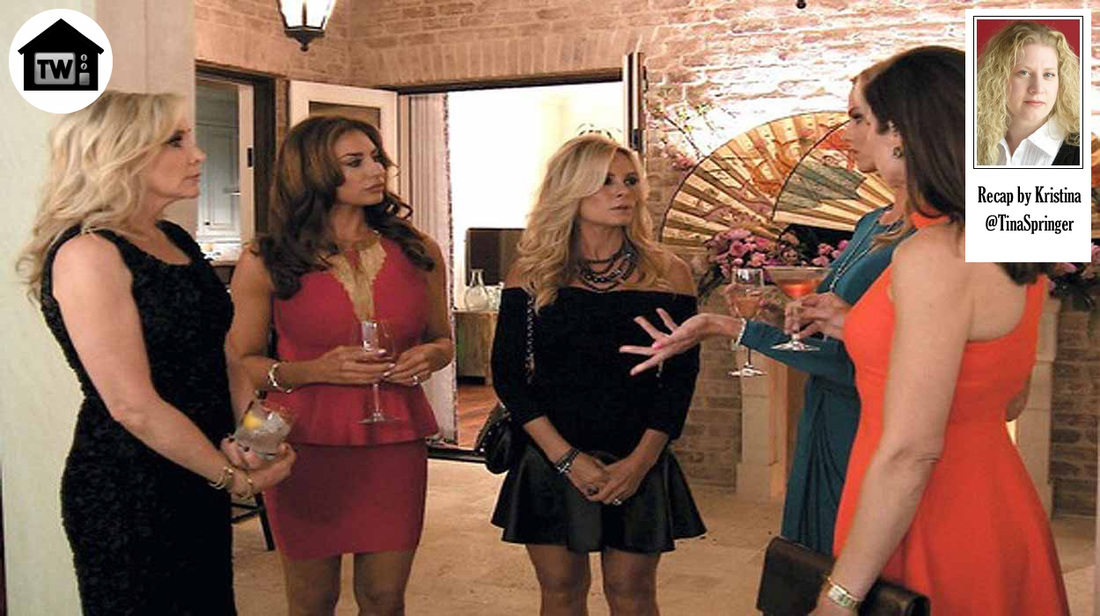 More non-cancer rumors, a dating great-grandma, and a heated Aries party – it's time for this week's episode of the Real Housewives of Orange County!
Heather meets Meghan for dinner and Meghan says her step-daughter Hayley threw a huge 200-person party and trashed her mom's house. She and her husband were very upset, but Hayley's mom only grounded her and then let her out of it the next day. Lesson learned, I'm sure.

Tamra wants her mom to have more of a social life, so she hooks her up with a matchmaker. She brings in a makeup stylist to get her mom ready for her first date. And then she and her son Ryan take Tamra's mom to meet him, which seems more like something a parent would do with their pre-teen than a great-grandmother.

Shannon joins Meghan and Heather for dinner. She tells them about the Aries party she's having that Friday, since it's the Year of the Ram. Totally normal reason for a party. Meghan wonders if Brooks will be there since he said he'd never be in a room with her again after she spread a rumor that he didn't really have cancer. She then tells the ladies that she'd been snooping and called Brooks' doctor. And it turns out his doctor doesn't even treat cancer. Shannon mentions that she had set Brooks up with the best lymphoma doctor in the area and he never showed up for the appointment. He claimed he got two flat tires on the way.

Tamra's mom's date begins and Tamra and Ryan meet him briefly and then they take a seat elsewhere in the restaurant. Once alone, Tamra tells Ryan that Eddie wasn't pleased she was helping Ryan out financially. Ryan says it's really none of his business. Tamra then interrogates him on whether or not he really wants to get married. He says he's scared because he's seen her and his dad get married so many times. Tamra tears up at this. And then tells Ryan he should start going to church because that will fix everything. He doesn't seem into it. Maybe she should start by just loaning him her Christianity for Dummies book?

Shannon is getting her hair and makeup done before her big Aries party. At Vicki's house, she and Brooks are getting ready for the party as well. Vicki wonders if she'll need to bring her mace for the event. Meghan and Jim are also getting ready to go at their homes. Meghan gives Jim the cliff notes of the Brooks-doesn't-have-cancer drama. In true stalker form, Meghan hunted down an ex-girlfriend of Brooks, wanting to know if he's done this fake cancer thing before. Back at Shannon's, she's talking to David about wishing Vicki would put the whole fake cancer story to rest.

The party begins and the backyard area is decked out in Chinese lanterns and lights. There's even a dragon in the pool. The ladies and their spouses all arrive and drink Aries-tinis. Then all talk turns to the Brooks drama. Shannon wants to be loyal to Vicki, but the information isn't adding up. Meghan fills in the women about contacting Brooks' ex-girlfriend. Turns out Brooks found out and texted Meghan's husband about it. Jim should be shaking in his boots at his wife's crazy stalker tendencies. When he does finally divorce her, he will have a whole lot of psycho on his hands.

Brooks and Vicki arrive at the party and everyone is on edge. Brooks and Vicki pull Meghan and Jim aside to get some things cleared up. Brooks is not happy about Meghan's reaching out to his ex-girlfriend. Meghan starts ticking off all the things she knows about Brooks and why she thinks he's lying and he's busily defending himself. Even if she is right, she is way creepy with how much info she's been digging up on him. Brooks and Vicki ask her to please stop and leave them alone, but she doesn't agree to it and they end the conversation.

Back at the party, Meghan pulls Tamra aside and as fast as she can tells her the one bad thing Brooks said about her. When quoting Tamra to Brooks, he said "Consider your source." Now Tamra's in a rage and Meghan's husband Jim has just had it with her and tells her again and again, "You have to stop." It's a really bad game of third-grade telephone. Tamra gets in Brooks' face and is cussing him out and Brooks just walks off, not wanting any more confrontation. He leaves Vicki and Tamra to duke it out. This is one fight that will have to carry over to next week's episode.