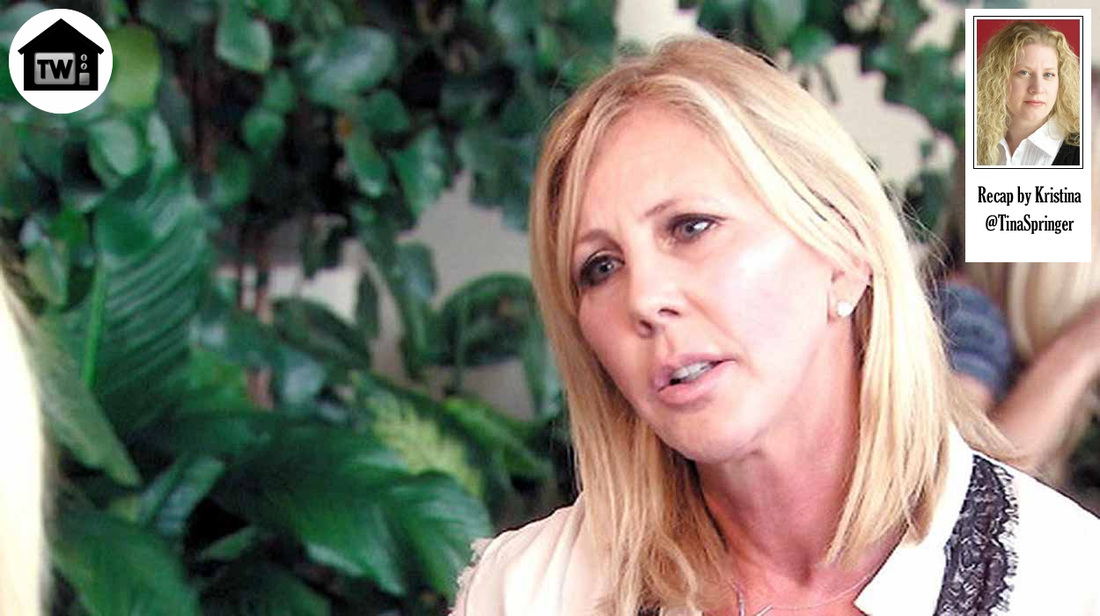 Wonky cancer doctors, prom dress shopping, and loads of gossipy lunches – it's time to check in with the Real Housewives of Orange County!
We're back at Shannon's Aries party and Tamra is still mad at Brooks for saying "consider the source" in reference to her. Nope, that has not died down yet. Tamra yells something at Vicki and then stomps inside to tell everyone else the story. Vicki and Heather go in another direction to talk. Heather wants to come clean to Vicki that she too has been talking about Brooks.
When Brooks mentioned his oncologist's name at another event, Heather realized it was the same doctor she used for her cellulite treatment. You don't hear of too many doctors curing cancer and getting rid of cottage cheese on your thighs at the same time. Heather tells Vicki she should just lay out Brooks's medical records to shut everyone up once and for all if he really has cancer. Vicki says no way and can't believe this is the group of people she hangs out with.
Vicki and Brooks leave the party and the other women all sit to chat. Meghan can hardly wait to tell Shannon that Vicki told her and her husband Jim that she never asked Shannon for any help regarding Brooks' cancer. (Shannon said Vicki did last episode.) The ladies all start comparing notes and realize Vicki is telling them all different things. Brooks is not doing chemo anymore. Brooks is doing chemo. And so on. This is looking more and more like a storyline gone bad with your key actors forgetting their lines. The women come to the conclusion that Brooks likely doesn't have cancer and Vicki has to know this and is just trying to cover his story.
The party is long over and Meghan and her step-daughter Hayley are prom dress shopping. They talk about Hayley's mom's health and her current treatment plan. Meghan thinks there is no way Brooks is going through any kind of chemo treatment plan. He looks too healthy.
Tamra arrives at Vicki's house to chat. She apologizes for losing her mind at the Aries party over what Brooks said about her. Tamra then tells Vicki about what everyone is saying and how she herself questions if Brooks really has cancer. Vicki is sticking to the Brooks has cancer script, though, and if she wants to stay friends with Vicki, Tamra had better get on board.
Shannon and her husband David are in the kitchen chatting about the Aries party. Shannon is mad that Vicki left the party without helping her cut the Aries cake (since both ladies are Aries). Shannon tells David she also suspects that Brooks is lying about having cancer and she thinks Vicki is in on it.
Tamra and Meghan are working out together, and of course, rehashing the party as well. Tamra tells Meghan they should just let the "Brooks doesn't have cancer" thing go. She doesn't want to upset Vicki and talk about it anymore.
Heather and her husband Terry are out for dinner. Heather tells him she's going to meet up with Lisa Rinna from
Real Housewives of Beverly Hills
to get some shopping network tips for when she and Terry need to do their show. Heather then shows Terry a picture of a tree she drew that she wants etched into their steel window in the new house. Terry doesn't like it. He tries to expand on that thought but Heather tells him he's no longer allowed to speak.
When she asked him for his opinion she'd meant for him to just say yes, it's great and she's really ticked that he didn't. Terry doesn't know why she asked his opinion when she didn't want it and she says it all boils down to she's working very hard on the creation of this gazillion-dollar house and she wants him to appreciate all of her hard work. They just stare at each other, dinner ruined.
Tamra's son Ryan and his family are checking out their new house in Orange County. Ryan seems super cranky because they're about to drive nine hours back to their old house to pack up and drive right back to move in. It's got to be hard to go from no kids and wife to a fiancé, new baby, and three step-daughters.
Heather and Lisa Rinna meet for lunch. She asks for tips and Lisa says it's all about not caring. Forget about worrying what anyone thinks and just be yourself. Talk then turns to Heather and Terry's relationship and Heather says Terry gets up to go operate at 4 a.m. every morning and then the second half of the day he's shooting his successful TV show,
Botched.
All she really wants is a thank you from him for holding down the fort while he's away all the time.
Shannon and Vicki meet for lunch to, what else, talk about Brooks' maybe/maybe not cancer. Vicki straight up asks Shannon not to talk about it but Shannon is doing it anyway. She wants to know why Brooks never went to the doctors she'd suggested. Vicki says because he has his own doctors. Shannon keeps pushing and Vicki says, "So you're really not going to stop talking about this even though I asked?" Shannon keeps on keeping on and Vicki throws her arms up and says, "Call Brooks! I'm done!" And Shannon keeps pushing anyway.
We'll have to check in again next week to see if Shannon ever actually stops talking …