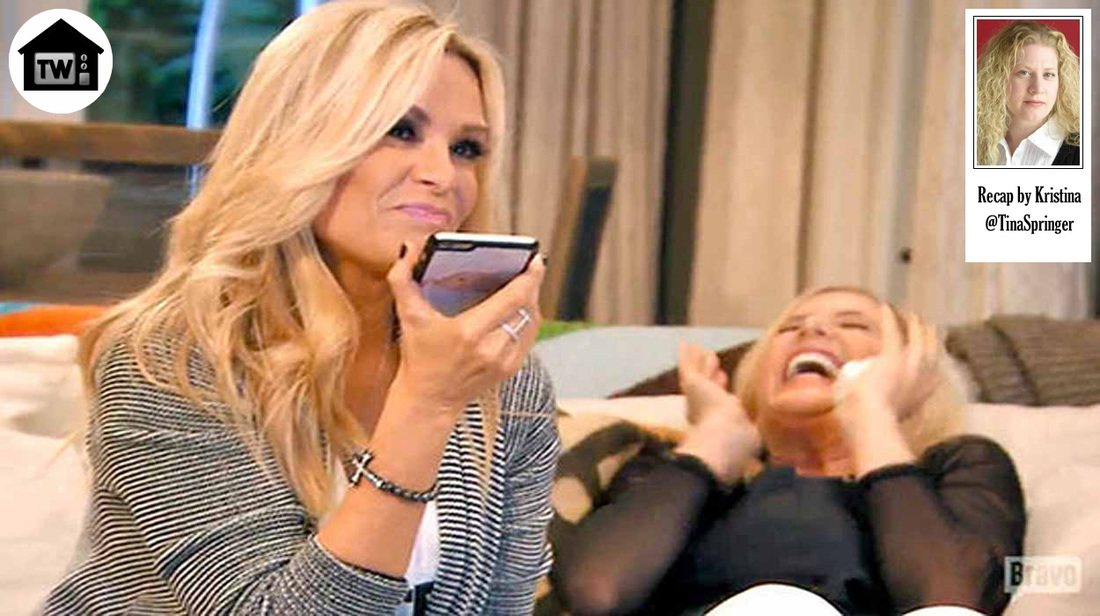 Crumbling friendships, face cream sales, and fake pet scans – it's time for a new episode of the Real Housewives of Orange County!
We kick off this evening with Shannon and David having a date night. They're having drinks on a deck overlooking the ocean and David starts the night off wrong by suggesting they eat food. Shannon didn't work out 2 ½ hours that day just to go and do something silly like eat food and wreck it all. She moans and groans until she finds the lowest-fat item on the menu and orders that.

Talk then turns to how great her friendship with Heather and Tamra is now and how her friendship with Vicki is falling apart. Which makes sense, after how annoyingly she behaved at lunch with Vicki in last week's episode. Vicki sends her a follow-up text letting her know just how much she didn't like her behavior and Shannon shrugs it off, because she knows she's a good friend and if Vicki doesn't see that, then oh well.

Tamra gets a visit from the pastor of her church to talk about her baptism again. He's going on about how the Holy Spirit is your GPS for life, but I'm too distracted by his outfit. Tight shirt and jeans and surfer jewelry with a spray tan. There seems to be a common metrosexual sort of look pastors these days have going on. Anyhow, back to Tamra. She asks the pastor how she can be a good role model for her son and his possible future marriage when she's been married so many times herself. The pastor says hey, no worries, we can start over any time so it's all good.

Vicki and Brooks go to meet Brooks' goofy health coach – you know the one who had them trying to absorb minerals from the grass on last week's episode? The three of them go in to see a family practitioner (aka, the guy who gives you the flu shot and good cold meds) but this guy must be super family doc because he's going to help Brooks get rid of his cancer. The doctor feels Brooks' stomach and says yep, I feel a 14-cm large mass right here and eureka! Finally we have the proof that Brooks has cancer. Because this seems way legit and I'm sure all of the other ladies will buy into it immediately.

Heather and Terry are ready to pitch their face cream products on a shopping channel. They're waiting in the green room and Terry is freaked out. They head out to the studio to practice. Heather is doing great and Terry really stinks. Hopefully he figures it out before they go live.

Tamra is over at her son Ryan's new house, helping them move in. Tamra is worried because both Ryan and his fiancé are unemployed and not getting along with each other. Tamra tells Sarah they need to go see her pastor. He can help them get back on track. Ryan asks his mom what the membership fee is.

Meghan and her step-daughter Hayley are chatting in the kitchen. Meghan is still trying to figure out what her role is in Hayley's life and trying not to push her in any direction.

Heather and Terry are back at their hotel, making drinks to calm Terry down. He's very upset over how poorly he did at rehearsal. Heather tries to give him a pep talk but it isn't working.

Tamra goes over to Vicki's house to talk with her and Brooks. Brooks presents Tamra with his PET scan to prove that he does have cancer. Vicki asks Tamra from here on out to defend Brooks and tell the women that she's seen the report and believes him.

Heather and Terry are filming the shopping segment for their face creams. Meghan is hosting a viewing party at her house so the other ladies can all have fun watching it together. Terry is doing a much better job during the live show. The girls decide to crank call into the show. Tamra pretends to be someone named Cinnamon but they figure her out. The show ends well, though, and it seemed to be a good job all around.

Back at Meghan's house the viewing party is breaking up. Lizzie leaves and Shannon, Tamra, and Meghan talk about Brooks' PET scan. Tamra tells the ladies she saw the report and Brooks has masses on his pancreas. Meghan still doesn't buy it. She says the place Brooks said he went to doesn't even do PET scans. She actually called and asked (geez, boundaries anyone?).

Tamra is more confused than ever. Shannon is hurt that they called Tamra and showed her the report but didn't show Shannon. Meghan thinks they showed Tamra because Tamra wouldn't know what a real medical report looks like and the other ladies would. Meghan thinks it's a fake report. We'll have to wait until next week to see if the truth comes out.

​