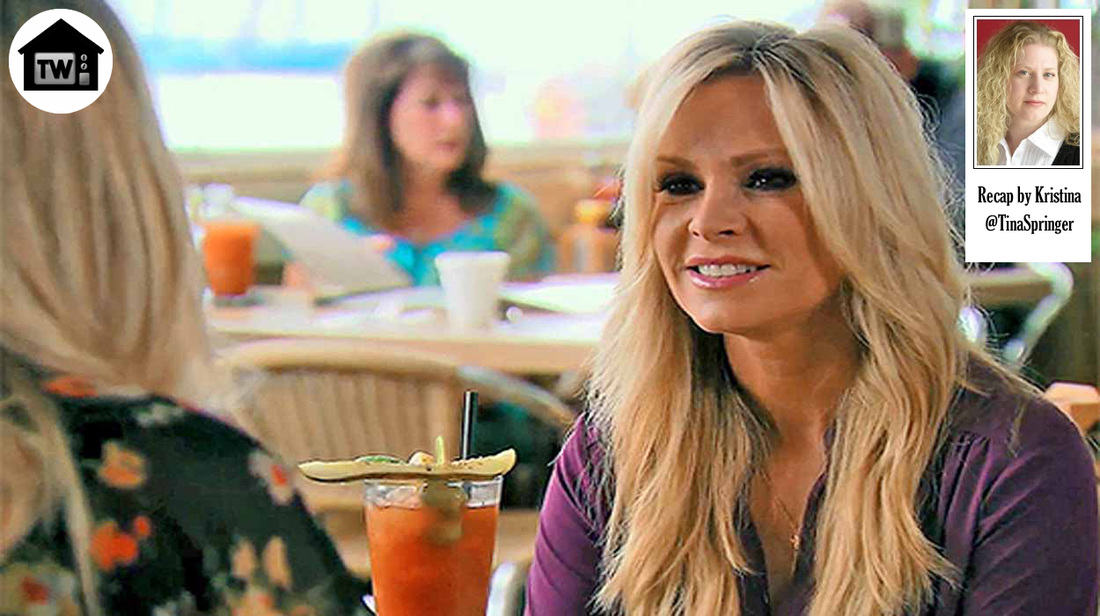 A visit from the marriage counselor, more PET scan pondering, and an at-home colonic gone wrong – let's see what the ladies of the Real Housewives of Orange County are up to this week!
We open this episode with Vicki's daughter Brianna, son-in-law Ryan, and grandkids paying her a visit. Vicki is telling Ryan that in the next ten years she wants to pass her business down to either him or one of her kids. He said only if she's a silent partner. Vicki leaves the room and Ryan and Brianna talk about how the house is dirtier and smells now that Brooks is living there.

At Meghan's house, she and Hayley are making homemade facials when Tamra calls to invite her to her baptism. Since Meghan's husband is gone, as usual, she decides to bring Hayley as her date.

Shannon and David are meeting with their marriage counselor. She's busily praising them for how recovered they both are. And just as she gets the last word out, Shannon starts breaking down, talking about David's affair again. David was able to say anything he felt when he was with her and he can't when he's with Shannon. Shannon wipes away the tears and recovers quickly, though. That's her new thing, she says. She's now able to have a dark moment, a bad thought, and then poof! Recover just a minute later.

Heather, Tamra, and Shannon meet for a meal. They talk about Heather's TV spot with her skin care line the week before. Tamra says it's a great product because it also cures cancer. She's joking, of course, but one of the ingredients (resveratrol) in the skin cream is what Brooks says he's taking to cure his cancer.

Tamra fills Heather in on seeing Brooks' PET scan. Heather finds it very strange that they chose Tamra to show the scan to rather than her husband, who is a doctor, or Shannon, who has had many PET scans herself. The ladies go on a bit more with the Brooks storyline and then Shannon announces that she feels very close to these two women now (they were at each other's throats last season) and tells them about her husband's affair. Tamra and Shannon aren't shocked. They already knew. And the fact that they never gossiped about it in all this time makes them even more endearing to Shannon.

Vicki and her family are at the zoo feeding the animals and riding the kiddie train. Brianna says she doesn't understand why Vicki always chooses her boyfriend Brooks over her family.

Tamra meets with Brianna as a favor to Vicki. She's supposed to talk Brooks up in the hopes of getting Brianna to accept him. Tamra tells Brianna what she's supposed to do and Brianna rolls her eyes. She's tired of talking about Brooks and she says there is nothing he could ever do to get her to ever forgive him or even be in the same room with him. Tamra pushes on and tells Brianna what everyone is saying about Brooks not really having cancer. Brianna, an ER nurse, also thought his treatment plans have always sounded fishy. When he claimed to have pancreatic cancer in the past, Brianna had grilled him on what he was doing and he had eventually confessed it was just pancreatitis. She says if he's lying again she's going to kill him.

Shannon takes her daughters (10, 10, and 13) to have their makeup done and she wants to be perfectly clear that this is organic makeup and it's the only kind they can use. Because anything you put on your face is absorbed right into your body. Which means looking back to when I was their age, I was probably 90% Wet N Wild.

Tamra and Vicki are shopping for baptism clothes. Everyone has to wear white to Tamra's baptism. Brooks and his PET scan come up in conversation and Tamra tells Vicki she put her in a bad spot because she feels like she's in the middle and the other girls still don't believe him. Vicki says, well, that's Satan doing his work. Tamra tells Vicki she also tried talking to Brianna but she's not budging. Vicki says thank you and she knows it's hopeless.

Tamra is getting ready for her baptism. Shannon calls and tells her she's doing an at-home colonic on herself. Because that's a normal thing to call up a friend and say. We move over to Shannon's house next where she's talking to David and very upset. She got a piece of plastic from the at-home colonic kit stuck up her butt. She's going to try an enema to flush it out. Her husband had tried looking for the lost three-inch tip but didn't have any luck. I bet David wishes he was married to just about anyone else right now.

Terry and Heather are getting ready to leave for the baptism and talking about Shannon's emergency medical problem. Heather says who does an at-home colonic before leaving for a baptism anyway? This from the woman who had leeches on her stomach before Tamra's party two episodes ago.

At Meghan's she's getting ready to go and face-timing with Jim. Hayley won't go with Meghan to the party anymore and Meghan asks Jim what she should do. He says she's a teenager, just leave her alone. But Meghan feels lonely with Hayley gone all the time. She knew her husband was never going to be around but she'd thought she'd have her step-daughter to hang out with.

At Shannon's house she's complaining that she didn't get a chance to paint her nails because of the lost plastic piece. David said he didn't get to do what he wanted to either because he had to spend the last hour looking up her butt for it. Shannon says well that's true love. And if you're holding your breath for the big conclusion, they found the plastic piece in the toilet. Shannon is fine.

Everyone is in their various limos heading for the baptism. Nerves are high because Vicki hasn't been in the same room as these ladies in awhile and she knows everyone is gossiping about her and Brooks. Vicki says there better not be any conflict at a Jesus party. We won't know for sure until next week but I'm guessing there will be!