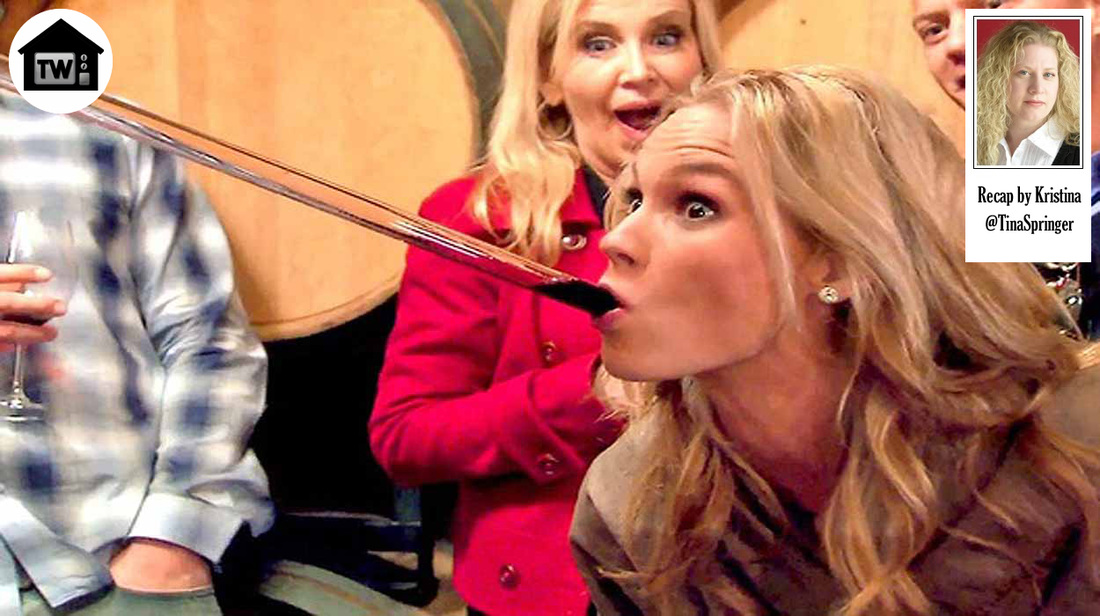 A girls' trip to Napa Valley, launch party, and a fake fight – it's another episode of the Real Housewives of Orange County!
Tonight's episode starts off with Meghan meeting Tamra and Heather for a drink and a chance to gossip about Vicki's party the night before. Tamra felt like Shannon was being stand-offish with her and Meghan chimes in that Shannon doesn't like her either. She had called her for help with a charity the week before and Shannon blew her off. She also thinks Shannon is bitter because she had flirted with her husband the year before at a party. Wow, really reaching for a relevant storyline there, huh, Meghan?

Vicki is packing for a trip to Florida to go receive an award for people in the insurance industry. Shannon is there talking to her about the Napa trip she is taking with the rest of the girls and her apprehension. Vicki tells her to just go and whoop it up.

All of the girls meet up for the trip to Napa with Heather. In case you forgot from last week, this Napa trip is to celebrate the launch of Heather's new wine collection, thereby fulfilling her real housewife destiny. You know you've made it as a housewife when you've launched your own wine collection and you mention it or order a glass of it every other segment of the show.

The women launch a private plane and Meghan pulls out a box of wine glasses she painted herself and passes them around. Conversation turns to church and where everyone goes. Tamra is now a church goer and says, "I'm saved! And if you don't like it, you can suck it!" Words often uttered at Sunday services around the world. Then the ladies start talking about their personal relationships with God and how he talks to them and tells them what to do, which, let me tell you, is every bit as exciting as it sounds. And the Lord said, "Get thee botox and a boob job!"

The ladies arrive in Napa and the women take a limo to the hotel and Heather goes to check on her wine. She instructs her people to have bottles flooding the area. After all, the cameras are on her and, hello, free advertising. She tells the group she doesn't want to micromanage them and then proceeds to micromanage them.

The ladies are all dressed up and waiting to board the limo to the party when Shannon and David come driving up in a golf cart. Someone should have packed her relationship crystals for the trip because they are fighting and using therapy-speak to cut each other down. Like, "You have the power with the choices you are making …" Oooh. Burn. Not done fighting yet, they drive right by the group, leaving everyone wondering what's going on. They finally spill what the fight is about and it turns out David was a bad boy and had some shots of sake at lunch with the other guys. Tsk tsk.

The group finally arrives at the party and the wine is passed out. Tamra asks, is this it? Is this Colette (the name of her wine)? No, Tamra. She's having a launch party and decided to serve other wine at it, just for giggles. Not wanting to drink the wine, Shannon asks over and over again, "Where's the bar? There must be a bar. Where is it? Where's the bar?" She, David, Tamra, and Eddie troop off to see if they can find alternative alcohol. Thankfully Shannon does find a bar and in a hushed, urgent voice says, "Do you have vodka?" The girl says, "Yes, Grey Goose," and there's a sigh of relief.

Tamra is standing in the bar evaluating her boobs in the mirror and wondering if anyone will notice that they're new. She can't believe no one has complimented her on them yet. Tamra and Heather call Vicki to say hi during the party. Then Terry comes in and Heather decides now is the time to break it to him that they are $135,000 over budget on the $500,000 cabinets for the new house. Yep, that's $635,000 for cabinets to hold your cereal bowls and tuna cans. Terry is only slightly peeved that this could cut into his million-dollar budget for the home movie theater, but then shrugs it off with a "What can you do?"

Meghan confronts Shannon about the party last year where she appeared flirty with Shannon's husband David. Shannon says oh no, she wasn't upset about that. She was upset with her husband for other reasons. No fight for you this time, Meghan. Try again later.

The party ends and the couples all go back to their hotels. Shannon and David talk about their earlier fight. Shannon apologizes and says it was all her fault. She wishes she could stop her negative thoughts.

The group meets up in the morning for a day at a winery. They walk inside and there's red velvet everywhere and stripper mannequins hung about in various positions, some upside down and swinging. Odd. The group goes to a room of barrels to taste the wine and Tamra insists on drinking from the cylinder instead of a glass like everyone else. You can tell she was the girl in high school who was always, oh, look at me boys, I can tie a cherry stem with my tongue.

The group spends the evening at the Bello's home (aka, the people who really developed the wine with Heather's brand on it). At the party, Meghan decides she needs to approach Shannon about the charity phone call the week before and how her feelings were hurt. Shannon said she didn't know it was Meghan and thought it was a sales call.

Meghan keeps hammering away at her, saying I just wanted your help with a charity and Shannon leaps up and yells she's done, don't paint her out to be uncharitable! Um, really Bravo? Worst scripted reality show fight ever. I guess we'll have to tune in next week and see if this fight can possibly escalate any more. Maybe one of the ladies will be accused of raising her voice in front of a basket of kittens.