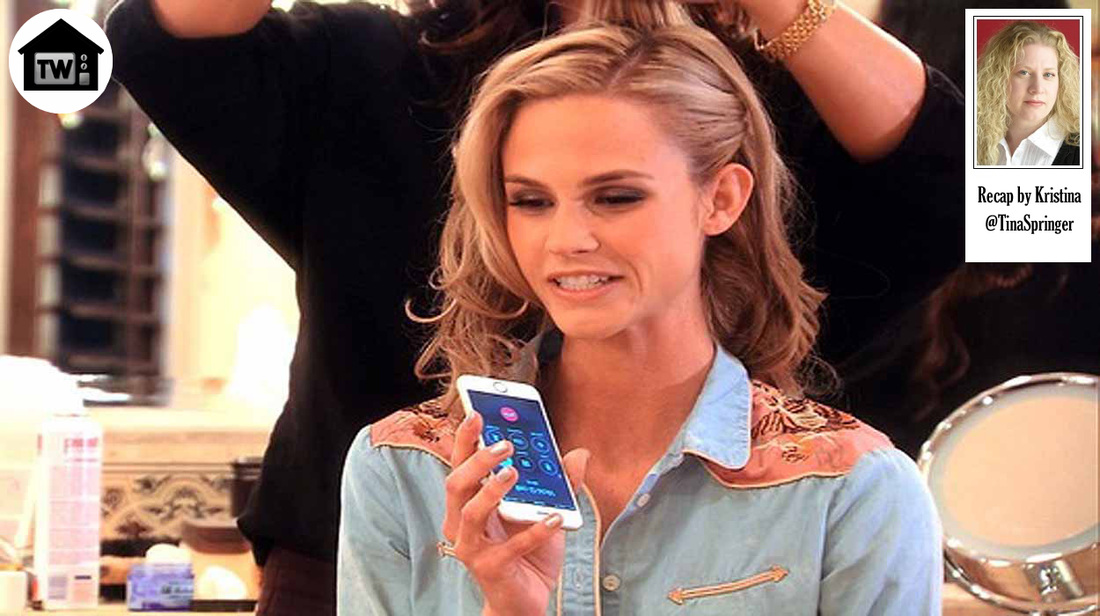 A charity event, more fighting, and lots of drinking – it's time for this week's episode of the Real Housewives of Orange County!
We pick up where we left off last week with Shannon screaming at Meghan to not accuse of her of being uncharitable before fleeing from the room. Heather walks in and asks what happened and Meghan relays the story. Heather scoots off to check on Shannon and Meghan moves on to Tamra and Lizzie to tell them the story too. She's working overtime trying to be relevant, and it's just not becoming any more interesting of a story.

Heather finds Shannon crying in a bathroom. Yes, CRYING. Because Meghan didn't say, but merely implied, Shannon could have been more charitable. These people all need real jobs.

Shannon wipes the tears and rejoins the rest of the ladies on the couch. Meghan makes a beeline for Shannon to hash it out some more. She apologizes for upsetting Shannon and Shannon says she felt ambushed by Meghan (if you've forgotten what happened, Meghan asked Shannon why she brushed her off during a phone call when she'd called to get some info on throwing a charity party together). Shannon continues on, saying she is the most charitable person ever and gives a thousand percent. Meghan says, well, you didn't give that impression when you wouldn't even return a text. And … they're fighting again.

The women all seem uncomfortable and Shannon apologizes to Meghan. Meghan tells her that her apology doesn't feel very genuine. She decides not to accept it.

Vicki gets home from a business/Disney trip with her grandkids and is feeling sick. She brought dinner for herself and Brooks and they're talking about how his last round of chemo went. Brooks tells her he's supposed to start getting coffee enemas, three or four times a day. That just seems cruel to the coffee.

Meghan is watching Melissa, her "friend that I pay," make her dinner. Her charity event planners arrive at her house to talk about the event Meghan is hosting at her house. She's super excited because none of Jim's other ex-wives threw charity events so she thinks this will really bring them together. Yeah, somehow I doubt that.

Heather is having a meeting with her home builders to discuss how the closets will be lit. They stop at the home to see the stone floor is starting to be put in. The builder tells her it will take months to lay it all in since there is over 8,000 square feet of floor for just the stone. The cost for floor installation alone is half a million.

Vicki, Tamra, and Shannon meet for drinks and talk about the Napa trip. Shannon fills Vicki in on the fight she had with Meghan over the charity event. Vicki and Tamra have both been invited to the event, but Shannon hasn't. Tamra tells Shannon that Meghan told her she wouldn't be inviting Shannon to her home and Shannon is shocked. She had already bought a dress for the party and will have to cancel her hair appointment now. Vicki says she's not going to go then either, and they go back and forth talking about how Meghan is so uncharitable now. These women are all 20+ years older than Meghan, so it seems like the gap in their ages could be part of what is keeping them from getting along.

Heather goes to see Meghan the day of the party to try and get her to invite Shannon. She thinks it will be very awkward if Meghan doesn't invite her to the party since all of her friends will be there. Meghan says nope, not inviting her.

Tamra and Vicki are getting their makeup done and Vicki calls Meghan to tell her she's going to dinner with Shannon instead of her charity event. Meghan looks slightly shocked but says Shannon brought it on herself and that she understands Vicki not wanting to leave Shannon and to have a good night.

The charity event begins and Tamra arrives. Meghan tells her she didn't know if she'd still show up because of the fight with Shannon, but Tamra says it's not my fight. Jim's ex-wife, Meghan's step-daughter's mom, is at the party and the two seem to have a great relationship. Meghan says it's special and she and LeAnn (the ex) work together to raise Jim's 17-year-old daughter. Meghan and Jim have only been married for four months so she seems to be taking credit for an awful lot.

Vicki and Shannon meet for dinner. Shannon thinks she deserved a phone call from Meghan just to say she wasn't going to invite her. Um, huh? Who does that? Shannon starts crying.

Back at the charity event, Meghan is making a speech thanking everyone for coming. Tamra and Heather then hash out the whole situation and think that Vicki now put herself in a bad position by not coming. Meghan walks up to the girls and in a monotone voice say, "Hey guys, were you talking about Shannon and me?" This is seriously some of the worst acting I've seen on any Real Housewives show. The girls tell her yes, and Meghan asks them to not gossip about it.

On the other side of the party, Lizzie calls Vicki and Shannon to see how they're doing. They're doing shots. They tell Lizzie to ditch the party and come join them at their little party. I swear this exact same scenario played out in fifth grade when I had a sleepover the same night as another girl.

All the other girls decide they want to leave the party with Lizzie too and go hang out with Shannon and Vicki. They let Meghan know and Meghan surprisingly seems fine with it. I'm sure that's just for now and her hurt feelings will be the main topic of next week's show.

The ladies all file into the bar Vicki and Shannon are at and begin doing shots. Shannon is happy her friends all showed up for her. The episode ends on a happy note, but we know that won't last. See you next week!

​