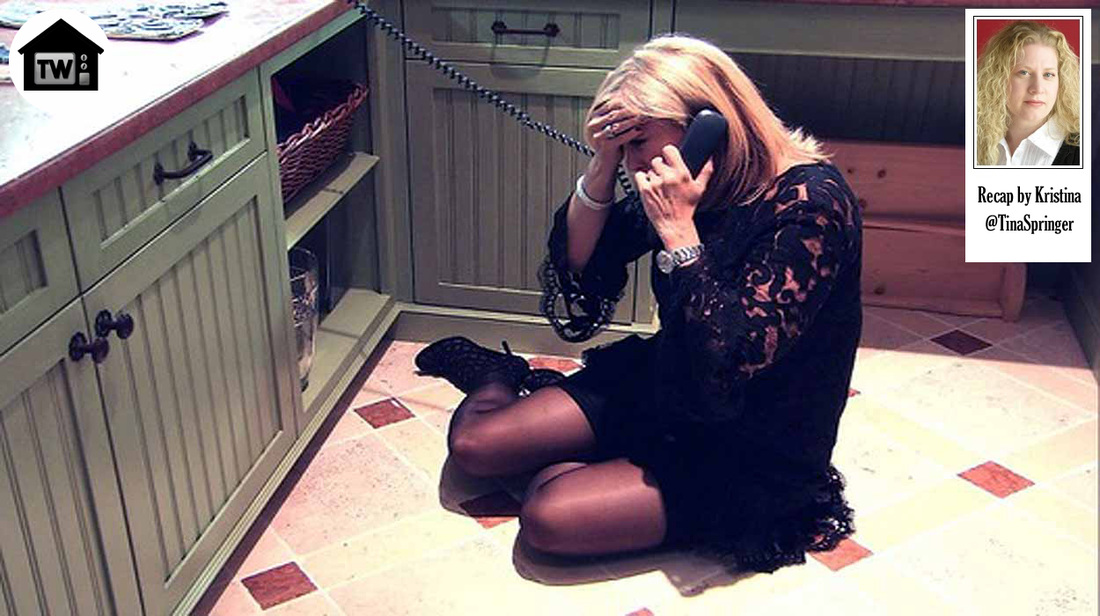 Bunco night, a Botched taping, and the saddest, most raw scene I've ever seen on reality TV – it's time for this week's episode of the Real Housewives of Orange County.
It's moving day for Meghan and her family. Her husband Jim is harassing her, saying that the abundance of stuff they have to pack is all her fault because she's a woman. She points out she's only lived there a month but he sticks to his opinion.

While packing, Shannon calls Meghan and says "I heard you had a party, how was it?" Meghan says great. Then Shannon goes on to invite Meghan to a Bunco night at her house. Bunco, as most suburban moms know, is a dice game women gather and play to have something to do while they drink. Meghan says I don't know, it's strange to get a phone call from you after you were so rude when I called you. Enter horse for Meghan to beat dead. Seriously, this again? Meghan tells her she has to think about it and gets off the phone.

Tamra and Vicki go to the spa. They talk about how great it is to be grandmas and then head back for some couples full-body sauna masks. The technician tells them to get up to take a shower to wash the mask off and there is a granny butt shot.

Heather takes her four kids for haircuts at a high-end salon. No Supercuts for this mom. Heather whines to the camera about how hard it is with her husband Terry working all the time, but someone has to pay for that gazillion-dollar house they're building.

Back at Shannon's house, she's calling Meghan because she thought of something else she wanted to say. She wanted Meghan to know that she doesn't have to prove herself to her and she can come or not come to her party. Which sounds super-duper welcoming, if you ask me. Meghan is practically running to the store for a hostess gift.

Vicki and Brooks are meeting with a fancy-pants Orange County health coach. The coach tells them they need to avoid whole foods. Not even a salad. Brooks needs to starve the cancer cells. This doesn't sound like it will be pleasant. She also suggests they do something call earthing, where you go outside and stand in the grass. Or even better, lay down in it.

Let's all pause to think about how much this women is getting paid to dole out this advice and where we all went wrong in our own career paths. Back to the show.

She then goes on to suggest a forest shower. Brace yourself for this one. You go into the woods and breathe in the air. That's it. What ever will she think of next? Watering? Stand in a stream of water, aka a shower? (I want a percentage if you use that one, health coach.) We move on to the coffee enemas, which sound dreadful. You brew some organic coffee, shoot it up your butt, and try to hold it there for fifteen minutes. Let's hope they throw it out after that.

Shannon is busy getting ready for her Bunco night when David whispers that he ran into "that woman" at the beach that day. Shannon panics, thinking it's the woman he had the affair with, but no, it's just an old friend. She's still all shook up and doesn't want David to know she's upset. She should let him know so he's not so jerky when he tells an innocent story (if that's what it is). She reiterates to us that if he makes any contact with the girl he had the affair with, she walks right out the door. Yeah, right.

Meghan and Jim move into their rental house. Meghan is going on and on to the camera about how she and Jim are a team and neither wears the pants in the relationship. But every time Jim opens his mouth it's to put her down or tell her what to do. The scene ends with Jim asking her what time Bunco is (6 p.m.) and then being sad and telling her he had hoped she'd be gone earlier so he could go out to happy hour on his own. This is what four months of marriage looks like in Orange Country, I guess.

Heather goes to her husband's work to have something on her hand cut off and filmed for his television show, Botched. They joke that she has to schedule a doctor's appointment and have something removed in order to see him for a date night.

Bunco night begins and Meghan is the first to arrive. Things are a little uncomfortable, but the other ladies soon file in. The game begins and there's lots of hooting and hollering. Vicki asks to leave the room to make a phone call and the call doesn't go well. She starts yelling what do you mean? What happened? And then falls to the floor crying. In the next shot she's screaming and it's an awful scene to watch. And then we find out her mom has died. She hadn't been sick so Vicki is completely shocked.

Shannon hears the screaming and goes to see what's wrong. Vicki tells her and falls into Shannon's arms. Tamra is next to hear the crying and rushes in. Vicki repeats that her mom died and all the ladies rush in and Vicki's crying is seriously painful to watch. She keeps yelling "I want my mom!" and Heather races out of the room to call Brooks while all the other ladies try to help Vicki.

Vicki calls her brother Billy and is screaming "Make Mom wake up!" and things of that nature and it's kind of shocking Bravo is still filming and showing this scene. I don't think Vicki will ever want to watch this again. It's seriously awful. The brother and sister are crying and sounding confused and he's trying to tell Vicki what happened and this seems like the worst, most awful thing a reality show has filmed and put on TV. So, so rude to these people mourning the loss of their mom.

Brooks arrives and takes Vicki home and the episode ends with them showing clips of various times Vicki's mom has been on the show. I hope next week isn't as rough as this one was.