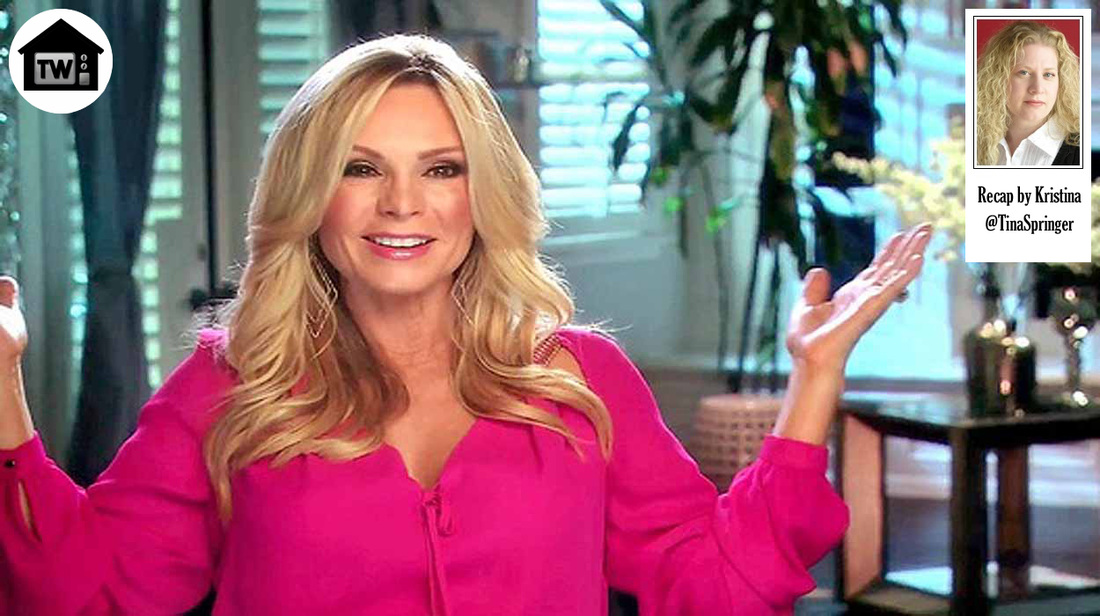 A winter formal, a funeral, and a new baby – get ready for a new episode of the Real Housewives of Orange County.
We're back after a rough last week where we saw Vicki collapse upon hearing of her mother's death. We check in with Tamra first, who is looking through all the baby girl clothes she bought for her first grandchild. She's packing up to go be with her family as her future daughter-in-law is scheduled for a c-section the next day.

Next we stop at Meghan's, where she and her step-daughter are getting ready to do paddleboard yoga. Is this a real thing? The two paddleboard off into the water and start doing yoga on their boards. It looks ridiculous. They try to move into crow pose and Meghan falls head first off the board. The only enjoyable moment of this scene. She then continues with her annoyingness and says, "hashtag stepmomhood." Dork.

Heather meets with Lizzie for lunch and they talk about Bunco and Vicki getting the news about her mom. We then flash to Meghan on the beach, telling her stepdaughter about the same scene in great detail, which, hello, is super-cruel considering her stepdaughter's mom is dying of cancer right now. Back to Heather, who is talking to Lizzie about how nice it is that Vickie has a big family to surround her now. At Tamra's, she is telling her mom how guilty she feels to miss Vicki's mom's funeral because it's the day her granddaughter is being born.

Vicki is at home, packing to leave home for the funeral. She wants Brooks to go with her, but he can't for some reason. Tamra and Eddie come to the door and Vicki is so emotional and crying "My mommy." I'm not sure how soon after the news this scene is taking place, but they are all in different clothes, so maybe the next day.

Vicki is talking about how her mom was supposed to stay with her next month and they were going to Disney. She says, "People can't die when you have plans." We then find out why Brooks can't go to the funeral: Vicki's family doesn't approve of him. Tamra and Eddie say they'll check in on him while Vicki is gone. The scene ends with Vicki telling Tamra she can't ever be mad at her again because her mom liked her.

Heather is helping her son with a school project. Terry keeps asking his youngest to give him a kiss, but she blows him off and tells him he farts. Heather thinks it's because Terry works too much and Coco (the youngest) is withholding affection as punishment.

Shannon and David arrive home. They tell the kids they were at a conference where they're supposed to learn to listen to their kids. The one daughter starts calling him, saying "Dad" about eight hundred ties in a row and he doesn't respond. He finally looks up and starts talking about other stuff he learned. He's kinda slurring his words. Maybe he's been drinking. The other kids asks him how his day was and he starts moaning about how Shannon had been mad at him the whole day and the night before, so it was rough. You know, just the kind of thing you should be sharing with your kids. He went on to pin the fight on Shannon and is just coming off as a pretty big jerk in front of his kids. The kids leave and Shannon lets him have it for doing that in front of the kids.

At Tamra's son's house, the family is getting ready to leave for the hospital. Tamra, her mom, Ryan, his fiancé, and her three daughters from a previous relationship pile into the car and head out. The family waits in the waiting room while Ryan and his fiancé Sarah go in for the c-section.

Meghan and her step-daughter's mother check into a hotel for her step-daughter to get ready for the winter formal. I guess you can't throw on a dress in your boring old mansion. They lay out food for Hayley and her friends to nibble on and the dads show up with cases of beer. Did I mention this is a high school winter formal? Hayley and her two friends arrive and she gives Meghan a hug, but is angry with her mother because she thinks she forgot her dress. They've already sent a servant to retrieve the dress so it's not such a big deal, but Hayley is still upset anyway. Her dad, Jim, tells her she should remember to bring her own stuff, then it wouldn't be an issue. Hayley then asks her mom if she has her medication. She doesn't. Cue freakout #2. See, if they got ready for dances at their own house, like regular people, they wouldn't have all of these issues.

At the hospital, baby Ava is born. Tamra, her mom, and the baby's sisters rush to see her. Tamra asks if she can hold the baby and her son asks if she knows how to hold a baby. Tamra begins to cry as she looks down at the baby. At least there is a crying-like noise coming from her. I have the worst time telling when and if these ladies on the show are crying with all of the Botox.

At the dance dressing hotel suite, Hayley is still having a total attitude even though her two friends are even pointing out to her that it's her own fault she forgot her dress. Hayley doesn't care. She's stressed and it's all mom's fault. Her mom and Meghan tell her they have a surprise for her. They've hired a professional photographer to take picture of her on the beach. Hayley give them more attitude and says they're lame. They should be seriously questioning why they are bending over backward for this brat.

The girls get dressed and their dates arrive. Everyone is dressed so plainly (girls in dresses that look like swimsuits and the boys in untucked collar shirts) that I'm wondering why they needed such fancy accommodations to throw these outfits on. Hayley's dying mother wants a picture with her child on the beach and Hayley snaps and says why are you guys even here, no one even cares about you. Wow. Seriously, do more for this child. She really needs more money and gifts lavished upon her.

At Vicki's house, Vicki settles back in and unpacks. Shannon calls to check in on her and Vicki details how her mom's funeral went. I can't believe Bravo wasn't there filming every step of the way.

At Heather's house, her kids are having dinner and she sneaks off to call Tamra. She wants to plan a get-together for all the girls, post-funeral and new baby. Meanwhile, Shannon goes to see Vicki and starts trotting out one homeopathic remedy after another to help Vicki with the various issues she's having. There's even a tablet you can put under your tongue for grief. Vicki tells Shannon about when she went to a medium after her dad died and how she wants to go to one now that her mom has died.

Tamra is packing for home and doesn't want to leave. She and Ryan talk about him and his family moving back to Orange County. Tamra says if she has to help them out financially, she will, but she wants her granddaughter near her. We'll find out more about this next week, I'm sure.

​