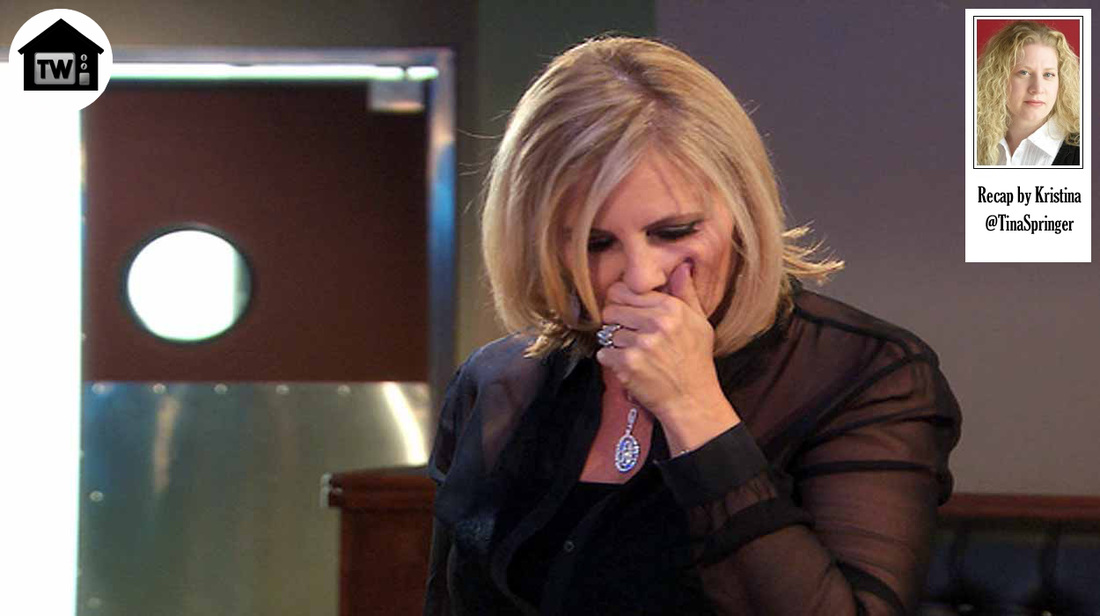 A séance, bowling game, and step-parenting troubles – here comes another episode of the Real Housewives of Orange County!
Tonight's episode kicks off with Shannon visiting her holistic specialist. She tries to hide her legs because she's embarrassed about the fifteen pounds she's put on. He puts her on the scale and she weighs in at 134.4 and is extremely upset. The holistic dude then takes pictures of her stomach and Shannon scolds herself for the weight gain. She points to her belly and says this is why her marriage fell apart. Sigh. He then starts making her exercise and she whines the entire time. She lies down on a table and he presses a spot on her hand that he says connects to her emotions and she wants to start crying. Seems like it would be a fun party trick to learn.

Tamra and Eddie are making a series of free workout videos and arguing back and forth on what to say. They opened their gym together but Eddie tends to talk down to Tamra and act like she's his employee rather than partner.

Vicki, her brother Billy, and Brooks are at Vicki's, waiting for a medium to show up. Tamra and Shannon join them. Shannon immediately latches onto Brooks and starts hounding him on going to her holistic doctors for his cancer. She's frustrated he isn't taking her advice. This is the woman who hangs relationship crystals around the room to fix her marriage post-affair.

The medium, Tim Braun, arrives. The medium tells the group to close their eyes and imagine a gold ball. And POOF, Vicki's mother's spirit appears, calling for her son Billy. The medium goes on to say Billy was the favorite child and that the mom passed away with no pain. The mom ghost then says that all of her dental work is finished and Vicki and Billy gasp. They had just been paying for mom's dental work! OooOOooOoooOooh! This MUST be real. Or the guy checked out their Facebook pages before coming over.

The medium keeps going on with messages from Mom and Tamra asks a question about something he said. He gives her an evil look. He doesn't like to be interrupted. Especially when he's not prepared with an answer. He smiles and breezes right past her question and then tells the group that Tamra interrupted and caused cross-interference, which makes it difficult for him to hear. The medium switches gears and tells Billy that he looks blocked up and needs a colon cleanse. Tamra comments someone is full of sh*t and she's not so sure it's Billy.

Meghan and her step-daughter Hayley are chatting about her independent study she does at home. She does her own schooling and then once a week meets with a teacher at school to take a test. Meghan says Hayley can't go to traditional school because she needs to drive her mom to doctor's appointments. Hmm. Yeah right. Something tells me after what we saw of Hayley and her mom on last week's episode, this seems a bit of a stretch. Meghan hands Hayley a hundred dollar bill for her weekly allowance. She reminds her that this means she needs to make sure she gets to that one school meeting a week (she's been blowing it off). She reminds her that the $100 is just her fun money. She should, of course, still use her credit cards for all of her gas, food, and other needs. Then she says parenting is hard.

Shannon and David are at their Valentine's Day dinner. He presents her with a gift. The year before she had bought him a gift and he didn't give her anything. But he was having the affair then so he was kind of forgetful. She opens it and it's a dragon bracelet. Looks weird to me, but she seems very excited about it. She tells him she's so grateful for their relationship they have today.

Heather and Tamra meet to walk up and down steps at the beach – 250 steps x 10 times is Tamra and Eddie's normal workout. I'm not sure how much the girls do, but they decide to sit on the beach and snack on veggies and chat. Tamra tells Heather about her problems with Eddie. Tamra asks her how she and her hubby are doing and Heather talks about their new skincare line. Insert blatant product plug here.

All the women get together to go bowling. They decide they don't want to wear the icky shoes and keep their heels on. Vicki decides to brave the bowling shoes because she hates to lose. Tamra asks Vicki how things are going with her daughter Brianna. She says not good. Tamra offers to talk to Brianna for her and Vicki says she's just going to kidnap Brianna and bring her to Vegas. Tamra says line up a babysitter and Vicki replies without thinking that her mom will babysit. She becomes upset and the ladies hug her. The game ends and Vicki wins with a score of 100. Tamra and Shannon ask Vicki how Brooks is doing and she says not any better. Shannon gets very worked up about Brooks's diet (he is only juicing) and says you can't live on only eating two meals in three and a half weeks. He needs some protein in his diet. Vicki is upset but feels Brooks's team of doctors knows more than Shannon does.

The women are in a limo heading to dinner and Meghan is telling the girls how she's been talking to her step-daughter about sex and that she put her on birth control. One of the ladies says, "What does her mother think?" And Meghan replies that Hayley's mom is totally supportive of her. The "four months into her marriage Meghan playing super step-mom" act is really getting old. Meghan says, "I'm not ready to be a grandma. I'm thirty." Tamra and Vicki eye roll to each other.

At dinner they meet up with Lizzie. They're eating what looks like all kinds of veggies cooked in different ways and Shannon starts whining about being so very fat. And then skin problems. The other women don't want to hear about it. Meghan says she's planning a game night for them and their husbands. Vicki says she wants to thank all of her friends for being supportive and then announces they're all going to away on a girls' vacation to Moorrea (an island northwest of Tahiti).

Vicki and Tamra are chatting in the limo on the way home. Vicki says Brianna asked her where she wants to be when she dies and does she want to be cremated. Tamra comments that she wants to be stuffed. She wants to be propped up somewhere with her hands on her hips, head tilted, and showing profile. And she wants to have cute outfits rotated on her to match the season. Their car breaks down on the side of the road and Vicki is hacking up a lung saying she smells fumes while Tamra is having a laughing fit.

Meghan is checking on Hayley's homework and is upset to see that Hayley did not do it. Meghan becomes upset, wondering if she hasn't done enough for her step-daughter. Did she need to work with her more? Meghan breaks down in tears because she feels like a failure. Parenting a seventeen-year-old at thirty is rough.

At Tamra and Eddie's gym, they're working out. Tamra is teaching Eddie her booty class and he keeps critiquing her. They start bickering within minutes. Tamra tells him they have to work on their next video and he can't act like he did the last time. Eddie tells Tamra it's easier to run the gym when she's not around. Tamra says she's going to spend less time there and start doing real estate more. Eddie says that's great, he loves his gym and she reminds him it's their gym. So are we taking any bets on how long this marriage will last?