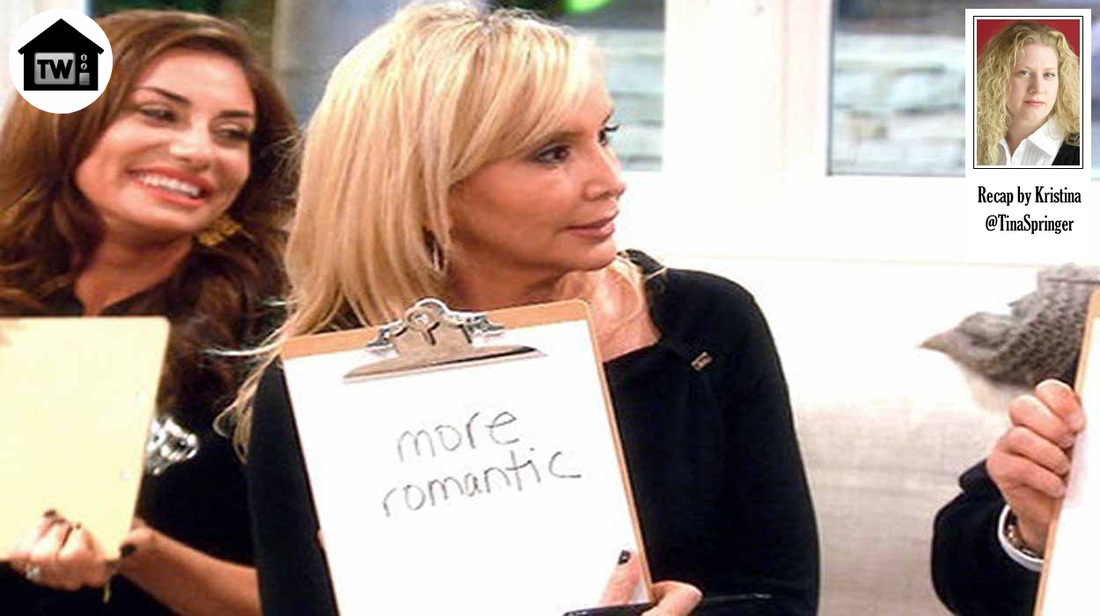 Game night, pricey shopping trips, and a trip to Tahiti – it's time for this week's episode of the Real Housewives of Orange County!
Tonight's episode begins with Meghan setting up her house for her couple's game night party. Her step-daughter is helping her set up and Meghan informs her that there are new house rules. Like, every other week Hailey needs to do the grocery shopping. And weekend curfew is now midnight. Hailey told her she's nuts and she'll wait until her dad gets home.

Heather and Terry are shopping for clothes for Heather for the girls' trip. Heather remarks that the clothes are decently priced – for example, $400 for a t-shirt. Terry scoffs and says how much do my shirts cost? She says roughly the same. Terry said he can't see paying more than $50 for a t-shirt and Heather says she'll show him and actually bring home one of those awful $50 t-shirts so he can see what cheap crap it is. Rich-people problems. They then skip over to an expensive jewelry store because Heather needs a necklace to go with her bathing suit.

Meghan's house is decked out and ready to go. People are rushing around, cooking and preparing drinks. Her game hosts arrive: two guys who are likely paid very well to read the game instructions to the party people. The other ladies begin to arrive and wonder why Meghan's husband isn't there for couple's game night. He's out of town again and Meghan is getting tired of it.

The party is under way and the first game up is the newlywed game. Meghan and Heather are having a heck of a time since neither has their spouse present. Shannon gets very upset with her husband when he answers a question that he is less romantic than he was when they were first married. Shannon is on the brink of tears and snaps at David.

The game ends and the women move on to the food. Only no one wants to eat any of it. Some are trying to avoid looking at it while Shannon says she just takes a really good smell of food and then she's full just from that.

Vicki is trying to leave, she's over game night, and the other women are giving her a hard time since the night has only just begun. She makes her escape and Meghan is not happy. The other women begin to stir and Meghan blurts out, "Guys, I'm getting Botox." Which draws everyone in close. Meghan is a good twenty years younger than most of these women so they're puzzled. But Meghan's sure she sees a wrinkle beginning to form. Shannon is giving Meghan wide eyes and Meghan accuses her of having judgy eyes. Now all the rest of the women have judgy eyes at hearing Meghan say this. One by one they make their excuses and head out of the party. Seems like game night was a dud.

The next day Shannon and David go to see their marriage counselor. She informs them that at six months post-affair they are in no condition to discuss the affair on their own. They must always be in the presence of a professional. David feels that counseling is pointless and Shannon says it's because he doesn't want to confront his shame. The counselor says it will be a couple of years before they can get past the affair. (Or her vacation house is paid off, whichever comes first.)

The women are all packing for vacation. Tamra is throwing things in a suitcase and reminding Eddie what he has to do for her kids. Heather is individually wrapping each shoe in a cloth bag and her clothes in white tissue paper before placing them in the luggage. Shannon is packing enough pills and oils and ointments to last through the apocalypse. She has one oil that "brings optimism and peace of mind when anguish overwhelms you and you can find no way out." I'm sure you can pick up something similar at Costco. Tamra calls Vicki, who is also packing, and they rehash game night and how Meghan's husband is never around.

The women arrive at the airport and fly to Tahiti. They arrive and people are singing, dancing, and playing ukuleles to welcome them. Shannon is feeling sick and Vicki tells her to take one of her gazillion pills. As they're checking into the hotel, Vicki says let's have champagne and Shannon says she coughed up something green and needs to start an antibiotic immediately so she's going straight to bed.

The ladies all go for a drink. They talk about how Meghan's husband is never in town and basically lives in St. Louis, and Vicki says if she was married to Meghan she'd ship her off too. Meghan says she stays in California for her step-daughter. Vicki points out Hailey has a mother and Meghan gets irritated and says her mother can't take care of her because she's sick. Talk then turns to why Meghan has such a problem with Shannon. Meghan says it's none of their business basically and that they don't need to understand. They all decide to just go to bed at this point.

The next morning Vicki tells Shannon about their discussion with Meghan. The other women all meet in the lobby to get ready to leave the hotel. The next stop is a ferry to Moorea. On the way there, Tamra has a bathroom emergency and they pull over at a store. While she is off taking care of things, the others start shopping for pearls. Nineteen thousand dollars a pearl. Necklaces for $50,000. Heather comments that she'd have to talk it over with Terry to get something that expensive. Her threshold is $10,000. If it's under that, she doesn't have to discuss it with him.

Vicki says no stay-at-home mom not collecting a paycheck should ever spend her husband's money without discussing it with him first. I can almost hear the RHOC message boards lighting up now with that one. All of the women are pretty livid with Vicki about this but she keeps on going at it. It doesn't matter if you are at home taking care of four kids, it's his money and you shouldn't be spending it, she tells them.

Before boarding the ferry, they women stop for what else? A cocktail. Vicki immediately starts grilling Meghan about why she doesn't work. Why did she get married four months ago and just quit to live off her husband? Vicki wonders what Meghan is going to do when Jim moves on to wife number four. Which, with his track record, is a pretty good question. Vicki and Lizzie turn to each other and start talking about Meghan right in front of her. Which is so rude and wrong but so funny at the same time. We'll have to tune in next week and see Meghan go off on them.