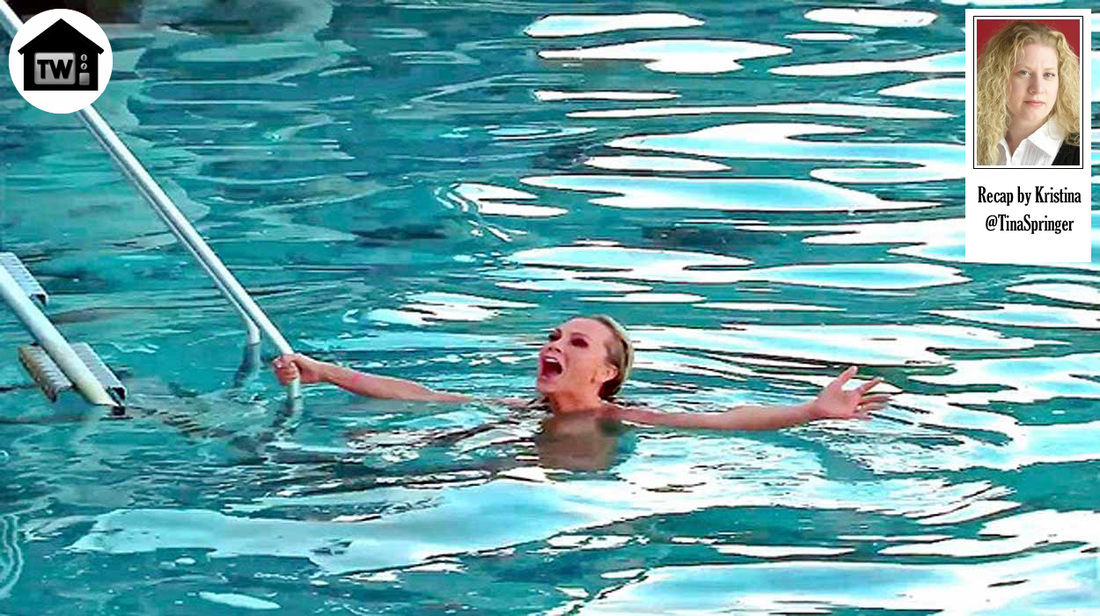 Pregnancy tests, step-momma drama, and a drunken swim – it's time for another episode of the Real Housewives of Orange County!
We kick off this evening in Tahiti where the girls' trip continues. They board a ferry to Moorea and Vicki gets seasick. They arrive quickly and the island looks beautiful. They're greeted by dancers and women with alcohol. They're brought to bungalows out on the aqua-colored water and it looks like the type of place one would go on honeymoon.
Shannon goes to her room and freaks out that there was complimentary food left in it while she's trying to lose weight. Tamra strips down to bikini bottoms and jumps in the water. Megan jumps in too and then Heather ushers them out, saying they need to get ready for dinner. And people are staring at topless Tamra. Back in Shannon's bungalow, she's unpacking her nebulizer and doing a breathing treatment. She says she needs to do this every single day of her life for her cough.
The ladies arrive at dinner. The décor is beautiful and there are candles lit everywhere. It looks calm and peaceful, so cue the fight! You know these ladies can't dine without clawing each other's eyes out. The women start to eat and everyone is complaining about one thing or another. Meat not cooked enough, scallops too slimy. Meghan is annoyed at their high maintenance. But then her mouth is set on fire from something spicy and she makes an equal scene.
Shannon tells the women that the men are getting together for dinner back at home. Vicki asks what is Brooks doing since he hasn't been eating. Which launches into a discussion about Brooks's treatment plan for his cancer and how he's going to stop chemo because he thinks the chemo will kill him. The women are all wound up that Brooks would be doing this and what will he do instead of chemo? Vicki says he's going to starve the cancer. Shannon wishes he'd just go see her doctor. I'm sure there's a crystal for that.
Vicki drags everyone back to her bungalow where she had ordered an EPT test. She wants Lizzie to take it now so they know if she's pregnant or not. Turns out she's not pregnant and Vicki thinks she was just saying she could be so she wouldn't have to drink with them. And now that they know the real deal they're going to make her whoop it up the rest of the trip.
The next morning the women start drinking first thing. They're talking about their kids and Tamra tells Meghan she needs to have a baby. She says she will someday and for now she has four already (Jim's kids from two previous marriages). Vicki says, "They're not yours." Vicki says Meghan is a brand-new married step-mom and she needs to find her place. Step-mom is not the same as a real mom. Vicki thinks Meghan is being disrespectful to real mothers and tells her "You've only been a step-mom for three months." She keeps on being harsh with Meghan and tells her hanging around occasionally with her husband's four kids is not the same as bearing your own children. Those kids have moms. Meghan starts crying and Vicki is baffled at what could be making her cry since she's only saying the truth. Meghan says she wishes she could be their real mom and Tamra says, "Well, you're not." The conversation ends and the women load onto a bus.
They arrive at a small boat to go see stingray, fish, and tiny sharks. Vicki decides it's too scary to swim with them but the other ladies jump in. Shannon creeps down the ladder into the water and tells Vicki to take care of her family if anything happens to her. After a while, Vicki decides to get in but screams the whole time.
Back in the boat, the women begin re-applying sunscreen and Shannon decides to help Tamra with hers and starts feeling her up and vice versa. Yep, fifty-year-old women getting to second base on a boat in Moorea. The tour guide is not being paid enough to deal with all this.
On the way back to the bungalows everyone is starving so they stop for pizza. Shannon is beside herself – again with the food. Did everyone forget that it was only last week that Shannon weighed in at 134 pounds? Is there no empathy?
Shannon steps to the side to call David and sounds panicky. Turns out David let her twins have a sleepover even though Shannon has strictly forbidden sleepovers. The girls ran out in the middle of the night, TP-ing the neighborhood and her daughter fractured her foot. And with the all-star basketball game coming up this weekend, too. (Wait, did I already see this on an episode of
Full House
?) Shannon is furious, but the new Shannon holds it in so she and her husband can deal with it later as a "team."
The women, minus Vicki, Shannon, and Tamra, go out for dinner and drinks. Meghan says they stayed home because old people get tired. Really, they want to stick around the property, so they pour themselves huge drinks, climb into a golf cart, and drive up into the nearby restaurant. Like, through the middle of it. Vicki thought it was a special golf cart road she was on so it would be okay. They take a seat at a table in the restaurant, with their own drinks still in hand, and order more drinks. And more. And more. I'm not sure who is driving that golf cart back to the bungalows.
Meanwhile Lizzie, Meghan, and Heather are talking about the earlier incident with Vicki and Tamra and Meghan says they just don't think I'll ever love my step-kids enough or as much. Heather points out that from Tamra's point of view, for example, when you're forced to give up your kids 50% of the time in a nasty custody battle, you don't want to see the new girlfriend trying to be mommy to your kids. Or crying that she'll never be bio mom to them. So she's not going to see Meghan's side of things like Meghan sees them.
Back at Tamra, Shannon, and Vicki's restaurant, they are completely wasted. Vicki can't even tell which one Tamra is and Tamra is telling Shannon she wants to lick her. Vicki's phone rings and the ladies all begin to dance to the ring tone. Waiters are rolling their eyes. Vicki can't figure out how to answer her phone. When she does its Heather who says they're coming to meet them. Tamra, Shannon, and Vicki start drinking faster.
The other women arrive and Tamra, Shannon, and Vicki are beyond drunk at this point. They jump into the pool, fully clothed and wearing their expensive shoes. Shannon goes to get them more drinks and Vicki pulls her into the pool with the tray of drinks.
Looks like the ladies are still on vacation next week so we'll check in with them again then! I'm sensing monster hangovers are in store.