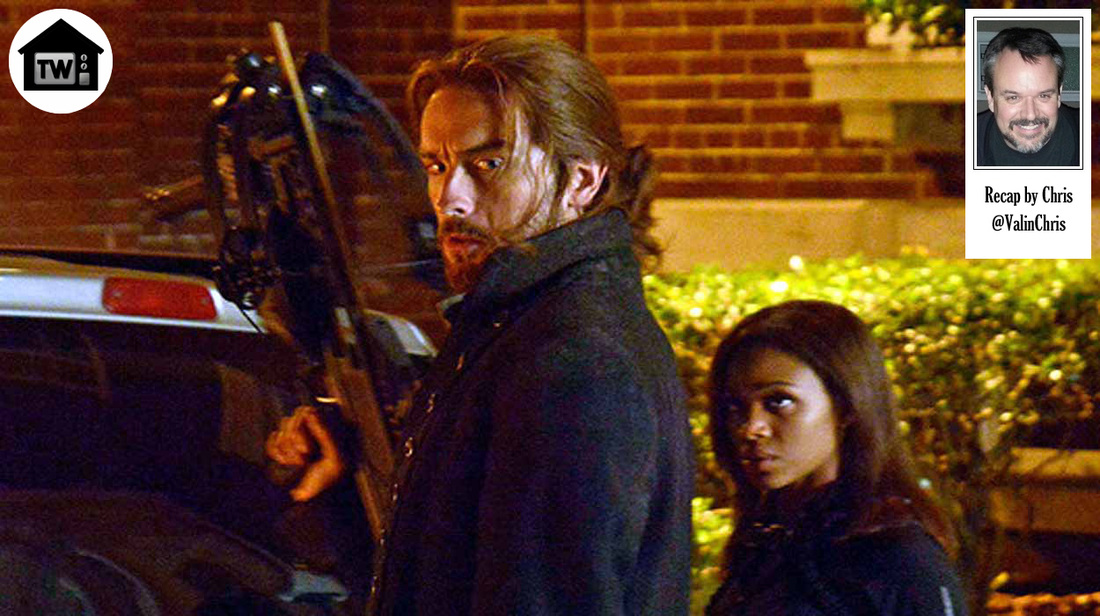 "Evil has awakened once again!" Our favorite show about a guy who slept for a couple of centuries and woke up to fight a decapitated Hessian returns, and right off the bat, they can't decide what to call the episode. That's right, it's finally time to take Sleepy Hollow out back for a whuppin'.
This show normally has a "previously" that puts all other "previouslies" to shame, since they insist on having Ichabod explain the entire premise of the series before even getting into what's happened so far. So we all knew going in that this previously would be longer than the first act, since they'd have to recap the entire first season, including the many and varied cliffs from which we were left hanging in the season finale. To wit: Ichabod's son (WAR of the Four Horseman of the Apocalypse) has buried him alive! Abbie is imprisoned in Purgatory. Irving has been arrested! Jenny was in a car crash! Katrina has been kidnapped by the Headless Horseman!

So we start off right where we left off, right? Uh, no.

Crane's cabin: Abbie surprises Ichabod with a cupcake for his birthday, and hilarity ensues. When he finds out he's supposed to make a wish on top of blowing out the candle, he makes a snarky comment about how he thought science had won out over superstition in the modern world. Ha! He hasn't watched many televangelists since he got back, has he? They make vague comments about each of them having lost someone "a year ago." Did we do a fast forward? Abbie gets a call from the sheriff's department and they rush off for the ...

Historical Society: They spot a decapitated cop and open up the weapons locker in Abbie's truck. As they lock and load, she says, "You ready?" To which he replies, "I've been ready for two hundred years." Ba-BAM! But apparently high-tech weapons are still beyond the ken of our anachronistic hero, since he decides to go with a crossbow, which was already in use by the Greeks around 500 B.C. The professor who called for their help is also sans noggin, but they discover that the guy was writing about Ben Franklin, for whom Crane used to apprentice. Ichabod's opinion of one of our greatest founders is slightly different than that of most Americans, since he calls him a gasbag. Also, they probably shouldn't be nonchalantly hanging out in a place full of headless bodies because THE HORSEMAN IS STILL THERE and suddenly he's shooting at them. Abbie opens up with her automatic weapon, doing little damage, but Crane's crossbow bolts are enough to drive him away. And now it's time for a ...

Flashback: Franklin (free trivia: he's played by Timothy Busfield, who just happened to be on Thirtysomethingwith the episode's director, Ken Olin) is conducting his lightning experiment and Ichabod shows up to help. Crane isn't too happy because old Ben is taking an "air bath" (walking around without his britches). Franklin sticks a key on a kite string (sound familiar?) and it's struck by lightning. Except this wasn't an experiment in electricity, but in how to destroy this particular key, which is connected to the Hellfire Club (no, not the one in the X-Men ... well, okay, maybe kinda-sorta that one), which Franklin joined in England in order to infiltrate it. The lightning doesn't work, and Ben's worried, because ...

Back in the future: Abbie and Crane discover that it's the Gehenna Key (the key that unlocks Purgatory), which means it can let someone out of Purgatory like, say, MOLOCH himself. Do they need to find it? Hells yeah, of course they do! Or, as Ichabod says, everything they've done is "for naught." So they take a drawing of the key to War/the Sineater/Henry, whom they have imprisoned and chained up, and for some reason he tries to help them because they gave him a damn potted plant. He says he can't tell them where the key is, but they talk it out and Abbie remembers that Jenny knew where it was. Then Crane has a weird panic attack and realizes he can't remember anything from the past year, and Abbie agrees. It turns out it's all a trick by Moloch so that War can find out where the key is, which he now knows to ask Jenny, who really isn't dead, because it really isn't a year in the future. That dude is so evil.

Henry/War interrogates Jenny, who had been captured by Headless after the accident he caused. She doesn't tell him anything, but he reads her thoughts and tells one of his followers in German to keep her alive until he finds the key. Next we see the Horseman try to feed Katrina, but she tries to escape and does a really bad job of it. He puts a pendant on her that causes her to see him as Abraham again. From there we move to ...

The Coffin: Where Ichabod realizes there is sulfur in the dirt above him, and manages to literally blow the lid off of his coffin. Jenny kicks her captor dude in the junk and escapes, managing to also text Crane her whereabouts. He steals an ambulance and they escape in it, while Crane explains what's up and why they need to find the key. Meanwhile, we also see ...

Purgatory: Where Officer Harold Sulu sneaks in and warns Abbie that Moloch is creating a demon army using all the lost souls there. She asks him to show her how Katrina used to contact Crane from there so she can warn him. He takes her to Moloch's lair, where she can read an incantation and talk to anyone through a mirror.

Crane remembers that Franklin made him memorize his own alphabet, and realizes it's how he can decode the message from Franklin. It turns out the key is supposedly buried with Franklin himself. Crane is contacted by Abbie and they update each other. Jenny and Crane head for a Ben Franklin statue, but Ichabod also remembers Franklin saying, "The key to success lies underneath the alarm clock." Crane finds the key under the clock tower and he goes to save Abbie in ...

Purgatory: Crane shows up to save Abbie, and tells her to drink something in order to escape, but it turns out to be Moloch in disguise, since the "real" Crane shows up and stops her. But then she hears this Crane pronounce the word lieutenant the American way, and she chops his head off just as the real real Crane shows up to save her. They use the key to escape, and the door to Purgatory closes behind them just in time to prevent Moloch from coming through. The key immediately disintegrates in Crane's hand.

Crane reminds Abbie, Jenny, and the audience about the dire situation despite the rescue. Meanwhile, War/Henry is contacted by Moloch, who creates an empty but totally badass set of armor with a flaming sword to do the fighting for him. They's in trouble now.

Hey ... where the hell is Frank Irving anyway?
​