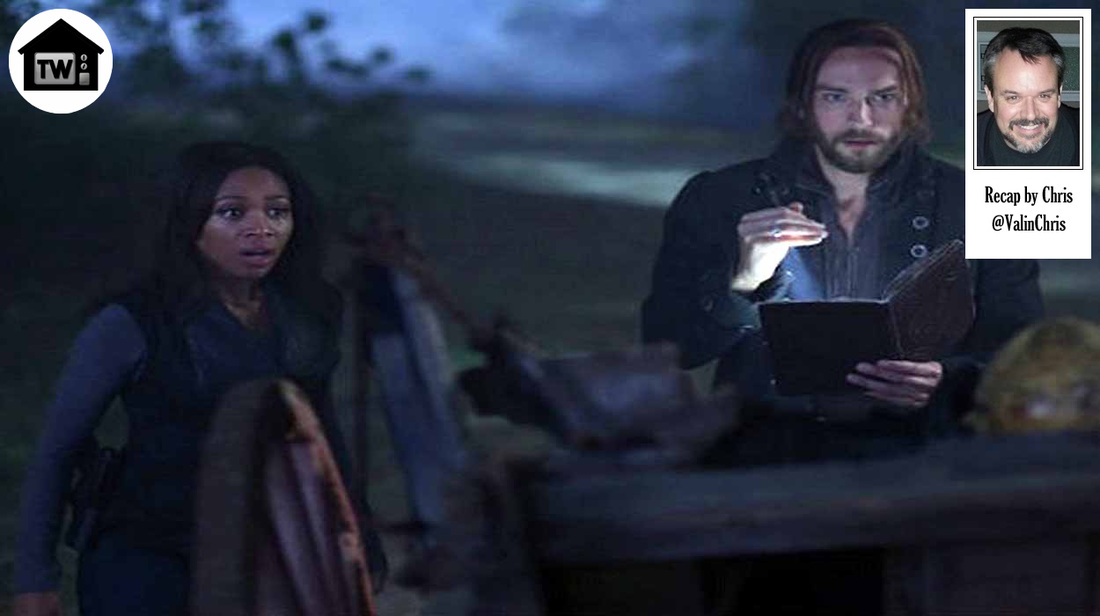 "Franklinstein." Really? I mean, I know the guy was a badass in real life, but the suggestion that he could sew together a warrior from dead soldier parts is a bit of a stretch, isn't it?
Previouslies: They must have read my recap last week, because this week was the shortest one ever, and didn't even include the narration from Ichabod. You're welcome!

Some Forest Somewhere: The Horseman ties Katrina up in a clearing, and Henry/War shows up to tell her Abraham's waited a long time to be with her, but she has to be like him. He cuts their hands, smears their blood together, then Headless takes an axe and swings it at her neck until ...

Ichabod's Place: ... Ichabod wakes up because it's a dream (of course). Abbie gets a call that there's a new sheriff in town (literally) and she (emphasis due to Ichabod's surprise) wants Abbie there, so she better get her ass down to the ...

Sheriff's Station: Where Abbie gets chewed out by Sheriff Reyes, who just happens to have known her mom when Abbie was a kid. Ichabod shows up and tells Abbie they need to save Katrina, so they head to …

Abraham's Carriage House: Where Katrina is able to talk to Headless thanks to the amulet he put on her that makes him appear as Abraham again. She finds out that he plans on bonding with her in the ceremony Ichabod dreamt about in the opening, while outside, Abbie and Ichabod decide there's no way they're getting in there to save her. So they drive back to …

Ichabod's Place: Where they include Jenny in their plan to raise something called The Kindred from the dead to fight Headless while they go in and save Katrina. It's a creature that was sewn together from dead soldier parts by Benjamin Franklin, then enchanted by Katrina's coven. But it's missing a part from Death (the Headless Horseman) to bring it to life. So, while Jenny goes to collect some weapons and such, Abbie heads off to …

The Prison: Where she has a visit with Captain Iriving, who's been beaten up by convicts who, for some strange reason, don't like police captains very much. He tells her he hid the Horseman's skull in a big safe deposit box at the …

Sleepy Hollow Savings & Loan: Where Ichabod rails against the idea of banking institutions, pens chained to tables, and credit without collateral. They collect the skull from the safe deposit box and then go to …

The Cemetery: Where, with little trouble and a lot of bats, they figure out where the Kindred is hidden and retrieve it, to (presumably) decapitate it. In the car, they argue about whether it's a good idea to raise another monster that they might not be able to control (you think?), but Ichabod is Jonesing for his wife, so they go forward with the plan outside of …

Abrahams' Carriage House: Where they attach the Horseman's skull to The Kindred and say a few words from an old book, which almost doesn't work (but then it does). Now they have their own badass undead fighter to (hopefully) fight on their side. Inside, Katrina promises to stay and try to work things out with Abraham so he doesn't have to cut her open in a scary ritual. By the way, isn't she supposed to be some kind of powerful witch whose powers weren't working only because she was in Purgatory? Now that she's out, shouldn't she be getting her magic on in a major way? Oh, and before I forget the …

MEANWHILES: Jenny got caught with a big bag of guns and ammo by Reyes, and now she's in deep dog doo-doo since she is an escapee from the local mental institution. She takes the rap for Abbie and Ichabod, about whose partnership Reyes is not a big fan. I have a feeling there may be trouble a-brewin' there. Plus, Irving decided to play crazy in order to be moved to the nut house, and Reyes isn't falling for it, so she makes sure there will be plenty of electroshock therapy in his near future. And Henry/War/Jeremy decides to send his new empty-armored black knight to fight the Kindred back at the …

Carriage House: Where, in a battle among three of the coolest fighters in television history, the Headless Horseman, The Kindred, and The Black Knight of War all go at it. Abbie tries to help by shooting her little guns at them. How cute. Ichabod sneaks inside and professes his love to her before, y'know, UNTYING HER, and then, after all the trouble they went through to bring an undead creature to life, Jenny getting arrested, and risking their lives, SHE WANTS TO FREAKING STAY THERE WITH THE HEADLESS HORSEMAN so she can spy on him and Henry and prevent them from going after Ichabod.

Uh … okay, whatever.

Abbie, who does NOT look happy about this shit, revs up her SUV and she and Ichabod are out of there from what, essentially, turned out to be a wasted effort. The Kindred took his cue and took off for who-knows-where. And, finally, we get to see what happened to Irving at …

The Mental Institution: Where Henry shows up, pretending to be his lawyer (shouldn't they have maybe warnedhim about this guy?), and gets him to sign some paperwork with a trick pen that pricks his finger and causes his signature to be IN BLOOD.

Yeah, that's not gonna turn out well.
​