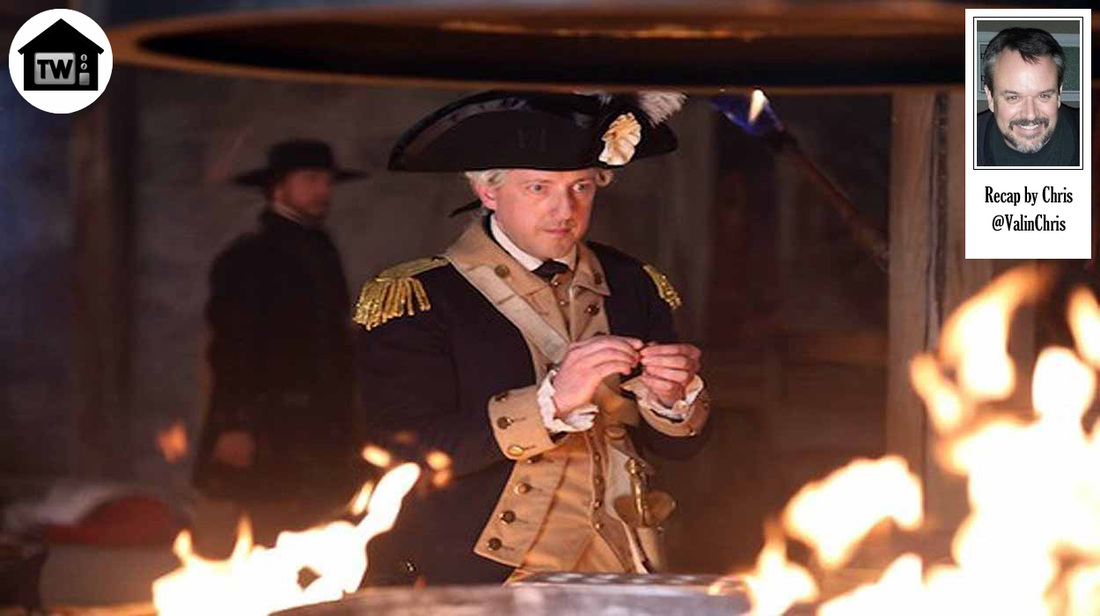 "Your son's a lawyer. You must be very proud." Yes, that's right: As if becoming War, one of the Four Horsemen of the Apocalypse and servant of the demon Moloch, allowing his mom to become the love slave of another Horseman, and trying to kill his dad weren't enough evil for one person, Jeremy Crane/Henry Parrish now reveals himself to be (gasp!) ... an attorney.
Previouslies: I'm really liking the streamlined version this season. If someone doesn't know what's going on already, I'm sure they're binge-watching the first season somewhere and hearing the premise of the show every episode anyway. So let's head straight over to ...

Terrytown Psychiatric: Where Ichabod and Abbie are turned away from seeing Irving because "his lawyer" has forbidden it. Needless to say, when they find out his lawyer's name is "Henry Parrish," they're none too happy. They head on after his taxi just as Jenny gets released from jail at the ...

Sheriff's Station: Because Abbie pulled some strings with a judge she knew and got her community service, even though she was an escaped psych patient carrying around a bag o' guns (he must have been an NRA member). I'm sure Jenny learned her lesson and won't be picking up any guns in the near future. Sheriff Reyes is there to reprimand her and give her some crap, which so far appears to be the whole purpose of that character. Meanwhile, Ichabod and Abbie track Henry's cab to ...

Sleepy Hollow Savings & Loan: After a high-larious bit in which we discover Ichabod is fine with PDAs from same-sex couples (and watches Glee), but is highly upset by men wearing hats indoors, a shot rings out inside the bank. It seems one of the tellers – by all accounts a sweet, wonderful woman – grabbed the guard's gun, shot him in the gut, and is now demanding all the cash. Abbie tries to talk her down, but she just ain't listening (maybe because of that darkness that keeps enveloping her face?). So Sheriff Reyes takes her down, and a really old-looking silver coin rolls out of her hand, to be picked up by some hipster dude. Hmmm ... I wonder if the coin is important to – nah! It probably has nothing to do with the rest of the episode. Let's move on to ...

The Library HQ: Where they watch security footage of Henry exchanging some coins for cash ... including the old silver one with the Roman-looking guy on it! Man, I was so close to calling that. Of course, that immediately triggers Crane's memory, and we get another eye-roll-inducing, "Once when I was on a secret mission for General Washington ... " stories, where we learn he took down a counterfeiting ring that used ancient silver coins (that looked exactly like this one!), and the officer in charge was none other than ... dut-dut-daaaaahhh: Benedict Arnold himself. So, guess who pocketed one of the coins, and then inexplicably turned traitor and joined the British cause?

Jenny shows up and logs into the department laptop with Abbie's credentials to look up Reyes' file, since she was such a bitch to her earlier. Oops, she finds out Reyes was the one who put their mom in the loony bin, and Abbie knew about it! She goes off in a huff, but not before they get the name of a guy who might be able to help track down this coin. And now for a brief intermission, in which hipster-dude-with-the-coin is building a bomb, and Katrina is up to something at ...

The Carriage House: Where she's busted while spying on Henry and Headless making plans. Henry confronts her, but seems to have just the slightest bit of ... something ... toward her, being her son and all. But this scene is really short, so this paragraph will be, too, as we move to ...

The Riverside: Where, in an obvious attempt to attract more female viewers, a new character is introduced named Nick Hawley, a ne'er-do-well treasure hunter who I'm guessing was third in line to play Christian Grey in the upcoming film. He had some kind of relationship with Jenny in the past, and now he's willing to help Ichabod and Abbie for a price they're not willing to pay, so he's out of there. But not until he's identified the coin as a silver Tyrian (not Tyrion) Shekel from the Roman Empire. Ichabod says there were thirty of them in the batch. Are you getting this yet? No? Well, then, let's have Abbie hit us over the head with the answer to this not-so-difficult riddle: These were the coins the Romans paid to Judas to betray Jesus! That's right, this cheesefest of a show has just had its cheesiest moment yet.

Apparently, the coins change people and cause them to do things way outside of their normal behavior. Like shoot a guard in a bank. Or build a bomb and – oh, no! BOOM! There's a huge explosion courtesy of Hipster Dude. Luckily, Hipster Dude is arrested, so they head back to the ...

Sheriff's Station: And rush down to find the coin that must have been taken along with his stuff. Ichabod actually runs into Henry and tells him they're on to him with his turn-you-to-evil coin, to which Henry replies that it only magnifies nasty feelings people already have buried in them. Then Reyes spots Crane and, after listening to his diatribe about being a citizen in a public place, tells him he doesn't exist in any database and better prove who he is. He promises to show some valid ID next time he's there, and quickly leaves. Abbie goes down to lockup, but the intake cop tells them the guy's lawyer has already been there, and that lawyer's name is ... oh, hell, you already know. I'm not even gonna say it. Which brings us to ...

Some Street: Where Jenny is scrubbing graffiti for her community service, and hears a coin hit the sidewalk. She ignores it until it ... uh ... starts talking to her? I guess? At which point she picks it up and decides to cause some mayhem. Meanwhile, Ichabod and Abbie go to ...

A Bar: To meet Hawley, and also so that Ichabod can inform us that it's actually Paul Revere on the bottle of Sam Adams. After some BS about Ichabod not being able to drink without an ID (it's never stopped him before), Hawley tells them Jenny came by to borrow some guns (dammit, I thought she'd learned her lesson!), and took a high-powered rifle from him when he was taking a piss or something. They realize she must have the coin and have to go after her, but Hawley says the only way to hold the coin without it affecting them is with consecrated glass. So he and Ichabod go to the nearest ...

Catholic Church: Where Ichabod pretends to give confession while Hawley cuts a couple of pieces out of a stained-glass window. Cut to Abbie down at the ...

Sheriff's Station: Asking someone to track her sister's car, which just happens to be heading to the same forest where Sheriff Reyes just went hunting. They all get back together and speed off to ...

The Woods: Where Hawley helps them find Reyes and some other guy in a deer blind, and Jenny nearby, ready to shoot her with a sniper rifle. They confront Jenny, and Abbie starts to reason with her, then lie and say she wants to shoot Reyes herself, when Ichabod just tackles her, causing the coin to roll away. Just as Ichabod starts to tell Hawley he may have misjudged him, he realizes Hawley has already high-tailed it with the coin. Then we have a brief interlude at ...

Tarrytown Psychiatric: Where Crane pretends to be visiting a weird dude who was very friendly to him on the previous visit, but actually gets a chance to speak to Irving and tell him that his lawyer is War, and also happens to be Ichabod's own son! To which Irving replies, "But he's going to get me out of here." Huh? Are you freaking serious? Whatever. Let's move on over to the ...

Sheriff's Station: Where Reyes is suddenly all nice, and slides Abbie her mom's file. Then over to ...

The Bar: Where Hawley tells them he's keeping the coin, but gives Ichabod some fake ID in exchange for becoming a semi-regular character on the show this season (apparently). Then Abbie arrests them both. Just kidding! And we finish up at ...

The Manor: Where Henry's been living, and somehow having memories of being born. So he sets the bed on fire to prove he doesn't give a crap about that stuff.

Yeah, right.
​