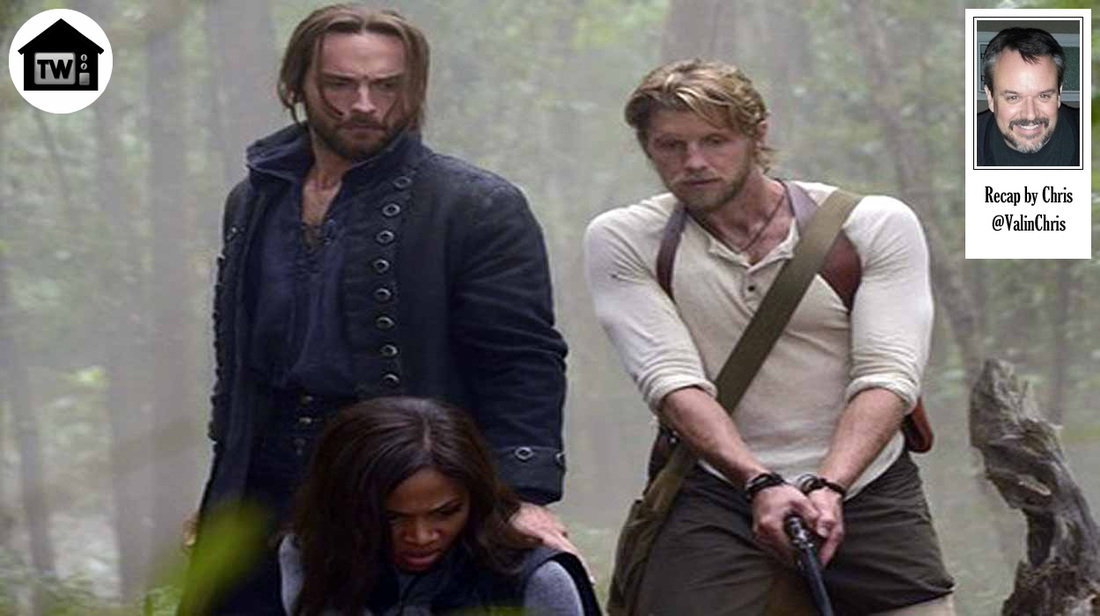 The Pied Piper. The Pied Piper? Am I the only one who feels like they might already be starting to scrape the bottom of the barrel here?
Previouslies: Still short and sweet. Me likey. Gets us straight into a scene where a little girl is being lured into the woods by a dude playing flute music, before switching to Abbie's ...

Police Vehicle: Where she plans on teaching Ichabod to drive. (Have you noticed they only bring up his eidetic memory when it's convenient?) She's done being his chauffer, and when he denies that Jenny's been giving him lessons, she points out that she checks her odometer (another Ben Franklin invention, apparently ... maybe they should just point out what he didn'tinvent). But his fear of driving is just a ruse, and he's actually become a badass behind the wheel – a regular [insert NASCAR driver name here ... I despise NASCAR so I have no clue] – using the "power of 300 horses" to full effect. But only until they get an Amber Alert for a missing girl with whom Abbie is familiar, so they head of to ...

The Lancaster House: A large estate handed down from pre-Revolutionary War times, which looks suspiciously like every other big, old house in Sleepy Hollow (maybe the Founders were into tract housing?). The little girl from the teaser, Sarah, disappeared on the night she turned 10 years old, and her mom, Maggie Lancaster, says the family is "cursed." Yeah, normally it'd sound like she's just being pessimistic, but on this show it actually means little girls in their family get lured off into the woods on their tenth birthday. Abbie spots Ichabod sneaking around in the bushes and trying to break in through a window (which, of course, is exactlywhat a weirdly dressed dude wants to be doing at a house where a little girl has just been kidnapped). But he has an excuse! This is the family of Daniel Lancaster, whom George Washington himself didn't like (Hey! They managed to slip in a reference to a Founding Father for once!) because he waited until the war was almost over before siding with the winner. They head off into ...

The Woods: Where they fortuitously find the flute, which is made out of a human 10-year-old-girl-sized leg bone. Ewww. But it is crucial evidence, so of course they're going to throw on some gloves and bag th – WHAT THE HELL? Ichabod starts cranking out some Jethro Tull melody on the flute (because legbone flute playing is another of his many talents), which causes Abbie to go into a trance and start walking toward the lake. Ichabod waits until they're back at ...

The Library/HQ: Where Crane has, of course, immediately made a connection to the oldentimes, but not until after whining about using the secret door, which reminds him of when he had to hide from that total slut, Betsy Ross. He tells Abbie about a Pied Piper who once lured a regiment of British soldiers to their deaths, and figures this must be his flute. So they come up with a brilliant plan to record 30 seconds of bone flute music on Crane's phone and have Abbie listen on her earbuds on a loop as he follows her through ...

The Woods: Where Abbie leads Ichabod to none other than Hawley, who was injured by the Pied Piper himself last night while trying to get the flute. That's right, Hawley, who is in the same town as them and looks for exactly the same kind of artifacts as they do, but they never met up with him all of last year. And now twice in a row, he's suddenly around. He says he saw Sarah alive, so they should try to save her. But not until after he introduces a ...

Flashback at the Lancaster House: It turns out the Pied Piper is basically Connor from Assassin's Creed, and he was able to murder an entire squad of Redcoats in seconds once he lured them outside of the Lancaster house with his flute. Old man Lancaster had paid the guy because he didn't like the way those Lobster Backs were making friendly with his daughters, but then he went and betrayed Connor by introducing him to the pointy ends of a bunch of arrows. So now Connor comes back every generation to take away a Lancaster girl on her tenth birthday.

Abbie and Ichabod agree to give Hawley the flute if he helps them find Sarah and get her away from the Pied Piper, who he assumes is just some psycho. And finally we get a break from the dynamic duo and visit ...

Tarrytown Psychiatric: Where Irving reads a bible and has a vision of himself as an instrument of War during an apocalyptic future. The bible goes up in flames as we return to ...

The Woods: Where Abbie is again listening to Crane's flute jams and walking in a trance. She leads Ichabod and a suddenly-feeling-much-better Hawley to the Piper's creepy hideout. They find Sarah, and Abbie helps her to escape as the Piper shows up. Hawley shoots the hell out of the demon-looking flutist, but it doesn't do much to stop him. He also has a staff that he spins around and creates a noise that incapacitates them. So they just use a grenade to blow up his lair instead.

Despite now knowing all that demon shit is real, Hawley still just wants to get the flute and leave. Abbie gives him the flute, but breaks it in half first. Then Abbie and Ichabod take Sarah back to the ...

Lancaster House: Although mom doesn't seem as excited to see her missing daughter as you think she'd be. Hmmm ... maybe a suspicious Abbie can figure something out back at ...

The Library/HQ: Where Abbie gives Ichabod a pair of earplugs that cancel out all noise so they can fight the Piper. Abbie checks on her suspicions about Maggie Lancaster, and it turns out that the only time in 200 years when a Lancaster girl was recovered, all the other children got fevers and died from a curse. Maggie had adopted her sons thinking that would end the curse, but then had Maggie later and screwed everything up. Realizing all the kids are in danger, Abbie lets Crane drive, since they need to haul ass back to ...

The Lancaster House/The Woods: Where Crane steals the Lancaster family sword, because Maggie is leading her daughter back out to the woods with a gun. She's going to try killing the Piper, but if she can't, she's going to give up one kid to save her others. Abbie and Ichabod try to stop her, but the Piper shows up there and attacks them. Ichabod does okay until his earplugs fall out and he's once again incapacitated by the noise from the Piper's staff. So he hits the Piper in the foot with a brick (?!) and chops the Piper's arm off. Since that doesn't do the trick, Abbie appears and sticks the Lancaster sword through his middle, finally doing him in. Then we take a quick trip back to ...

Tarrytown Psychiatric: Where Irving tries to fire his lawyer, WAR (horseman of the apocalypse). Needless to say, it doesn't go well, and Henry makes a bunch of subtle threats about Irving's family's physical and financial well-being. After Henry tells him where to look in the bible, Irving figures out that he signed the contract in blood, and sold his soul.

Meanwhile, Hawley gives his buyer the flute, which in turn goes to Henry (I knew it!), who you'd think would be pissed off that it's broken in half. But no, because he was going to grind the freaking thing into powder anyway! He tastes a bit of the powder and says it's perfect. Ten-year-old-girl bone.

Man, that dude is evil.
​