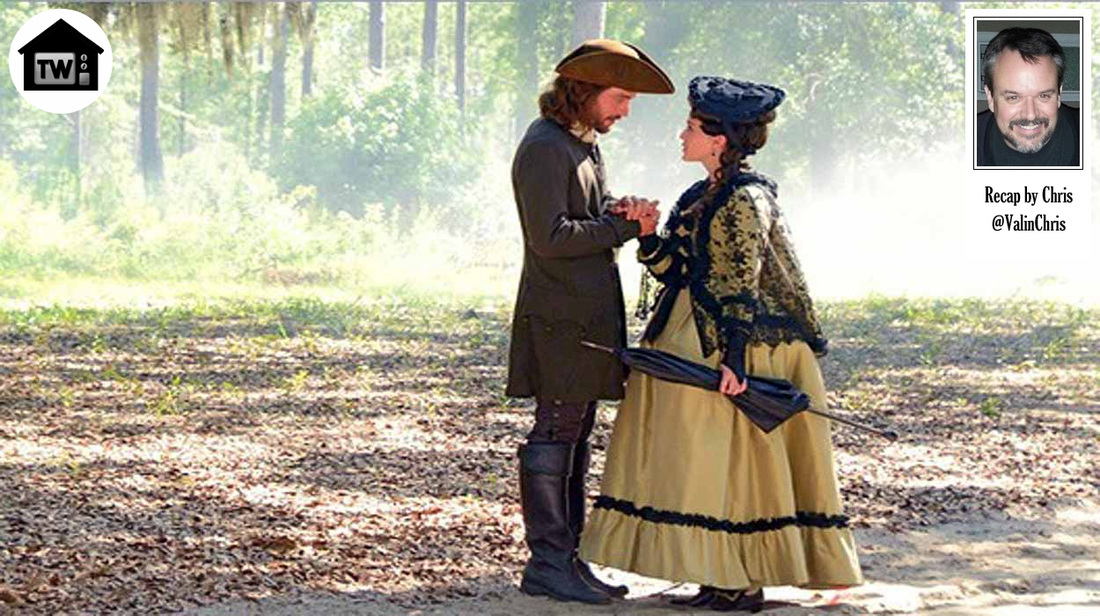 The ladies sure do like Ichabod, and now any female in his vicinity becomes a target for his jilted ex from the old days. Watch out ... she's going all "Mama" on their asses!
Previouslies: What? No previouslies? Well, let's get on with it, then, starting at ...

Crane's Cabin: Where Carline, who I realized is Koothrappali's girlfriend as well as the seamstress from last season, is delivering some new old-fashioned duds to Ichabod, along with some hand-churned butter (and we all know what she's expecting from that). He realizes her loins are hot for his loins and tells her he's married, at which point Abbie walks in and Caroline mistakes her for his betrothed. She quickly rushes out in embarrassment, and we cut over to ...

The Carriage House: Where Katrina writes a love note to Crane and has a crow (or is it a raven? Does it matter?) deliver it to him. Abraham shows up and almost busts her, getting suspicious nonetheless. He speaks to Henry via mirror-Skype (WTF?) and Henry offers to figure out a way to mess with Katrina (because he has mommy issues, you know). Abraham says no, but he makes a spell anyway, and a weeping lady shows up at the river, scaring the crap out of some teenagers making out. The Weeping Lady immediately shows up at ...

Caroline's House: Where Ichabod has just apologized to her for the misunderstanding. The Weeping Lady, who is creepy as hell, drowns Caroline, who shows up at ...

The River: Where Ichabod freaks out because he knows the dead body. They can't figure out how Caroline ended up there, so they head off to ...

The Library: Where the Weeping Lady shows up and tries to kill Abbie by pulling her through a water portal to the river. Ichabod pulls her out of the water portal, but she's already drowned; luckily Hawley shows up and knows CPR and saves her. Ichabod figures out that the Weeping Lady is the ghost of his British fiancée, Mary Wells, whom he tried to dump by moving to the American Colonies, but she followed him there. So they go to meet Hawley over at ...

Hawley's Dock: Hawley's acting all Han Solo at first, saying he isn't going to help them without payment. But then he hears what's up with the Weeping Lady, and gives them some badass ghost-killing crossbow bolts. They rush off to ...

The Carriage House: Where they're too late, because the Weeping Lady has already shown up to grab Katrina. As Ichabod and Abbie show up, Headless rushes off on his scary horse. They go inside and see the letter there, but Abbie realizes they can still try to save her where she surfaced during her own encounter with Mary, down at ...

The River: Where Katrina manages to grab Mary with seaweed and escape. When Ichabod and Abbie show up, she says she needs help with a spell to have Mary die for real and be gone from the earth, but she needs Abbie's help. Ichabod takes his magic crossbow and bolts and shoots Mary, but it doesn't do shit.

The spell takes effect, and just as Mary collapses and is about to die for real, Ichabod holds her in his arms and asks her why she didn't leave after she wrote him the letter way back when. What happened? Mary points to Katrina and croaks. Ichabod asks Katrina what the hell that meant, and figures out his wife actually had something to do with it all. Turns out Mary wrote Katrina a letter the day they met and asked to meet, and when they did, she accused her of enchanting Ichabod. She ran at Katrina, then fell off a cliff and died. Katrina admits to writing the letter using an enchantment to match her handwriting.

Ichabod goes apeshit on Katrina, since she's lied about ... well, practically everything in their lives. He didn't know she was a witch, he didn't know she had his baby, and now he didn't know she covered up the death of his ex-fiancé. Their marital spat, however, is interrupted by the dude with no head, who rides up and tries to take off Crane's, but Katrina tells him she's ready to head home, and, oh yeah, please spare Icky's life this once because he just saved me. At which point we cut to ...

Hawley's Dock: Where Jenny shows up to return his crossbow and throws herself at Hawley, but he says they're "just friends" now and should keep it professional. She says "fine" and kisses him just long enough to leave him ... uh ... hanging. Meanwhile, Ichabod and Abbie are attending ...

Caroline's Memorial Service: Which is kind of awkward because everyone is dressed like they're from Ichabod's time. But he thanks Abbie for putting it together, and whines about how it's all his fault she's dead because he's such a handsome devil, and now he can't trust his witchy woman. Speaking of whom, we return to her at ...

The Carriage House: Katrina actually thanks Headless Abraham for going after her, and seems to have a little bit of thing for him still ... maybe? Is it just me, or has he gotten a whole lot less scary now that we see him with his head attached from Katrina's POV? Worst off of all is Henry, making some sort of psychic visit to ...

Purgatory: Where he's in deep doo-doo with Moloch, who's pissed because he almost got Katrina killed, and he, y'know, needs her for his plans to bring about a little thing called "the end of the world" because she's one of the Hellfire Shards. No biggie.

Next week: There's apparently going to be a whole hell of a lot of running.
​