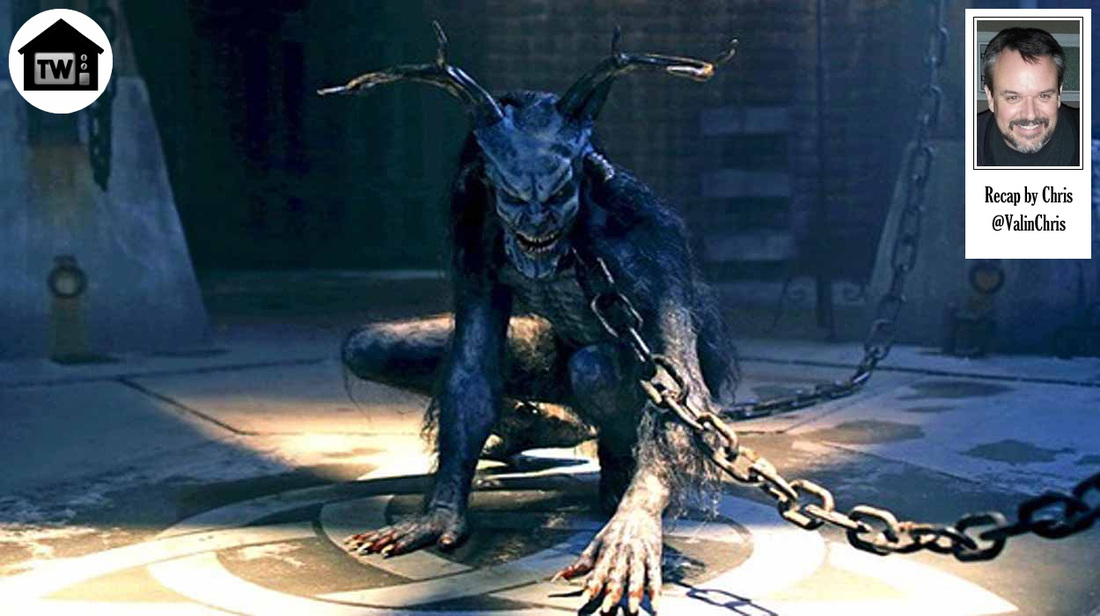 A quarter of the way through the second season and we still haven't seen a shapeshifter! What creature of that ilk is most likely to show up in Sleepy Hollow? Survey says ... Wendigo!
Previouslies: No previouslies? Again? Maybe someone's been perusing the Woodshed! Cool, let's head straight on over to ...

Crane's Cabin: Where Abbie and Ichabod are ... uh ... upside down? Doing yoga. Funny back-and-forth about Crane's preference for calling asses "double-juggs" instead of "buns." Not so fun back-and-forth about Crane being pissed at Katrina. Then they decide to try Ichy's method of relaxation at the ...

Local Pub: Where we get to hear a toast to George Washington that was written by Benjamin Franklin because, y'know, that's how they roll on this show. But they're interrupted by a brawl in the corner involving none other than Joe, the son of the late, great Sheriff Kurgan – sorry, Corbin. Abbie breaks it up, but Joe's not so friendly to her because he has daddy issues, including major jealousy over Corbin's time spent with Abbie instead of him. He's back from the war, where he is the only survivor of an attack on his platoon, and he doesn't want to talk about it. Especially with the woman who got his dad killed. Ouch! So now it's time for Abbie to drive Ichabod home through ...

The Woods (where everything bad happens): There's been an attack on Joe and his friends, and just like with his platoon, Joe's the only survivor. Oh, and one dude has had his entire chest cavity hollowed out by whatever creature attacked them. Abbie doesn't think it's weird that Joe was crying out for his dad when they found him, but Crane is very suspicious because men always call for their mommies when their friends have had their chest cavities hollowed out by the monster-of-the-week. Abbie decides to question Joe at ...

The Hospital: But she's still his least favorite person, and even whinier about how "Dad loved you more!" Meanwhile, there's that little plotline that's been brewing over at ...

Terrytown Psychiatric: Where Henry isn't giving up on keeping Irving's soul anytime soon. Unless, that is, he is willing to kill someone else. Like, say ... THE GUY WHO PARALYZED HIS DAUGHTER. Uh oh, Irving just might take him up on that, seeing as how he's right there across the hall. But first, we have yet to visit ...

Library HQ: Where the detective and the expert in the occult finally realize Joe is probably the creature that killed his platoon and his redneck drinking buddies. But what is he? Well ... it seems Crane remembers that back in 1778, there was a similar problem with the brother of his good friend Daniel Boone (all together now: "Of COURSE you were good friends with Daniel Boone!"), Squire Boone, who was a Wendigo. But not really, just on the show (I already checked Wikipedia). Blood is what sets off the transformation, and he can't change back until he eats some human organs. So they rush over to ...

Joe's Place: Where they don't find Joe, but they do see Sheriff Corbin's will and effects lying out all convenient-like, and deduce that Joe was in the woods trying to find something his dad left buried for him. So then they rush over to ...

The Woods (where everything bad continues to happen): Joe isn't giving up the old box he just dug up, but he is going to eat Ichabod's organs now that he cut his hand open if they don't "RUN!" And after some pretty damn cool FX, Joe grows antlers and gets really, really ugly and chases Ichabod while Abbie grabs a dart gun and shoots the Wendigo just as he's about to eat Crane's face. They tie him up and bring him to the ...

Mason's Basement: Where they chain him up and give him some human organs that Jenny stole. But not until after Hawley is staring down Abbie like he just read a "how to get girls" thing on the Internet and he's trying it out. Wendigo eats the organs and turns back into Joe, and Hawley complains that the cure he told them about didn't include keeping their friend alive. Joe explains that he just started turning all hairy and hungry a couple of weeks ago in Afghanistan after he got a letter from Henry Parrish with some white powder in it (made of bone flute). It also said that if he wanted to go back to normal, he had to dig up the box and give it to Henry, which is what he was about to do when Abbie and Ichabod interrupted him. The box contains the poisonest Chinese poison ever, so hell no, don't let War have it for god's sake. So they decide to look for a cure and head back to the ...

Library HQ: Where they figure out that if Joe turns Wendigo one more time, it'll be permanent. So Hawley and Ichabod go to meet with someone who may know a cure, namely some Shawnee guys at ...

A Garage: Where Hawley doesn't do so well with his "friends," but Crane saves the day with his knowledge of all things Shawnee. While they talk to a shaman named Frank, we cut back to the ...

Mason's Basement: Where Abbie tells Joe how much his dad loved him and how proud of him he was and they start to get along. But only for a second, because Henry shows up with some minions, and he promises to cure Joe if he gives him the poison. Plus, he's going to kill Abbie if he doesn't. Joe gives it to him, but as soon as they go outside, Henry cuts Joe's arm and says, "Humanity is your curse, and now you're cured." Yes, he is evil. Have you been watching the show at all? Just when it's getting intense, we have a "Meanwhile, back at ..."

Terrytown Psychiatric: Where Irving is trying not to do what Henry wants, so he attempts to forgive the guy who hit his daughter while driving drunk. But the guy is a major piece of shit and says that Henry's daughter ruined his life, too, because she didn't get out of the way when he drove on the sidewalk. Irving does what any good father would do next, and strangles the fool and stops just before he gets pulled off of him. While this is happening, Abbie and Ichabod are out on ...

The Streets of Sleep Hollow: Calling for Joe like he's a lost puppy, but then get smart and slice their hands open instead. Joe chases them into an alley, where they use a special Shawnee knife to cut the Wendigo and pour the blood into a special skull, then say an incantation, which ... doesn't work. Wendigo continues to go after Abbie, but she talks nice to it, and it finally changes back to Joe. They all head back to the ...

Library HQ: Where Joe asks Abbie for a letter of recommendation to get into Quantico. Crane says they need to try to save Henry as well, but Abbie isn't having it. To prove her point, we see Henry at ...

The Manor: Pouring out the poison and the creatures in the bottle and changing into a large, creepy spider, which he releases in ...

Katrina's Bedroom: Where it crawls into HER MOUTH. Uuuuggghhh.

Next Week: Katrina's little midnight snack does not settle well.
​