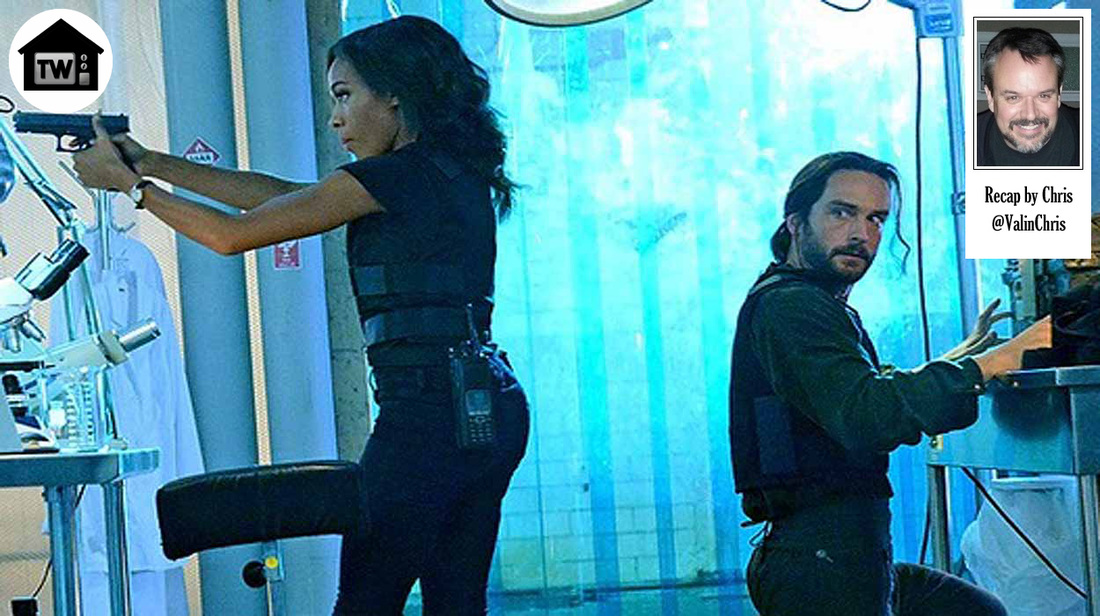 Katrina finally gets more than five minutes' worth of scenes in an episode, and what is it for? She's having a demon baby! And not just any demon baby ...
Previouslies: They're back! But not the long ones like they used to be, so I won't complain. After the short and sweet recap, we jump to ...

A Bedroom: Where Ichabod and Katrina are in bed together (waking up, not sexy time), but we soon realize it's a flashback, where they talk about having kids. It's all very sweet. Except suddenly, Ichabod grabs her head and drops a spider from his mouth into hers, and she wakes up from the memory/dream choking before we cut to ...

The Polling Place: Where Ichabod rants about the poor voter turnout in modern times, and not having the proper ID to vote (I thought Hawley gave him that stuff?). He's also reprimanded for "campaigning at a polling place" when he tries to give her some suggestions. It's a short scene, and we're quickly back at ...

The Carriage House: Where Abraham tries to help Katrina with her illness, but Henry shows up with some weird German guys, including a doctor, who attempt to take her away. Abraham complains, so Henry fries him with some sunlight. But Headless doesn't give up that easily, and throws an axe into one of the guys' backs, giving Katrina a chance to escape to a nearby gas station. Then, back at ...

The Polling Place: More grousing from Crane, Abbie gets the cold shoulder from Sheriff Reyes, and then a deputy conveniently tells her a redhead in Colonial garb was taken to ...

The Hospital: So they rush over there and find out Katrina has some kind of growth in her abdomen (is that what the doctors are calling fetuses now?). She screams and her stomach gets all veiny. She also reveals that Henry said Moloch has a purpose for her, so they get her away just in time before Henry's men show up there. Abbie follows the German dudes, while Ichabod takes Katrina to the ...

Archives HQ: Where the Cranes compare notes and goat head stories, and figure out that the Hellfire Club (not the one from X-Men!) was behind the whole thing. OF COURSE Ichabod has to relate a Benjamin Franklin story here, this one about how he infiltrated the Hellfire Club back in the day. Ichabod finds out that she can speak to Abraham, and the green-eyed monster definitely rears its ugly head. Meanwhile, Abbie follows the German guys to ...

A Warehouse: Where they're obviously planning on delivering a baby. She takes pictures with her phone and escapes with the doctor's journal, which she shows to the Cranes over where Ichabod has taken Katrina, at ...

St. Henry's Parish: And they figure out that she's actually pregnant with a bad, bad baby. I mean a really, really bad baby. The worst. Well, technically, Satan himself might be worse, like in The Omen or Rosemary's Baby. But still bad! They decide Henry is the only one who can fix it, and the Cranes both think there's enough good left in their misguided son that he will (Abbie knows better than to think he's going to have a change of heart, though). So they contact Irving and have him set up an ambush meeting at ...

Tarrytown Psychiatric: Where Ichabod surprises Henry, and they have a nice, scary talk in which Henry proves he's as evil a mofo as ever. But he also tells Ichabod the same thing Abbie simultaneously figures out: That Katrina is actually going to deliver the big bad Moloch himself! See? I told you. Crane rushes back to ...

St. Henry's Parish: And luckily has another flashback (with some help from some dial-up Internet – does that still work?) revealing that Franklin knew the Aurora Borealis could destroy a demon being born, and hid a stone in a tablet that would replicate the Northern Lights. Abbie and Ichabod leave Katrina with a walkie-talkie and take off for ...

The Sheriff's Station: Where they somehow convince Reyes that there's a doomsday cult in a warehouse that needs to be taken out. They take a bunch of well-armed officers and immediately bust into ...

The Warehouse: Where they not only take down the German Hellfire dudes, but Abbie and Crane manage to grab the tablet itself. After getting some kudos from Reyes (finally!), the intrepid heroes return to ...

St. Henry's Parish: And it looks like they might be too late, because Katrina seems to be in labor already! Ichabod busts the tablet and pulls out Franklin's stone, then tears the wood from the windows just in time to blast Katrina with the light from the stone, aaaaaaannnnnddd ... suddenly she's not pregnant any more. Except she's dead. But they're just kidding! Totally messing with us. Phew! Because Ichabod has apparently learned some half-ass CPR in the past couple of weeks and brings her back. (Why didn't Abbie help, since she's trained and everything? That would make too much sense!) Outside the church, Abbie and Crane talk about how it was a close call, and WTF is wrong with him thinking he can reach Henry? Is he kidding? Meanwhile, it's time for Henry's weekly stinger at ...

The Manor: Where he somehow pulls a Franklin and harnesses lightning in a bottle ... no, really, I'm not being metaphorical here. He literally zaps some lightning into a bottle. Who knows what evil he's up to next?

Next Time: Looks like a succubus, if you ask me.
​