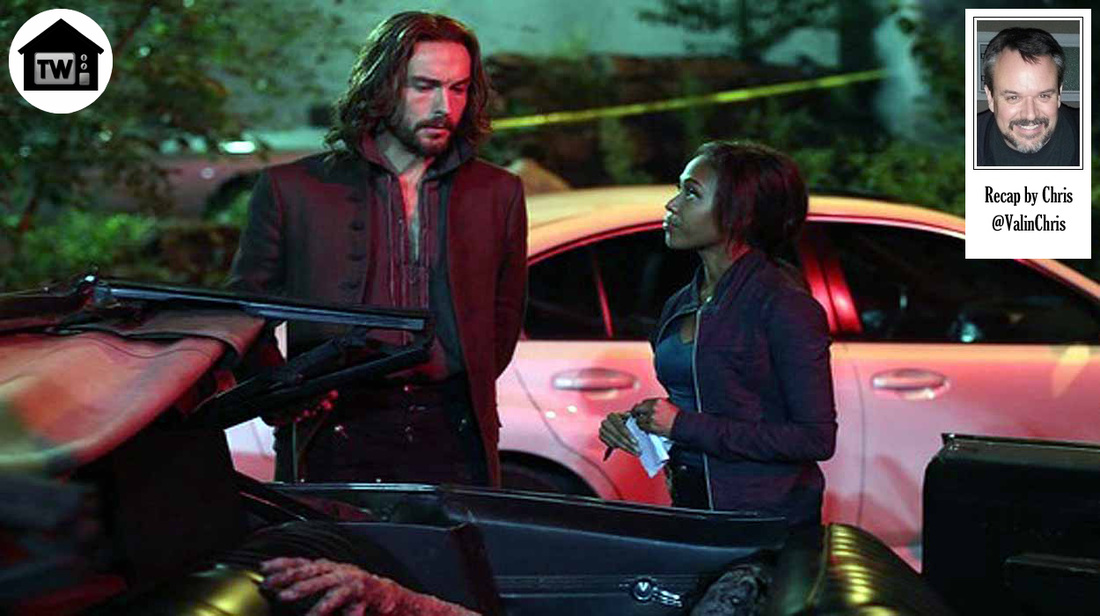 No monster-of-the-week show would be complete without a succubus showing up eventually. For this show, that time is now!
Previouslies: They're gone again! And I couldn't be happier. In the current era of DVRs, streaming, binge-watching, and a billion websites to tell you what you missed, are they really necessary? On with the show, starting with ...

Crane's Cabin: Where we once again begin with Crane and Katrina in bed (and, again, not like THAT), only this time it isn't a dream. It's a nightmare. And by that I mean they're watching reality TV (either The Bachelor or something like it – I'd never know the difference). A madly-in-love couple who haven't been alone in over two centuries, and they decided to watch reality TV in bed? Okay, then. But they're interrupted by the third member of the not-very-clear-but-definitely-hinted-at triangle, Abbie, who lets herself in without any warning, despite knowing that the madly-in-love couple who haven't been alone in over two centuries is in there together. Smooth! And probably, at least subconsciously, not an accident. They start to figure out what their next move is going to be with Henry, who's at ...

The Manor: ... talking to Abraham, who wants Katrina back. But Henry says that's no longer Moloch's plan, so too bad, so sad for him. Henry waves him away and continues his next project, which involves a beating heart that produces a naked woman, who (just a guess) is probably actually a demon. She heads off to ...

A Nightclub: Where she sees a nerd pining for a nerdess (nerdette?), and changes her appearance to impersonate her. And, in the easiest seduction in the history of humankind, they end up out in his car making out until she decides to suck his life force out of him (through his mouth ... get your mind out of the gutter). She returns it to Henry back at ...

The Manor: Where he puts it in the bottle where he captured the lightning last week, and we see that this isn't the first soul she's given him. He sends her out for more as Abbie and Crane show up at ...

The Nightclub: And discover that the death was supernatural in nature because nerd guy looks like a burnt, deflated balloon. In order to figure it out, they head over to ...

The Archives HQ: Where Katrina immediately figures out that the wounds the guy had were in the places where a life force is strong. But before they can pinpoint the monster-of-the-week type, Katrina gets a case of the vapors (or whatever they called it then), and they don't have the right tea like Abraham does, so Ichabod takes her home. So that monster goes for another kill at ...

A Diner: Only this time the victim is a female who's pining for her clueless guy friend's girlfriend (he thought she was jealous because she liked him, not her). As the real object of her desire discovers what's left of her after the succubus is done, we witness a conversation between Abbie and Ichabod at ...

The Archives/Crane's Cabin: Where they go back and forth on the phone about how they still don't have a clue, so Abbie goes to find Hawley at ...

The Pub: But Hawley's interested in Abbie for other reasons besides helping her with her supernatural mysteries and goes off to greener pastures. Abbie heads over to ...

Crane's Cabin: To let Ichabod know Hawley was a bust, but as they talk and Katrina listens in, they figure out what it is they're dealing with. And guess who the next target is back at ...

The Pub: Where Hawley meets the succubus, who's now looking an awful lot like Abbie. But, luckily, Katrina has done a witchcraft version of Google Maps and lets Crane and Abbie know where they're headed, which is ...

Hawley's Place: Down at the harbor, where they show up just in time to help Hawley fight off the succubus, although he was slightly prepared himself with a magic crystal. While Abbie's on the phone, Crane realizes Hawley has the hots for Abbie. In the car, Abbie and Ichabod discuss relationships, and Ichabod actually hints that maybe Abbie should go for it with Hawley, but she shoots the idea down because they don't need "complications" distracting them. And speaking of distractions, back at ...

Crane's Cabin: Katrina is having a nightmare about Henry taking care of a demon baby in a crib, and tells Abbie and Ichabod about it. She focuses her vision, and sees Henry and the succubus "feed" the demon baby, which she immediately realizes was not destroyed last episode. Yep, that's right: Baby Moloch is alive, and getting powerful thanks to the life forces he's devouring. Not good. Not good at all! Katrina and Abbie get into it about whether Henry still has a soul, but Ichabod shuts them down with a rant about that being exactly what Moloch wants. They decide to do some research over at ...

The Archives HQ: Where they figure out the succubus is an Incordata ("heartless"), and the heart, which is separate from its body, must be destroyed before the body can be. They figure out that Henry is holding the heart at the cemetery, so Abbie and Katrina go there to destroy it while Ichabod enlists Hawley to help him track down the succubus back at ...

The Nightclub: Where Crane asks Hawley what his intentions are with Abbie while they look around for the Incordata. Hawley tries to play it off as the demon shows up there. They spot her, but she disappears and they search the club. Crane follows her into a dark storage room, where suddenly she resembles Katrina and has a British accent. Meanwhile, at ...

The Cemetery: Where Abbie and Katrina find the urn containing the heart inside a tomb, but a spell causes Abbie to see maggots in there and Katrina to see rats. Abbie reaches in and pulls it out, and Katrina starts an immolation spell to burn it. Then, in a back-and-forth between ...

The Nightclub/The Cemetery: Ichabod stabs the succubus with a special knife Hawley gave him, which hurts her but doesn't do a lot ... but this causes the urn to glow and throw Katrina to the ground, so Abbie shoots the urn ... the succubus starts to drain Ichabod's life force, but Hawley shows up and shoots her with a revolver, so she attacks him ... Abbie continues reading Katrina's spell, and the heart burns up ... Ichabod throws a knife at the succubus, which causes her to go after him, but he shoots her with the revolver and she burns up. Ichabod gives Hawley crap about keeping the gun and giving him the knife and they have a good laugh. Katrina asks Abbie to tell Crane she's going back to Abraham in order to get close to Henry and destroy Moloch. Abbie goes back to ...

Crane's Cabin: Where she sees Hawley outside and gives him the burnt succubus heart and they flirt a bit, until Crane comes out and she has to break the bad news to him. While he explains how unpredictable and mysterious she is, she shows up at ...

The Manor: Where Abraham and Henry take her in and have her meet the demon baby, which now looks like a normal, cute little thing asleep in a crib ... maybe not so easy to destroy.

Next Week: A Jenny episode (presumably because they've been pretty much neglecting her all season).
​