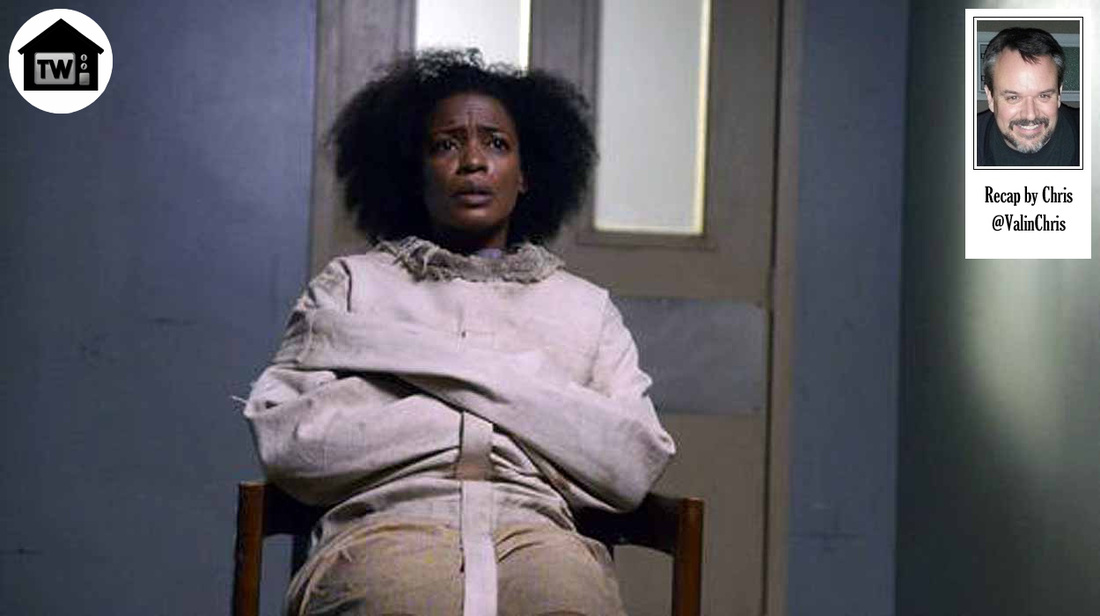 With Crane down the for count with a cold, Hawley helps Abbie and Jenny stop the ghost who's convincing Tarrytown patients to commit suicide. But it looks like that ghost is their Mama!
Previouslies: Still not here ... in fact, since they seem to have come to their senses, I'm going to stop mentioning them unless they make an exception and bring them back. Let's begin with a dream sequence again, shall we? (After all, that's this season's formula.) This time at the ...

Archives HQ: Where Abbie has just woken up from a nap in which she dreamed that her mom was singing to her and warning her about demons. In comes Crane, who is sick as a dog, so she tells him to just rest while she handles the new case she gets regarding multiple suicides within days of each other at ...

Tarrytown Psychiatric: Abbie brings Jenny along, since she was a patient there for years and knows her way around. Abbie also asks Irving for help, since he's in there now and knows the patients. They watch the video of the last guy hanging himself, and with the help of night vision technology (can they really do that?), spot a ghost in the dark corner of the room, who happens to look a lot like her mom. Abbie and Jenny head back to ...

Archives HQ: Where Hawley shows up with some soup for Ichabod, which happens to be spiked with something to knock his ass out so he can get better. He also convinces Abbie to let him go along when they go back to Tarrytown, presumably because someone has a cru-ush. So he tags along when they return to ...

Tarrytown Psychiatric: Where they arrive just in time to prevent a guy from committing suicide, but when Mama's ghost disappears, so does Abbie. She ends up in an old, shut-down wing of the hospital, where Mama used to have her cell. Mama tells her she's in danger, then disappears. A nurse whom they met earlier, Nurse Lambert, asks Abbie what she's doing there, but the real question is, what the hell is Nurse Lambert doing there in a closed-down wing of her workplace? Anyone want to proffer a guess? Don't worry, I won't spoil it for you. Until I have to in a minute. Jenny finds Abbie, and they see a code written on a window that Abbie recognizes as the number for a video log of Mama that they have back at the ...

Archives HQ: Where Abbie and Jenny steel themselves for the video, in which she tells her doctor that Nurse Lambert is trying to get her to kill herself, but the doctor says there is no Nurse Lambert! They look her up, and it turns out she was an "angel of death" nurse who killed lots of patients in the 1950s, but now ... she's dead. Cue the spooky music, especially since they know that she knows Irving. So they rush back to ...

Tarrytown Psychiatric: Because apparently they can't just call and tell someone to keep an eye on Irving, and therefore he almost drowns himself in a tub. They come in just in time to save him and fight Nurse Lambert, but suddenly she has random ghostly super-powers and is able to toss Abbie out of the room and disappear with her.

Back in the closed-down wing, Lambert has Abbie restrained and is about to kill her (physically, because for some reason throwing her around the room with her powers just won't work), but Mama grabs Lambert and saves Abbie. They fight, and she almost kills (I don't know ... how do you kill a ghost? Whatever ... ) Mama. But, luckily, Mama told Jenny ahead of time to find her old journal, which was handed down from that ancestor of theirs who knew Katrina. Jenny and Hawley find it in the storage room at the hospital, and Jenny recites an old African spell, which gets rid of Nurse Lambert just in time. Abbie is sad that she didn't get to say good-bye and thanks to Mama, so Jenny does some kind of séance to bring her back again. They find out she was protecting Jenny at Tarrytown the entire time she was in there, but apparently she couldn't show herself until all the supernatural stuff started up thanks to Moloch. And speaking of the demon baby himself, back at ...

Fredericks Manor: Henry convinces Katrina to help care for the baby, which looks normal to her because she wears the necklace that allows her to see Abraham the way he used to be. She figures out it's really an ugly little devil-brat, and she tries to create a potion that will expose him. But by the time she creates it and tries to give it to Moloch-baby the next day, he's already grown into a young boy ... who calls her "mother!" Bam! What's she supposed to do now?

Next Week: Some kind of showdown or another. I wasn't paying that much attention.
​