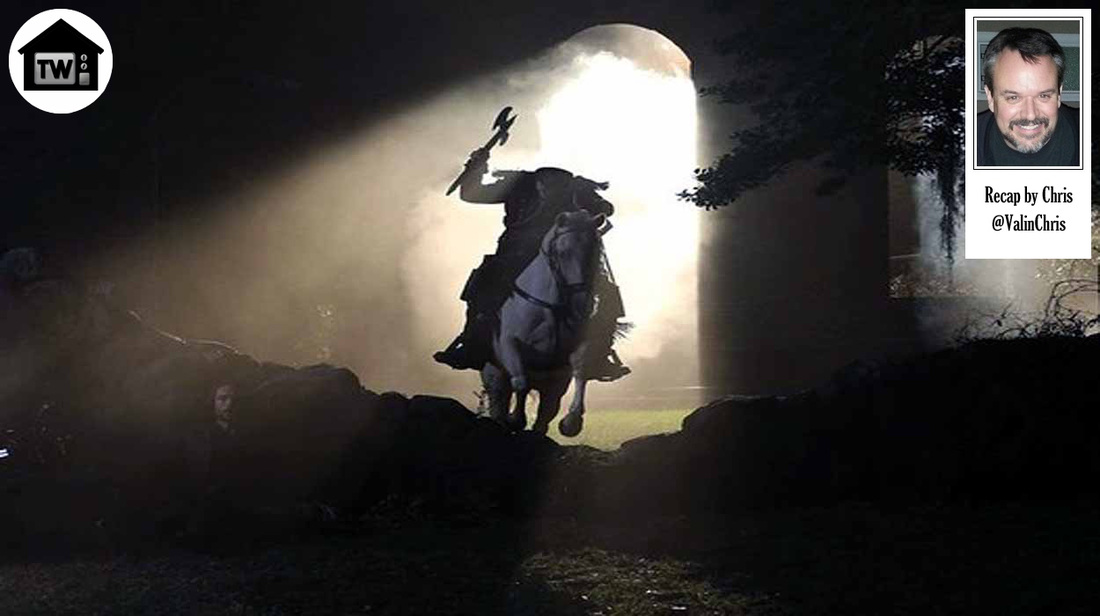 Moloch's ready to start the Apocalypse, and the only way to stop him is with the Sword of Methuselah! The one from the Bible, you ask? Are you kidding me? This is Sleepy Hollow! Of course it is!
The Archives HQ: Not only are there no Previouslies, but also no dream sequence, and then no phone call about a case to set things in motion! Say what? This first-half-of-the-fall-finale is already off the chain! Formula be damned! Instead, Crane gets mirror-Skyped by Katrina, who warns them that she failed her mission to kill the cute little baby that was really an ugly, evil little demon. And now he's growing up so fast, he'll be ready to take over the world within a couple of days. Worse, after she hangs up, Henry comes up and is able to rewind the call and listen to it, then eavesdrop on the rest of Abbie and Ichabod's conversation about Grace Dixon's journal. He finds out they have a map to find the only thing that can kill Moloch – the Sword of Methuselah! But wait! Why would an ancient sword from the Bible be in New York? Because it's convenient for the show, why else? As they head off to find it, Henry summons the Headless Horseman at ...

Fredericks Manor: Where he tells him he better get his ass over to the woods and find that damn sword before they do. Abraham tells him it's almost dawn, and he has that condition where he, you know, bursts into flames in sunlight. But heartless Henry just says, "Better hurry then!" Meanwhile, Jenny and Irving are on ...

The Highway: Heading for the Canadian border so Johnny Law doesn't get a hold of the Captain who accidentally sold his soul. But there's a roadblock, so he has to get out of the car, then circle around and meet Jenny at the bridge up head. Oh hell, this C-story is so thin, let's just get it out of the way now and reveal that Irving calls Jenny and says he's heading back to fight rather than run away. Done! Back to the important stuff, like what's happening in ...

The Woods: Where all the important stuff always goes down. Looking for the sword, Abbie and Ichabod spot an old, falling-down brick structure like something out of True Detective, minus the murderous rednecks. Before they can check it out, Headless shows up, and they watch him chop a plaque off the wall and take it. He hears Abbie nearby and goes after her, but Ichabod distracts him, and by the time he gets close to catching Crane, the sun comes out and starts to fry the Horseman, who has to run home with his tail between his legs. Abbie saw the plaque, so she describes it to Ichabod, and they figure out there's a trap door at their feet, which they dig up and open. Then they descend into ...

An Underground Cave: Where there's a bunch of very realistic stone statues that are so life-like for a reason ... because they're actually people turned to stone! Aaaaaahhhh! I wonder what the monster-of-the-week is going to be? (Not really, I think we can all figure it out pretty easily.) Among the "statues" is one that looks just like Abbie, and lo and behold, there's a dropped lantern next to her with the name "Dixon" on it, so it's one of her ancestors (probably Grace's daughter or granddaughter). Then the monster shows up, and – surprise! – it's a gorgon (I was thinking Medusa, but that's actually the name of the world's most famous gorgon). Luckily, Ichabod realizes what is up just in time, and tells Abbie to run and DON'T LOOK BACK. They make it out just in time, and Abbie asks WTF that creature was, and Ichabod explains what it is, but also wonders WTF a creature from Greek mythology is doing in New York (just like we viewers are thinking). If only they were murderous rednecks instead! Oh, well. Crane suggests they lure Headless down there to take care of the gorgon, since he doesn't have eyes (or a head, for that matter) and can probably defeat her. But, at the moment, Headless is back at ...

Fredericks Manor: Henry wipes away the enchantment on the place, revealing what a shithole it really is, and what Moloch really looks like. Then he tells Katrina and Abraham that he's going to blow his horn tonight, signaling the start of the Apocalypse! But as soon as it's dark, we're back at ...

The Underground Cave: Where Abbie and Abraham lead Headless down the steps to fight the gorgon. As soon as he's grappling with it, they run to the back room and find a bunch of swords surrounding what actually looks kind of like a birdbath. Abbie tries to figure out which sword is the real one, while Ichabod makes sure Abraham is still busy with the gorgon. But Headless chops off its head pretty quickly and suddenly the cave is enchanted enough for Ichabod to see him the way Katrina does, head and all. Abraham ends up fighting Ichabod, who convinces him to have an honorable swordfight like the good old days instead of blowing him away with his shotgun. After they go back and forth about how Ichabod copied him and stole his woman, Abraham chases Ichabod to the back room, where Abbie has chosen a sword, only to have all of them turn into snakes.

Abraham is about to kill Crane, but decides he'd rather see him suffer during the Apocalypse, especially when he gets Katrina back as his own wife. They hear Henry tooting his magic horn thingie, which I guess means the Apocalypse has begun! Ruh-roh! As Headless goes back to his master, Ichabod and Abbie figure out that the sword is in the birdbath, and after they light the oil in there, they actually see it and pull it out. Ooooo, it's big and shiny like Excalibur!

Next Week: The showdown as we conclude the mid-season finale!
​