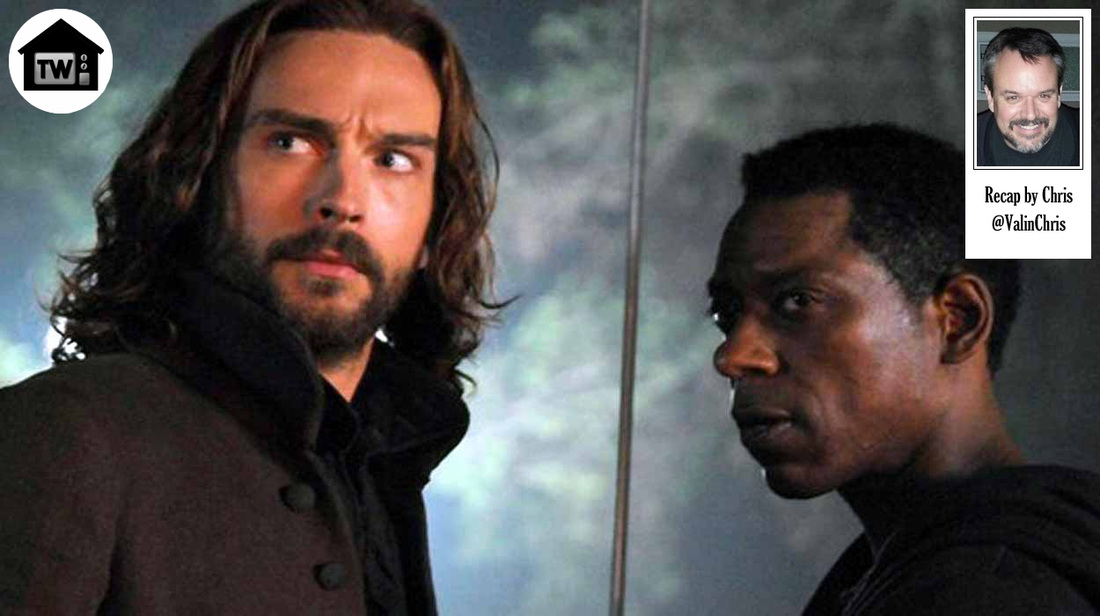 The Apocalypse is here, and it's time for the showdown! Will Crane kill his own son to stop it?
The Woods: You know what I always say about this show: "Everything important happens in the woods." As Abbie and Icky are driving with the Sword of Methuselah to slay Moloch and end the apocalypse, the car gets struck by lightning about five miles out. Oh, well. It's not the end of the world. OH, WAIT! YES IT IS! So they pull over at the nearest service station for repairs. What? Oh, hell no! The world's about to go to hell ... literally. So they come to their senses and steal a motorcycle. Crane goes from being scared shitless before they take off, to declaring he's going to get one (as soon as they're done saving the world) upon their arrival at ...

Fredericks Manor: Where they take a look around, but no Moloch, no Henry, and no Katrina. Just Henry's tiny model of the city of Sleepy Hollow and a conveniently long piece of twine for them to string around the locations Henry has attacked and figure out that it forms a pentagram. Just as they realize that means Henry and Moloch are raising Hell (didn't they know that already?), they hear Katrina scream outside. They rush out, and see the Headless Horseman about to complete the binding ritual and make her his wife. Apparently Horsemen of the Apocalypse have immunity from anti-bigamy laws.

Crane rushes Headless with the sword and defeats him by chopping the head off of his ax (thus causing it to match his body) while Abbie unties Katrina. Then Katrina extends the necklace spell so that they can all see Abraham's head and hear him speak. But they don't like what he has to say: The Sword of Methuselah can kill any demon, yeah, but it also takes the soul of whoever wields it to kill. They decide to chain Abraham in his old cell under the Masonic Lodge while they go to look up the info at ...

The Archives HQ: Where Jenny finds the info in an old, old book and confirms Abraham's claim. But she has an idea: Since Henry already claimed the soul of Captain Irving, they could get him to use the sword, and he won't die! But first they have to find his ass. They listen to the message he left Jenny, and there's a code. In the least important connection to the Revolution in the series' history, they figure out that it's a date, which leads them to a place where they find Irving hiding out. He says he'll do it, but only if they promise to take care of his family if they're wrong about his soul. Then they all head back to ...

The Masonic Cell: Now that they have someone who can actually kill Abraham without dying himself, he threatens ol' Headless to give them Moloch's whereabouts, since Katrina's incessant flirting with him didn't do the trick (but did make Ichabod go apeshit with jealousy). Abe says he and Henry are out by the four white trees where Moloch first raised Henry from the dead. So, after convincing Hawley to keep an eye on the Horseman and lend them a few magical weapons, OF COURSE, it's time to head out to ...

The Woods: Where Moloch tells Henry that Death/Abraham has failed him, so he (War) better not. Using the sword, a katana, and some flintlock pistols that Katrina Harry-Pottered to hurt demons, the gang arrives and fights some zombie Hessians until Henry's War avatar shows up, looking all ominous as usual. But Irving was apparently taking fencing lessons at Tarrytown Psychiatric, because he chops off War's arm and then runs him through, but not until after he's fatally wounded, in an echo of the pilot when Crane fought Abraham. The War armor melts into molten slag, but Henry dies (even with Katrina using magic to try to save him). While Moloch warns Henry that he better get that sword from them, they regroup at ...

St. Henry's Church: Where Abbie and Jenny find out Irving is dead, and they realize they have to draw straws to figure out who's going to sacrifice him- or herself to slay Moloch (and maybe Henry). They choose the order as: Abbie, then Ichabod, then Katrina, and finally Jenny (if it gets that far). Henry shows up and locks the place tight with his powers, then ties Abbie up with tree roots and takes the sword from her. Piece of cake! Except, it's actually the katana, which Katrina enchanted to LOOK like the sword. Wha-waaaaa. Ichabod pops out with the real Sword of Methuselah and gives a speech about Abraham and Isaac, and "help us kill Moloch," blah-blah-blah, and Henry seems touched, noting how his parents have never given up on him. But he's just kidding! He chokes Ichabod, grabs the sword, and leads them all back to ...

The Woods: Where Moloch has them tied up to the white trees and is ready to burn. But not until after Henry kills Katrina. Henry hesitates: Isn't she supposed to be for Abraham? Eff Abraham, says Moloch, he failed me. Run her through with the sword! Ichabod begs Henry to kill him in her place, and it looks like he's about to, but instead he turns around and runs Moloch through, and ...

... that's the end of the show. Seeya next year, suckas!
​